What are the three top-selling US smartphones? iPhone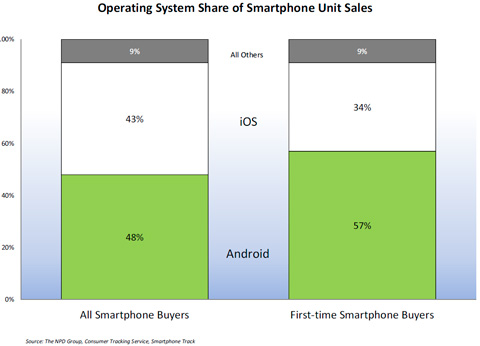 In fourth quarter, that would be iPhone 4S, 4 and 3GS, in order from one to three, according to NPD. But before the Apple Fanclub does high-fives, Android share among first-time buyers outpaced iPhone, as measured by smartphone operating system, contradicting some other analyst data.
"iPhone 4S outsold the iPhone 4 by 75 percent, and outsold the iPhone 3GS, available for free on AT&T, five to one", Ross Rubin, NPD executive director, says. Well, so much for my theory older, discounted iPhones was a brilliant Apple strategy. Which again raises questions about the power of brand, considering iPhone isn't LTE, while AT&T and Verizon offer real 4G smartphones -- all Androids.
"Android has been criticized for offering a more complex user experience than its competitors, but the company's wide carrier support and large app selection is appealing to new smartphone customers", Rubin says. "Android's support of LTE at Verizon has also made it the exclusive choice for customers who want to take advantage of that carrier's fastest network".
So perhaps LTE matters after all, at least to new buyers -- 57 percent chose Androids and 34 percent iPhone. The math is scary, by the way. NPD didn't publicly release new buyer share for other platforms, but Bada, BlackBerry, Symbian and Windows Mobile split up just 9 percent share. Well, we know what Americans aren't buying.
Additionally, iOS/iPhone closed the distance on Android, capturing 43 percent share to 48 percent share. The numbers are significant for another reason -- NPD tracks actual sales to end users rather than shipments into the channel.
More broadly, smartphone sales considerably outpaced feature phones. Smartphones accounted for 68 percent of sales during fourth quarter, up 18 percent year over year.
Now let me explain something about contradictory analyst reports. There are many out there right now, which makes them all suspect. Last week comScore reported dramatically different share numbers, putting Android way ahead of iOS/iPhone -- 47.3 percent to 29.6 percent, respectively. comScore measures US cellular subscribers ages 13 and above, which is different data methodology than NPD. The one uses a survey (of more than 30,000 Americans) and the other looks at sales.
Then there is Nielsen, which data seemingly directly contradicts NPD's. Android share, as measured in smartphone operating systems among new purchasers, plummeted from 61.6 percent in October to 46.9 percent in December. Meanwhile, iPhone rose from 25.1 percent share to 44.5 percent.
So whose data can you trust? No one's solely, nor any of the New York Post-style headlines trumpeting iPhone over Android, or visa versa. The clearest picture of US smartphone sales may come when Sprint announces holiday quarter earnings later this week. Assuming Sprint reveals iPhone sales, or activations, combined with AT&T and Verizon there will be clearer but not exact sense of what really occurred in the US market. I say "not exact" because iPhone activations don't necessarily mean on new handsets.