Google Galaxy Nexus first-impressions review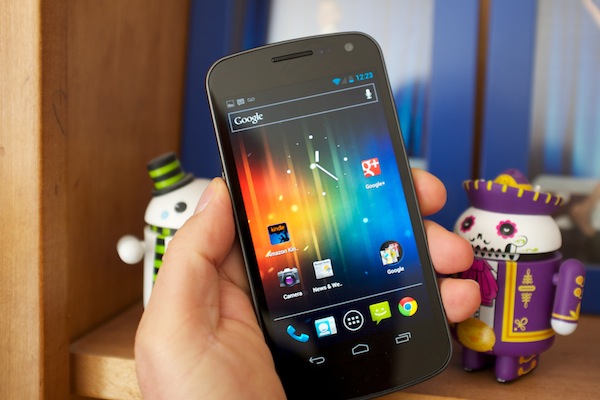 Two days ago, May 4, I received the Samsung Galaxy Nexus -- the 16GB HSPA+ model Google started selling direct last week. I'm not alone. Many of you ordered this phone, too. This first-impressions post extends my December review of the 32GB Verizon LTE model.
I will say straight up that out-of-box experience on AT&T is nowhere as good as Verizon. Network is huge factor. Audio quality is crisp and clear on Verizon compared to occasional hissy-fits on AT&T. Data speed isn't comparable, so far -- that's round and about San Diego and communities East and South, La Mesa and Lemon Grove, respectively. I expected at least 10Mbps HSPA+ data speed, based on my wife's Samsung Galaxy S II Skyrocket (before AT&T turned on LTE service here). I've yet to top 3.5Mbps on AT&T HSPA+ compared to an average 20Mbps over Verizon LTE. If data throughput is a priority, Galaxy Nexus HSPA+ -- over AT&T anyway -- is not for you. However, if you want a GSM network phone that is unlocked and contract-free and offers the best of Android, Google Galaxy Nexus is an exceptionally good choice. But expect to make a few compromises.
Buying Google Direct
Samsung manufactures Galaxy Nexus, which Google co-designed, and it shows. Unlike every other Android phone touching my hands, Galaxy Nexus responds as if it's an end-to-end product. Like iPhone, where Apple controls hardware, software and services, Galaxy Nexus is tight. But make no mistake, cellular carriers add value, too, as I experienced from Verizon and some BetaNews readers report about Sprint, which now offers the smartphone. I would appreciate international readers who bought the HSPA+ model through a carrier to report about their experience, particularly data speed, Android update experience and battery life.
In the United States, and sometime soon in other countries, Galaxy Nexus HSPA+ is available from Google Play, formerly Android Market. The store uses Google Wallet for purchases, which is how I made mine. Base price is $399, but I paid $440.42 after two-day shipping and California tax. I placed the order on May 2 at 5:01 pm PDT, which interestingly shows up as GMT on the receipt, making it technically the next day. Google claims two-day processing and shipping but did better. The order-shipped email arrived at 10:01 pm same day and UPS delivered the smartphone on May 4 around 2 pm PDT. There is 14-day return policy, with 15 percent restocking fee. I'm satisfied with the purchase experience.
Galaxy Nexus HSPA+ once sold for more than $799, unlocked, on these shores, soon after international sales started in November. Prices have since come down considerably -- it's $449.99 from Amazon. The retailer's return policy is more generous than Google's, but some buyer reviewers report problems applying updates to the international models sold there. I forgot to check the Android version shipping on my phone, which prompted a system update within 20 minutes after powering up. Android 4.04 runs now, whether shipped that way or updated.
Owners of the Verizon model rightly complain about infrequent updates, which is contrary to the promise of buying a "pure Google" phone. Verizon finally is delivering the 4.04 update, after skipping others. The phone Google sells direct should be better, based on predecessors Nexus One and Nexus S.
Many Compromises
Galaxy Nexus HSPA+ offers only 16GB storage, compared to 32GB for the Sprint and Verizon models. None offers expandable storage. Late last month, Google Drive debuted, offering free, 5GB storage. That, combined with Gmail, Google Music, Google+ (for photos) and YouTube, makes the more-limited space better -- as long as your device is connected. Still, for 400 bucks, I'd rather have twice the storage or ability to expand it on device.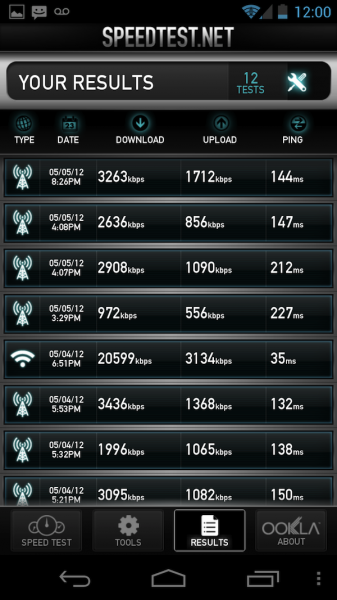 As much as I do like the HPSA+ model, it's a step down from the one I had from Verizon, mostly for the aforementioned reasons. Sadly, I sold the LTE smartphone on Craigslist recently -- for $2 less than Verizon's ridiculous early-termination fee. I simply couldn't justify paying about half as much for one phone on Verizon as four other lines on AT&T. The nation's second-largest carrier offers a huge benefit: Sign up for unlimited text messaging and calling is free to any cell phone, regardless of carrier. So the family plan on AT&T is low number of minutes, since we mostly call cell phones. Absent this benefit, I needed a considerably costlier plan from Verizon. If the nation's largest carrier offered similar calling option, I would be a customer still.
After receiving Galaxy Nexus HSPA+ on Friday, I drove down to the local AT&T store for a newly-provisioned SIM card. That proved problematic. AT&T's system wouldn't accept the IMEI number, offering BlackBerry data plans. Finally, the rep chose a generic 3G plan that supposedly is HSPA+, without visual voicemail. AT&T provides the feature on Android phones it sells, but I'm out of luck on Galaxy Nexus. Sprint offers Google Voice integration, which is helluva nice option. Verizon charges an extra $3 a month for visual voicemail, which is simply outrageous nickel and diming. I'm not convinced the phone is properly provisioned for data, based on my lousy performance. I'll update this section should I find out something or some smart reader (there are lots of you) provides a solution (assuming one is needed).
Perhaps this smartphone's biggest benefits aren't features: No contract, unlocked. This is a GSM world phone -- in the truest sense for Americans, because T-Mobile is supported. To access the carrier's HSPA+ network handsets must support both 1700MHz and 2100MHz frequencies, as one is used to send and the other to receive. More broadly, unlocked offers many options, such as being contract free, using a pre-paid plan or choosing lower-cost regional carrier.
Is This the Right Droid for You?
Before getting into some of the nitty-gritty usage stuff, alternatives deserve consideration. When I reviewed Galaxy Nexus LTE in December, there were no other Android 4 phones. That's finally changed. For example, HTC One X went on sale today from AT&T, and it's a beast. Samsung Galaxy S III goes on sale internationally May 29 and, based on Samsung product page info, it's headed to all four major US carriers this summer. I'm all but certain AT&T will carry the S3. During my visit to the carrier's store on Friday, customer next to me bought the Galaxy S II. One rep remarked to another that S II is "discontinued", presumably to make way for the S3. So to compare: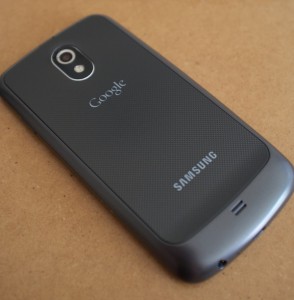 Google Galaxy Nexus HSPA+: 4.65-inch Super AMOLED display (315 ppi) with 1280 x 720 resolution; 1.2GHz dual-core processor; 1GB RAM; 16GB storage; HSPA+ 21Mbps/HSUPA, 5.76Mbps (850/900/1900/1700/2100), EDGE/GPRS (850/900/1800/1900); 5-megapixel rear-facing and 1.3MP front-facing cameras; LED flash; zero shutter-lag; 1080p video recording; accelerometer; ambient-light sensor; barometer; gyroscope; GPS; proximity sensor; digital compass; NFC; Bluetooth 4.0; WiFi N; 1750 mAh battery; carrier unlocked; Android 4.0. Measurements: 135.5 x 67.94 x 8.94 mm, 135 grams.
Samsung Galaxy S III: 4.8-inch Super AMOLED display (306 ppi) with 1280 x 720 resolution; 1.4GHz quad-core processor; 1GB RAM; 16GB or 32GB storage (64GB in future), expandable with microSD card; HSPA+ 21Mbps (850/900/1900/2100), 4G LTE, GSM/EDGE (850/900/1800/1900); 8-MP rear-facing and 1.9MP front-facing cameras; LED flash; zero shutter-lag; 1080p video recording; accelerometer; ambient-light sensor; gyroscope; GPS; proximity sensor; digital compass; NFC, Bluetooth 3.0; WiFi N; 2100 mAh battery; carrier locked; Android 4.0 and TouchWiz "nature" UI. Measurements: 136.6 x 70.6 x 8.6 mm, 133 grams.
HTC One X: 4.7-inch Super IPS LCD2 display (312 ppi) with 1280 x 720 resolution; 1.5GHz dual-core processor (LTE) or 1.5GHz quad-core (HSPA+); 1GB RAM; 16GB storage (US model); HSPA+ (850/900/1900//2100), 4G LTE (some markets), GSM/EDGE (850/900/1800/1900); 8MP rear-facing and 1.3MP front-facing cameras; LED flash; 1080p video recording; accelerometer; ambient-light sensor; gyroscope; GPS; proximity sensor; digital compass; Bluetooth 4.0; WiFi N; 1850 mAh battery; carrier locked; Android 4.0 and Sense UI. Measurements: 134.36 x 69.9 x 8.9 mm, 130 grams.
Small differences set apart the phones and many depend on your priorities:
HTC One X and Samsung Galaxy S III are locked phones with carrier contractual commitments; Google Galaxy Nexus is unlocked and carrier free.
HTC and Samsung skin Android 4, while Google serves up pure Ice Cream Sandwich.
Galaxy Nexus HSPA+ will get Android updates as they come out, while the other phones will lag months behind.
One X and S3 are LTE, for Stateside buyers, while Galaxy Nexus is hobbled HSPA+.
One X international model and S3 (also, possibly only international) are quad-core. Galaxy Nexus is dual-core all the way.
Now for the Good Stuff
So how does Galaxy Nexus HSPA+ handle the road? I've only had the smartphone for about two days, but do benefit from experience using the largely similar LTE model for about three months. The first question anyone should ask about every cell phone: How's the battery life? I found the Verizon LTE smartphone to be simply exceptional. So far, the HSPA+ model's battery life is well above average but not in the class of its LTE sibling. Twenty hours after the first full recharge and a day of heavy usage, battery level is 31 percent, which is actually above average for this class of phone. I've got no complaints.
However, on Friday, I did order a spare 2000 mAh battery, which includes new back cover to accommodate extra thickness, from Expansys USA. If you do likewise be careful. There is similar kit for Galaxy Nexus HSPA+ and LTE models and they are different because the batteries are: 1750 mAh and 1850 mAh, respectively. I also ordered a spare charger (grumble, grumble). Verizon Galaxy Nexus and S II Skyrocket share the same charger as they use same 1850 mAh size battery.
Android 4 is a more modern, flexible operating system than iOS. There are many customization options and the ability to run widgets from the desktop. I recommend Galaxy Nexus HSPA+ for people living the Google lifestyle. Integration with other Google products or services is tight. Gmail, G+ and Google Talk are among the many associated services that sing on this handset.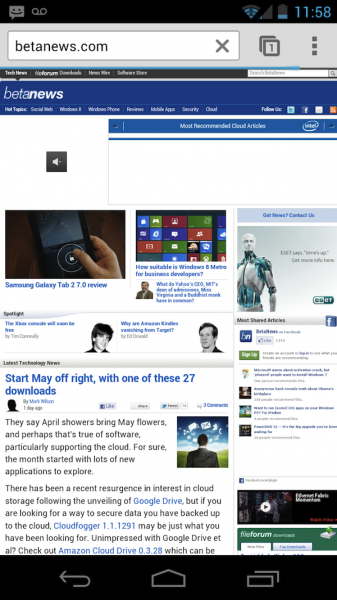 But it's Chrome that inspires me most. Ice Cream Sandwich ships with the stock, Adobe Flash-supporting Android browser. However, in early February, Google released Chrome for Android beta, which only supports Ice Cream Sandwich. The browser is fast, fluid and fun -- and there is browser and open tab sync with Chrome desktop. Suddenly, I'm much more interested in browsing again than apps. I'd buy an ICS smartphone just to get Chrome.
Regarding apps, Android isn't as appealing a platform choice now as when I reviewed Verizon Galaxy Nexus. As I explained in late February, Apple is winning the mobile platform wars. In just two quarters, the company shipped more than 70 million iPhones, but it's new iPad's sales success that pulls developer attention. Sure, there are plenty of good Android apps, but typically newest go to iOS and more and more new ones are iPhone and iPad. Meaning: Developers who first created iPhone apps and asked next whether they should do iPad or Android have answered by making Google's platform third priority. Still, Android app selection is largely satisfying.
Overall device performance is indistinguishable between the HSPA+ and LTE models. Galaxy Nexus is plenty fast and responsive enough. Apps load quickly, animations quick and videos crisp and colorful. I much prefer the Android phone's responsiveness and visuals to that of iPhone 4S.
This display is gorgeous, benefitting from its large size, high resolution and deep contrast. But it washes out some in sunlight, which is disappointing but not unbearable.
Many people will want to compare Galaxy Nexus camera to iPhone 4S or Galaxy S series and wonder about lower 5-megapixels compared to the others' 8MP. Megapixel count is not the measure of a good camera. Galaxy Nexus and iPhone 4S take surprisingly similar photos. In my testing, the Android will sometimes overexposure images in select situations, while the iOS phone produces warmer colors. However, Galaxy Nexus stands out for zero shutter and settings that you can adjust -- lots of them compared to iPhone 4S. Zero shutter lag is killer capabilty.
Wrapping up, about 2,000 words later, based on my experience so far, I highly recommend Galaxy Nexus HSPA+ -- this despite my experience on AT&T's cellular and data network. The phone isn't right for everyone. But for me, and perhaps for many of you, Galaxy Nexus HSPA+ is a keeper.