Verizon Galaxy Nexus first impressions review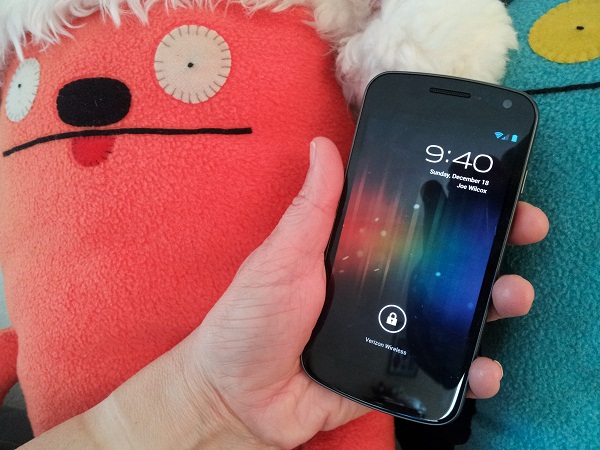 This is the droid you've been looking for.
There's saying "three times is a charm" and proven axiom about one of Google's biggest rivals: Microsoft gets products right the third time. Galaxy Nexus, running Android 4.0 (aka Ice Cream Sandwich), is the third Google phone, following the Nexus One (January 2010) and Nexus S (December 2010). If you're an Android user looking for something much better or iOS user/wannabe disappointed there is no iPhone 5 LTE, Galaxy Nexus is for you. Verizon released the long-anticipated US 4G LTE model on December 15. Galaxy Nexus is fast, furious and fun. If not for the 5-megapixel camera, which delivers better photos than I expected, the Android smartphone would be perfect, and it's certainly leaps and bounds above every other handset currently available in the United States.
Living Google
Galaxy Nexus is best for anyone living the Google lifestyle. Ice Cream Sandwich is delicious, and Google has topped the operating system with lots of tasty hooks into its existing services. I'll only highlight some of these touchpoints in this first-impressions review. For example, Gmail is better on this phone -- little things like seeing photo next to the sender, if he or she has Google profile, is nice touch.
Opening voice search/commands for first time prompts for a video tutorial, which Android 4.0 pulls down from YouTube.
Then there is the People app -- essentially a socially-aware address book -- that plays best with Google+, but nice enough with other social networks. Speaking of Google+, there's a nifty widget for keeping up real-time from the homescreen -- well one of them.
I've repeatedly asserted that sync is the killer application for the connected age. I owned two Nexus Ones and was surprised when all the Android Market apps synced on the second one -- they magically appeared. But on Nexus S, Galaxy S II and Skyrocket, only apps I purchased synced back to the device. So I was surprised to find that all my apps synced to Galaxy Nexus. There were no settings, they were just there, over 4G LTE in the hour I spent at the mall between activating the phone at Verizon Store and going home. Once there, Galaxy Nexus automatically connected to my home WiFi network, having synced the settings (a feature that worked on other Androids).
Chrome sync is another welcome feature for those people living Google. Finally, bookmarks on your PC come to the Google browser on your phone. Easily.
Obligatory iPhone 4S Comparison
Apple's smartphone is the leading handset in the United States, according to comScore, Nielsen and NPD. No Galaxy spec rundown would be complete without comparison to iPhone.
iPhone 4S: 3.5-inch multitouch display with 960 x 640 resolution (800:1 contrast ratio); 800MHz dual-core processor; 512MB RAM; 16GB, 32GB or 64GB storage; GSM/HSPA; 8MP rear-facing and VGA front-facing cameras; LED flash; image stabilization; 1080p video recording; accelerometer; ambient-light sensor; gyroscope; GPS; proximity sensor; digital compass; Bluetooth; WiFi. Measurements: 115.2 x 58.6 x 9.3 mm, 140 grams.
Galaxy Nexus: 4.65-inch multitouch display with 1280 x 720 resolution (100,000:1 contrast ratio); 1.2GHz dual-core processor; 1GB RAM; 32GB storage; CDMA/4G LTE; 5MP rear-facing and 1.3MP front-facing cameras; LED flash; zero shutter-lag; 1080p video recording; accelerometer; ambient-light sensor; barometer; gyroscope; GPS; proximity sensor; digital compass; Near-Field Communication (NFC); Bluetooth; WiFi. Measurements: 135.5 x 67.94 x 8.94 mm, 135 grams.
Galaxy Nexus leading advantages over iPhone: larger screen size, higher-resolution display, higher-clock speed processor, double the memory, faster camera shutter, NFC and barometer.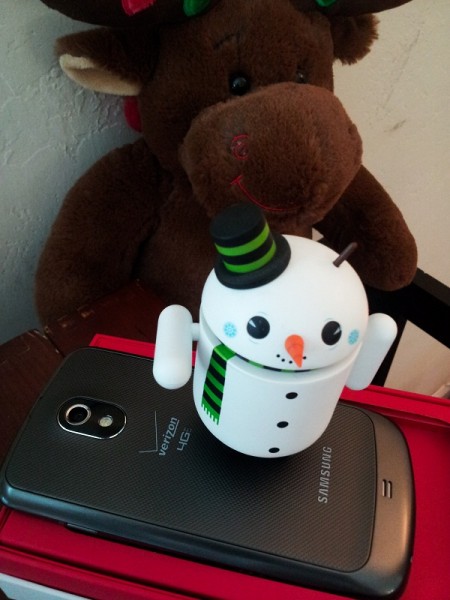 Too Long Delayed
Verizon should be scolded for taking so long to launch, which should have come sooner than 10 days before Christmas -- like Black Friday latest. Google and Samsung announced the smartphone in late October, and the HSPA+ model went on sale internationally in mid November. There is tremendous pent-up demand for Galaxy Nexus, among the Android Army anyway. My local Verizon Store started launch day with 90 phones and at 7 pm had but two left. That's not a big number by iPhone standards, but the real measure here is other Androids. I have to wonder how many more Verizon could have sold if Galaxy Nexus launched a month earlier.
I suspect that the delay was in part deliberate. Verizon has spent hundreds of millions of dollars on the Droid brand. The nation's largest carrier launched Motorola Droid Razr on December 11. My local Verizon Store is loaded up with Droid Razr accessories and signage. It's clear which brand matters more, and Verizon was right to put some distance between the two smartphone launches.
Google should have chosen a better launch partner, or like Nexus S made its successor available unlocked through Best Buy. The HSPA+ model available internationally supports AT&T and T-Mobile data networks. Verizon defies Google's value-oriented philosophy (typically free). For example, AT&T offers free mobile-to-mobile calling -- that's to any carrier's phone -- on its family plans, and unused minutes roll over and are available for 12 months. Something else: Verizon charges extra for basics AT&T and T-Mobile offer standard, with Visual Voicemail good example. It's an extra $2.99 per month from Verizon -- that's strange since there are free alternatives. On the other hand, Verizon's limited-time 4GB data for the price of 2GB ($30 per month) promotion applies to Galaxy Nexus. AT&T won't give you as much.
Still, Verizon made the right choice skipping Samsung Galaxy S II and offering Google-branded, Samsung-manufactured Galaxy Nexus instead. My S2 Skyrocket is an exceptionally appealing phone. Galaxy Nexus is wonderfully better. My wife will inherit the Skyrocket. Lucky me, Verizon's LTE smartphone uses same battery as the Skyrocket, so we can swap the spare I have. The HSPA+ model's battery is different size, and slightly less powerful 1700 mAh vs 1800 mAh).
Wow, What Battery Life
Galaxy Nexus lasted more than 33 hours on its first full charge, and that was using the phone more heavily than usual. Saturday before Christmas, I talked for several hours to family and friends -- and I used data and other features more rigorously while testing the phone. I kept waiting for the battery to run down, but Galaxy Nexus kept going and going and going.
I skimmed some reviews that warn battery life disappoints. Oh, yeah, give me 24 hours-plus pain like that any day. I used Galaxy Nexus with default screen settings and LTE and WiFi on. I can't say that such battery life is sustainable long term, or yet attest to the impact of using, say, Bluetooth, Google Maps or gaming. I haven't yet set up widgets or started social networking with Google+, activities that are likely to sap the battery. Nevertheless, I'm impressed. I can say that for the first charge, from 100 percent to zero, LTE did not overly consume the battery.
Galaxy Nexus' industrial design doesn't wow me, and I had similar reaction to Nexus One. It's a handsome phone, but a bit too grey corporate for my tastes. Design nicety: GN brings back the notification light that made G1 so useful when resting. If you get new email or text message, for example, the home button will pulse white. There are no physical buttons, by the way.
My nitpicking tastes aside, the phone delivers beauty where it matters most: The screen is exceptionally appealing, and not just for its size -- 4.65 inches. This is a 720p display -- 1280 x 720 Super AMOLED. By comparison, the Galaxy S II series is Super AMOLED Plus, and that plus matters. For example, Skyrocket's screen pops -- bright and vivid colors -- more than Galaxy Nexus. That said, I easily use the pure Google phone in bright San Diego sunlight more easily than either the standard S2 or Skyrocket.
Galaxy Nexus' 720p display outclasses iPhone 4/4S in most every conceivable way, and there gets help from Ice Cream Sandwich's Roboto font, which is clear and crisp. Size matters: 4.65 inches vs 3.7 inches for iPhone 4/4S; that greater screen real estate is better with the high-res display. Something else, and I can't say why: I find texting to be much easier on Galaxy Nexus than any other smartphone touchscreen. Hell, I'm suddenly a speed demon. Oh, and the texting app is gorgeous.
How Does It Feel?
Size is a subjective preference, and I worried Galaxy Nexus would be too damn big, even moving up from Galaxy S II Skyrocket, which has 4.5-inch display. To my surprise, Galaxy Nexus fits comfortably in my modestly-sized hands, and the phone has terrific balance. It feels good. While some other reviewers complain about the plastic back panel, I find its texture creates good friction for holding the phone securely. Other people will prefer a smaller smartphone, but they might think differently after experiencing the stunning display.
Performance is excellent. Operations are fast and fluid. Ice Cream Sandwich feels more alive than does Gingerbread (Android 2.3.x), Honeycomb (Android 3.x) or iOS 5. Apple's mobile operating system looks dead by comparison. However, Windows Phone 7.5 is faster and more fluid -- and that's on single-core processor. I find Android 4.0's dark, murky appearance -- by default anyway -- to be appealing. Others might want something more cheerful, brighter.
Verizon 4G LTE performance satisfies, but it's not as good here in San Diego as subscribers in other cities get. In September, Anshel Sag did comprehensive Verizon LTE speed testing around San Diego and "attained an average speed of 16.84 Mbps down and 8.14 Mbps up with an average ping of 66.6". My best result using the SpeedTest app five times was 13.4Mbps downstream and 14.2Mbps up. That's plenty respectable. In a December 15 comment to one of my Google+ posts, Mike Dunham writes about Verizon LTE speed test: "One I have from today was 43.64 down and 17.52 up". So mileage varies.
By the way, Galaxy Nexus makes nine 4G LTE smartphones, all Androids, offered by Verizon.
A Little Bit More
American geeks who paid $700-plus for the international, HSPA+ model may be disappointed to learn that Verizon Galaxy Nexus has twice the storage -- 32GB -- which, like iPhone 4/4S but unlike Galaxy S2, isn't expanadable. There's no microSD card for you.
The camera is better than expected, in part because of how well it works. True to Google promises, there is no shutter lag and focus is damn fast. In the 5 megapixels vs 8 megapixels debate (S2 and 4S have the latter), more isn't necessarily better. For example, moving from 3MP to 12MP only doubles the resolution. For many smaller sensors, 5MP is optimum for delivering the most clarity with least artifacts or distortion. I haven't had time to test Galaxy Nexus' camera against my daughter's iPhone 4S or my wife's (soon to be) Skyrocket. Sensor size and software capabilities will matter more than megapixels.
Phone calling is exceptionally good, and Google has reduced the number of steps needed to place calls. There were simply too many period, even without comparing to iPhone, which does better. Then there is the aforementioned People app, which I haven't fully synced with my social networks. Phone audio quality is superb, by the way.
Obviously, there is much more I could and should write about Galaxy Nexus. But I've topped 1,800 words for a first-impressions review. On a Sunday. When I have the flu. I will follow up and get more into Ice Cream Sandwich, which probably deserves its own look.
Do consider Galaxy Nexus. Verizon will sell you the phone for $299.99 plus tax. Amazon Wireless has best deal I've seen. For new Verizon individual or family plan subscribers, price is unbelievable $149.99 -- but you'll wait. The smartphone is backordered. Existing individual plan members pay $199.99, and it's $249.99 for anyone else.
Photo Credits: Joe Wilcox