Frak, yeah, I'd use iPad if there was Google Chrome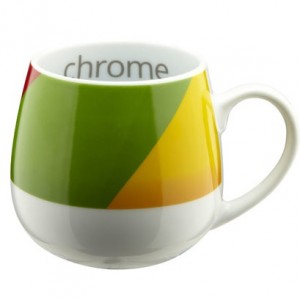 What timing. I posted my iPad for sale on Craigslist over the weekend -- and two people are jockeying to get ahead of the other to buy it today. But I'm suddenly unsure about selling, after seeing a Macquarie Capital report claiming that Chrome will come to iOS as early as this quarter. Hot damn!
I rarely make decisions based on rumors, nor should you. Besides, the "timing is unclear, but it could be as soon as Q2 and is very likely to be a 2012 event", according to Macquarie Capital. "Could" be this quarter and "likely" this year stink of pure speculation -- or big back door should there be no Chrome for iOS this year. In the end, I'll likely sell the iPad, but must convey this: Chrome would be a very good reason to buy an iOS device but be akin to Google cutting off one limb to save another.
Shine That Tablet's Chrome
Yesterday, Ian Betteridge and I bantered back and forth about Chrome and iOS on Google Plus. He called Google services on Apple devices a "pretty good experience", to which I responded: "I would agree about the Google ecosystem with iPhone (and iPad) if Chrome was option. That's the deal breaker for me, sadly. I'm seriously thinking about selling my iPad, for that reason -- and another: Galaxy Nexus is tablet enough for me, so far".
As expressed last week, "You can have iPhone 4S, I'll take Galaxy Nexus". But there's more. I find the Google and Samsung branded smartphone good enough replacement for my iPad, too. Chrome for Android is one reason, Galaxy Nexus' super sharp, 4.65-inch, 1280 x 800 resolution screen is the other. Repeating a sentiment from my Galaxy Nexus HSPA+ review: I'd by the phone just for Chrome, which currently is only available for Android 4 "Ice Cream Sandwich", in beta.
Presumably, Chrome would be available for the newest iOS version, which means broader distribution than Android, since Apple doesn't have the same fragmentation problem. Based on number of devices accessing Google Play during the previous 14 days, Ice Cream Sandwich accounted for just 4.9 percent of the Android install base on May 1. Chrome has limited reach at best on Android, while distribution could be enormous on iOS, assuming people using the browser on the desktop go mobile, too. There, Chrome is third-most used browser and closes on Firefox, according to Net Applications.
Chrome is a huge improvement over the stock Android browser. It's fast and flows, but sync capabilities, which include active tabs on the desktop, really stand out. Last week's huge Google+ for iPhone update shows that the search and information giant can deliver exceptional user experiences on iOS. Why shouldn't Chrome be same?
A TACtical Decision
The problem: Chrome for iOS, particularly iPad, removes an important reason to choose Android tablets over Apple's. Google gains in one area, while giving up somewhere else. If Google offered Chrome for iOS right now, I'd keep my iPad. How many other people considering Apple's tablet would choose it over an Android because of Chrome? You can help answer that question by taking our poll.
In April, with considerably smaller install base, iPad took decisive mobile browser usage share lead from iPhone, according to NetApps. More broadly, in the mobile device category, Safari has 63.84 percent usage share, compared to 18.87 percent for Chrome. Google's browser could make usage share leaps competing alongside Safari on iOS devices. The cloud-connected device era is all about mobile. Google should want Chrome on market-leading devices like iPad.
Then there are traffic acquisitions costs, which eat into Google search margins. Macquarie Capital: "If GOOG gains market share, it could reduce our estimate for Google.com TAC meaningfully". Google pays Apple to compete with Android -- and Chrome, for that matter -- via Safari's search bar. Google's TAC goes down when people use Chrome.
Something else: Google services have a cloudy future on Apple devices. There already are rumors Apple will ditch Google Maps for a home-grown option in iOS 6. I expect to see a Siri search service someday replace Google. Chrome for iOS would be an important anchor for Google services as Apple offers more of its own from the cloud.
Even then, Chrome faces hurdles placed by Apple. Based on the browsers currently available for iOS, Safari is default for mail and other services. So Chrome would be at disadvantage, as long as Apple only allows Safari to be default. However, surely Chrome could be default for Google services -- gulp, right?
From that viewpoint, Chrome will always be better on Android. That said, Chrome on iOS ought to be pretty good, and if Google is going to feed the hand that bites it, better to extend existing services rather than pay TAC to Apple.
My question for you: Would you use Chrome over Safari on iPad or iPhone? Please answer the question below and take our poll above.