You can have iPhone 4S, I'll take Galaxy Nexus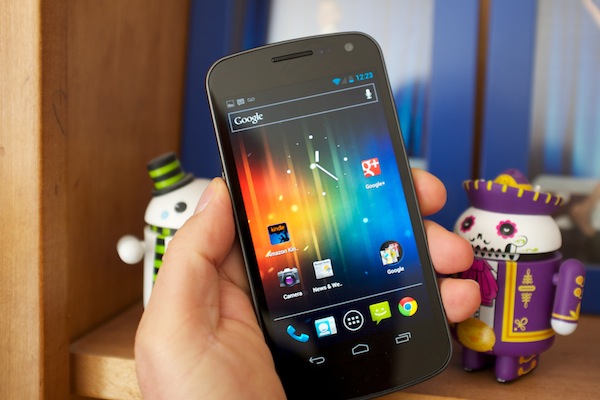 During the last six months, I've had the privilege to use three exceptional smartphones: iPhone 4S and two Galaxy Nexus variants -- one LTE and the other HSPA+. You can't go wrong buying either Android or iOS handset, although Galaxy Nexus supports more carrier networks here in the United States. Differences that matter are more than hardware (such as size, appearance or battery life) or software (apps and operating systems). Taking Galaxy Nexus or iPhone 4S is much more. Either is a digital lifestyle choice that many buyers won't grok before paying their hard-earned cash.
I can't emphasize this aspect strongly enough. In the days before Android and iPhone, early smartphone buyers also made digital lifestyle choices, such as BlackBerry users and persistent email or Windows Mobile buyers wanting mobile Office. But today, with differentiated, connected cloud services, digital lifestyle matters more than ever, and both handsets offer similar yet drastically different experiences. You're not just buying a phone but a way of life.
Quick background: Samsung makes Galaxy Nexus for Google, with which it co-designed the smartphone. I bought the Verizon Galaxy Nexus LTE model in December and loved it. But by mid-February, I could see that my regular monthly bill would be half that for four other lines on AT&T. So, I made the hard choice: Sold Galaxy Nexus LTE for two dollars less than Verizon's early-termination, which I paid off. I then bought iPhone 4S from AT&T, as compromise and to test. But late last month, unexpectedly, Google started selling Galaxy Nexus HSPA+, which supports AT&T's network. I bought the phone and received it one week ago. I sold iPhone 4S a few days ago, via Craigslist for $500, which more than covers the new Galaxy Nexus.
I never really wanted to give up Galaxy Nexus and nothing about using iPhone 4S for two months swayed me away from the desire. For me, as it may prove true for you, Galaxy Nexus is as much about digital lifestyle as hardware, operating system, apps or cloud services.
Cloud Lifestyle
Setup. From the moment you set up the smartphones, the digital lifestyle journey begins, signing in with either Apple or Google ID, unless you need to make one. Apple ID sets up sync with iCloud. Same is true for Google cloud services, although there's no fancy name for them. From there the differences manifest, deriving from heritage -- device for Apple and cloud for Google. Apple's legacy is the desktop and extension to iPad, iPhone and iPod. Apple syncs content among your devices -- and quite seamlessly, I should emphasize. Google, which legacy is the cloud, keeps your stuff there, while syncing to the device and offering extended services.
Services. I chose Galaxy Nexus over iPhone 4S for many reasons, with digital lifestyle being among the most important. Google+ is my preferred social network, which greatly increased using Google Talk as chat client. I also use Gmail and YouTube, frequently, and many other Google services -- all which either tightly tie to Android 4.x out of the box or after installing separate apps.
Something, which I can't over-emphasize: Galaxy Nexus feels like an end-to-end product, like any iPhone. Hardware, services and software integration is tight and smooth. Google services seamlessly and broadly extend the user experience -- far beyond anything Apple offers, in part because it relies so much on Google services. Google's cloud services stack is wider and deeper, and tight integration extends them not just from the device but from you.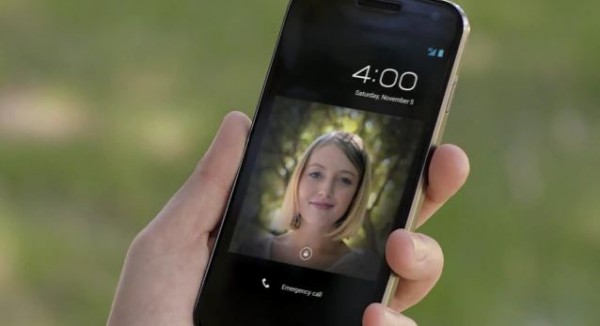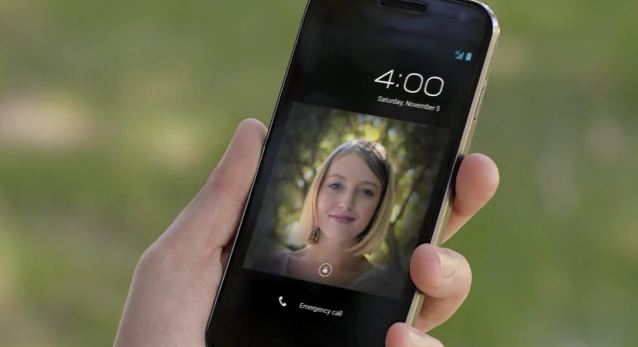 Sync. People with more than one Apple product are better candidates for iPhone 4S, and they won't be disappointed by iCloud's capability to sync content among devices. Buy an app or song and, poof, it appears on your devices where auto-downloading is enabled. iCloud also can sync content from your computer, such as contents of the documents folder. Google simply keeps documents in the cloud. Both services can sync and store photos, but iCloud makes them immediately available to all devices. Google sync stops with mobile.
Digital lifestyle in the cloud varies in other ways. For example, if you take photos and use any other service but Apple's or Twitter, sharing requires going to a separate app, such as Facebook, Tumblr or WordPress. Android presents sharing options for all supported apps with the photo, which is more convenient and practical, while reflecting an important philosophical difference between the platforms. iPhone is all about Apple's way, while Androids are more about your choice, which also reflects in the desktop, where live-content widgets can be installed on Android.
Surprisingly, browser choice fits in. If you live the Chrome digital lifestyle, Galaxy Nexus is for you. Chrome for Android beta is exclusively available for Ice Cream Sandwich, and sync leads stand-out features. The browser essentially captures the state of desktop Chrome, right down to open tabs. Safari offers nothing comparable and is an inferior browser, even though they share common engine. I'd buy Galaxy Nexus just to get Chrome for Android.
Hardware Lifestyle
Specs. Many hardware differences are immediately apparent, with size and screen most obvious. But others demonstrate deep digital lifestyle differences that won't be obvious to most buyers. Specs are a good starting place. What review would be complete without them?
iPhone 4S: 3.5-inch multitouch display with 960 x 640 resolution (800:1 contrast ratio); 1GHz dual-core processor; 512MB RAM; 16GB, 32GB or 64GB storage (I tested 32GB); GSM/HSPA+; 8MP rear-facing and VGA front-facing cameras; LED flash; image stabilization; 1080p video recording; accelerometer; ambient-light sensor; gyroscope; GPS; proximity sensor; digital compass; Bluetooth; WiFi. Measurements: 115.2 x 58.6 x 9.3 mm, 140 grams.
Galaxy Nexus: 4.65-inch multitouch display with 1280 x 720 resolution (100,000:1 contrast ratio); 1.2GHz dual-core processor; 1GB RAM; 16GB (HSPA+) or 32GB (LTE) storage; GSM/HSPA+ or CDMA/4G LTE; 5MP rear-facing and 1.3MP front-facing cameras; LED flash; zero shutter-lag; 1080p video recording; accelerometer; ambient-light sensor; barometer; gyroscope; GPS; proximity sensor; digital compass; Near-Field Communication (NFC); Bluetooth; WiFi. Measurements: 135.5 x 67.94 x 8.94 mm, 135 grams.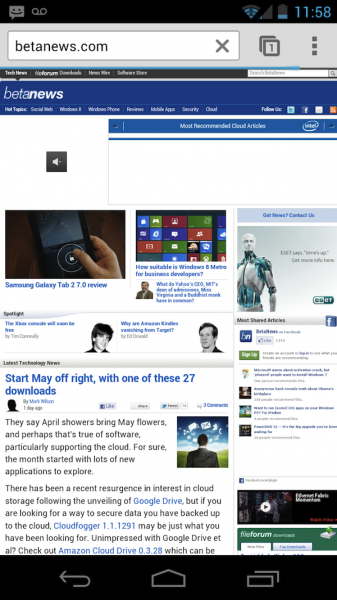 Size. While Galaxy Nexus is a tad lighter than iPhone 4S, the physical size difference is monstrous. I actually prefer the Apple smartphone's smaller size; the handset is more comfortable to hold, more easily pocketed and more comely held against the ear. Galaxy Nexus looks weird -- bulky placed against the face. iPhone 4S small size works by comparison in part because the screen resolution is so high for the available display real estate.
Size is a digital lifestyle choice. Which matters more to you: Having a more pocketable phone or one with larger display, which granted is better for viewing websites, photos or videos? Do you use handset-to-face rather than wired or Bluetooth earphones and does the appearance against the head matter to you? I find Galaxy Nexus larger size advantages to matter more. However, I would feel differently if screen resolution was lower than 1280 x 720.
Screen. The displays are different in ways that also impact digital lifestyle. Galaxy Nexus and iPhone 4S render pixels differently. There's more pixelation with the Android's PenTile display than the Apple's. But contrast is deeper and colors richer, delivering better visual experience with photos or videos. However, for people on the go who look at the phone outdoors, iPhone 4S display is vastly more viewable in direct sunlight than Galaxy Nexus.
Style. I find iPhone 4S to be the more attractive phone, not that either overly excites or that Galaxy Nexus is unappealing. Style isn't just about physical appearance but extending the hardware. There, I concede, iPhone 4 and 4S have huge advantage over Galaxy Nexus. Handset owners can choose from many more cases or add-ons that extend iPhone 4S utility, such as the iPhone Panorama Lens, Glif Plus holder and the fisheye, macro and wide-angle lens set sold by Photojojo.
This is one of the few areas where iPhone 4S appeals to me more than Galaxy Nexus, but not enough to pull me back. Broader choice of add-ons is something many iPhone 4S buyers won't consider when choosing a handset but that will greatly enrich their lifestyle choice later on.
Shutter. For people living the digital photography lifestyle, the above add-ons favor iPhone 4S. By the specs, so does the camera. But specs are deceiving. While iPhone 4S wins on megapixel count (8 versus 5), Galaxy Nexus is the more convenient shooter. Photos are actually quite comparable. Some differences: iPhone 4S colors are warmer, while Galaxy Nexus occasionally over exposes. When it doesn't, shadows and areas of dark and light are a tad more defined than iPhone 4S.
For me, one difference stands out: Galaxy Nexus zero-lag shutter delivers. I'm more likely to catch that quick shot with Android than the Apple, which surprises me because iPhone 4S smaller size feels better in the hand. However, composition-wise, Galaxy Nexus' larger screen is better -- well, as long as sunlight isn't too strong.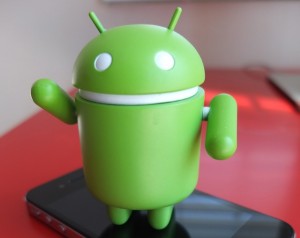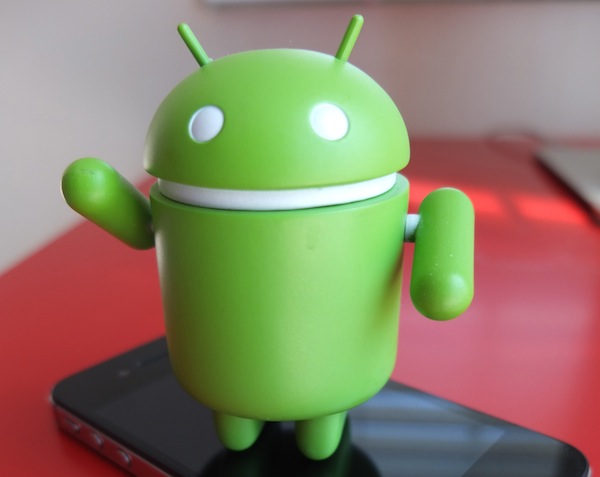 Staying Power. Battery life is exceptional, which is paramount for any mobile digital lifestyle. Galaxy Nexus LTE and iPhone 4S are comparable, in my testing, easily going more than 24 hours with heavy usage. That's actually a knock against iPhone 4S, since there's no extra battery drain from LTE. When Galaxy Nexus launched, pundits circled around pecking about how LTE drains battery faster. I didn't believe them.
Now that I have Galaxy Nexus HSPA+, I must concede it's true. The Verizon LTE phone has 1850 mAh battery and HSPA+ 1750 mAh. On my first full recharge of the HSPA+ phone, with heavy usage, I had 31 percent charge after 20 hours. The phone finally finished somewhere above 38 hours (while I slept). On the second full recharge, Galaxy Nexus HSPA+ got to 55 hours and 7 percent left before I had to plug in -- that's with moderate use. I'm on third recharge now, where I've used the device just for Google+, email and four phone calls. Charge is 71 percent after 44 hours.
So based on this unscientific test, my HSPA+ model gets considerably longer charge than Galaxy Nexus LTE and demolishes iPhone 4S, for which longest charge with moderate-to-light usage was about 42 hours.
Support. What happens if your phone malfunctions or, gasp, you break it, such as a drop that shatters the glass? Verizon charges a hefty monthly fee with deductible to cover damage or theft. I've got nothing at all, buying Galaxy Nexus HSPA+ direct from Google. By contrast, Apple has over 300 retail stores worldnwide, is known for replacing troubled handsets on the spot and offers an extended warranty called AppleCare+. For $99, within 30 days of purchase, Apple will extend standard warranty to 2 years and replace a busted iPhone 4S for $49 -- up to two times. Absolutely, replacement protection is another digital lifestyle choice.
Connected Lifestyle
Galaxy Nexus is gateway to the purest Google lifestyle. The phone comes with the newest Android version, which is 4.04 for HSPA+ models, and there is no carrier bloatware added. These things separate Galaxy Nexus from nearly all other Androids. iPhone 4S already is purest Apple lifestyle.
Speed. As a connected-lifestyle device Galaxy Nexus exceeds iPhone 4S, starting with carrier support. AT&T, Sprint, Verizon and a few regional carriers sell the Apple handset. Verizon and Sprint sell Galaxy Nexus LTE, while the HSPA+ model available from Google works on any GSM carrier, and that includes AT&T and T-Mobile. You can't get iPhone for T-Mobile, but you can use Galaxy Nexus and get big bandwidth for data. By the way, for those people living the contract-free lifestyle, unlocked Galaxy Nexus HSPA+ is the way to go.
Data availability is another lifestyle consideration, particularly for those people frequently on the go with no WiFi access. There, Verizon's Galaxy Nexus is superior choice, because the LTE network is available in most major markets and it delivers. In my neighborhood: 27Mbps. Sprint's LTE is under construction, and its CDMA network slow -- and that applies to iPhone 4S. Sprint offers unlimited data, which doesn't mean much if you can't get it.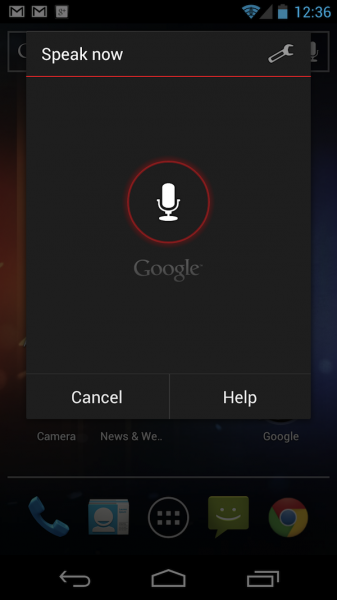 In my testing, on AT&T, Galaxy Nexus and iPhone 4S deliver equally disappointing HSPA+ performance. AT&T's HSPA+ network did much better before 4S launched last year. I have yet to top 3.5Mbps on either smartphone, in recent testing.
Search. Apple would have you believe that Siri is the be-all, end-all personal assistant. But in my testing Galaxy Nexus speech and search capabilities consistently outperform iPhone 4S. Siri's presentation is better, Google gets the job done.
Simple example: One of my favorite local restaurants is Bahn Thai. When listening to my request for the phone number, iPhone 4S and Galaxy Nexus equally understand, one doesn't deliver. I've tried different variations using Siri: "Phone number for Bahn Thai"; "Phone number for Bahn Thai, University Heights"; "Bahn Thai, University Heights"; Thai restaurants, University Heights"; among others. The latter used to work, showing two Thai eateries nearby. Now all answers lead to a list of Thai restaurants in San Diego, and none the one I want. By comparison, simply asking Galaxy Nexus for "Bahn Thai, University Heights" brings up Google search page with Yelp review and phone number top result.
From mapping to location services and more, Galaxy Nexus is superior to iPhone 4S. Google services are simply better and better exposed. If getting information is part of your digital lifestyle, the choice is clear. Some people will argue that iOS apps easily fill in the gaps. But tight services ties, the ability to run widgets and get alerts in more real-time fashion give Galaxy Nexus edge.
Social. Two days ago, a new Google+ for iPhone version released, and it's vastly superior to the Android counterpart. Perhaps, but that app also borrows capabilities and fit-and-finish already available on Galaxy Nexus.
For example, recent activity shows up in contacts -- a feature that works best if they're on Google+. Google Hangouts also got its mobile start on Galaxy Nexus. The aforementioned photo-sharing capabilities are superior as are messaging and chat. Then there's option to text an incoming caller. It's all about connecting, staying social, with people.
Overall, I am much more connected to others using Galaxy Nexus than iPhone 4S -- and that hugely fits better with my digital lifestyle. While the design doesn't reach out and grab me, the incredible display gives the appearance edge to Galaxy Nexus. I find Galaxy Nexus to be more responsive than iPhone 4S, while Android 4 visually appeals more than iOS 5. More significantly, the Google phone better fits my digital lifestyle.
Pull it all together and for me, Galaxy Nexus is the superior choice, and that's stopping the comparison short (I never got around to apps, for example). This post is 2,400 words, which is more than long enough. I've come back to the phone I didn't want to give up in the first place (and for anyone asking, I'm not interested in Galaxy S III). You can have iPhone 4S, I'll take Galaxy Nexus.