4G LTE BlackBerry PlayBook makes iOS and Android devices feel about as sophisticated as my daughter's old 'Speak & Spell'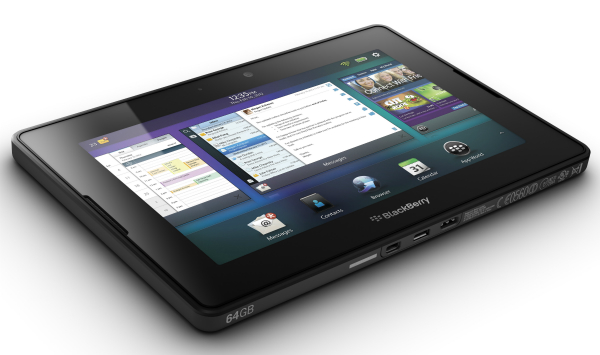 I love underdogs. Whether it's David vs. Goliath, Rocky vs. Apollo Creed or Microsoft (circa 1992) vs. IBM, I enjoy rooting for the plucky upstart. Which is why I find the resurgence of interest surrounding Research in Motion's beleaguered PlayBook tablet all the more satisfying: Here is a product that stumbled out of the gate and was left for dead, only to slowly crawl its way back into the ring of respectability through a combination of raw talent and sheer force of will.
Make no mistake: The PlayBook was an impressive device when it first shipped in April, 2011. Bristling with class-leading technology, RIM's first foray into the tablet market should have been an instant hit. However, the software half of RIM's winning formula still wasn't fully baked, with some glaring omissions (email, calendar) and few third party apps to speak of. And, in a truly ironic twist, many early critics actually panned the device for its smallish 7-inch form factor.
The result was anemic sales when compared to the phenomenon that was the iPad/iPad 2, followed by a very public write-off of $500 million worth of unsold Playbook inventory. Viewed in these terms, the PlayBook was declared "TKO", another contender relegated to footnote status in the annals of the iAscendancy.
However, the RIM corner men refused to throw in the towel. They had staked their entire future on a brand new adaptation of the legendary QNX RTOS, and the PlayBook was their only functional device that incorporated a working implementation. Instead, they doubled-down on their PlayBook bet, slashing prices to clear-out the unsold inventory while working on a 4G LTE follow-up that would serve as a laboratory for the company's real long-term goal: Transitioning its bread-and-butter smart phone business to the now rapidly maturing QNX-based Blackberry 10 OS.
Fast forward to today and things look very different for the Playbook. First, RIM's aggressive discounting succeeded in moving those unsold units while establishing a sizable niche market of PlayBook die-hards (there are now some 1.5 million devices in the wild -- more tablet units than even the mighty Samsung has shipped). Next, the company's continued investment in its QNX adaptation, both in terms of the out-of-box OS experience and the supporting developer ecosystem, helped to vastly expand the PlayBook's available apps catalog while plugging the gaps in its core functionality.
Meanwhile, enterprises that were initially cool to the PlayBook have begun to appreciate the value of its robust, secure OS and highly portable, 7-inch form factor (thanks, Google). From insurance claims processing to law enforcement command and control, the PlayBook is finding a home wherever organizations need a reliable, manageable mobile computing platform that emphasizes build quality and proven capability over snazzy specs.
All of which is why RIM's introduction this week of the aforementioned 4G LTE Playbook may signify the zenith of the company's tablet comeback strategy. With a faster CPU/GPU (1.5GHz dual-core TI OMAP 4460) and a fully-baked RTOS that makes iOS and Android devices feel about as sophisticated as my daughter's old "Speak & Spell", the new PlayBook once again dances circles around the competition -- for example, delivering a SunSpider score (1397) that even the formidable Nexus 7 can't touch.
But it gets better. Playbook OS 2.1, which I've been beta testing on my own device for several weeks, provides even greater performance and usability improvements while vastly overhauling the platform's secret weapon: Android application support. In fact, after spending some quality time with Ice Cream Sandwich 4.0.3 running on an Acer Iconia Tab, I have to say that many of my favorite Android apps (gReader Pro, TapaTalk, Twitter) actually run better under the virtualization layer in PB OS 2.1 than they do in their native environment. Multitasking is smoother, and I experience none of the random crashes and reboot-inducing flakiness that plague ICS (sort of a "better Android than Android" type of experience).
Bottom Line: RIM's plucky little "tablet that could" has come full circle. Once derided for its size, the PlayBook is now appreciated as the device that pioneered the uber-popular 7-inch form factor. And as more users experience the power of QNX, the OS' reputation for performance, reliability and true enterprise scalability is beginning to precede it.
With an even more powerful and polished QNX implementation (BlackBerry 10) just over the horizon, the PlayBook may finally be getting its second wind. Don't count it out quite yet.
Catch Randall C. Kennedy's smart analysis of tech trends every Tuesday and Friday here at BetaNews.