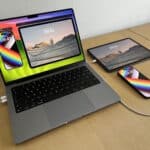 Dutch developer NonStrict EU has released Bezel 1.0 for Macs running macOS 12.0 or later. The app is a tool to mirror USB-connected iPhone, iPad and iPhone touch displays on macOS screens in real time.
The app, which is slick and so responsive that changes on the mobile device are reflected instantly on the Mac's display, is aimed at those who wish to view, share or record their iPhone's screen for whatever reason.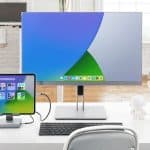 Apple's iPad is a tablet, obviously, but when you add a keyboard case, it magically becomes a laptop too. But did you know M1 or M2-powered iPad tablets (running iPadOS 16.1 and higher) can also serve as a desktop PC with full-screen monitor support? It's true! By plugging in a USB-C dock, you can connect a keyboard, mouse, monitor, external storage, and more.
Today, Plugable launches a new USB-C Stand Dock (model number UDS-7IN1). While this product is primarily designed for M1/M2 iPad devices (such as iPad Pro and iPad Air 5), it can work with USB-C Android devices and Windows tablets (such as Surface Pro) as well. While this dock should technically work with laptops and desktops, the "stand" aspect (which props up the phone or tablet like a monitor), would be wasted.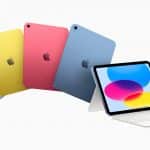 A month ago, Apple took the wraps off its new range of iPhones. I was impressed enough to shell out on an iPhone 14 Pro, although it seems like it might not be quite as durable as advertised.
Today, with little fanfare, Apple announces new versions of both the iPad and the iPad Pro.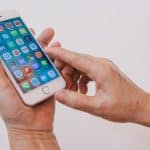 If you are still using one of these old devices -- iPhone 5s, iPhone 6, iPhone 6 Plus, iPad Air, iPad mini 2, iPad mini 3, or iPod touch (6th generation) -- I have some very interesting news. Believe it or not, Apple has issued an emergency update for the iOS 12 operating system. More specifically, it will update your compatible device to iOS 12.5.6.
Why is Apple doing this? Well, it seems a very serious Webkit bug -- that is possibly being actively exploited -- was discovered by an anonymous researcher. Apparently, enough people are still using these old devices that Apple felt it was necessary to patch it.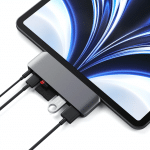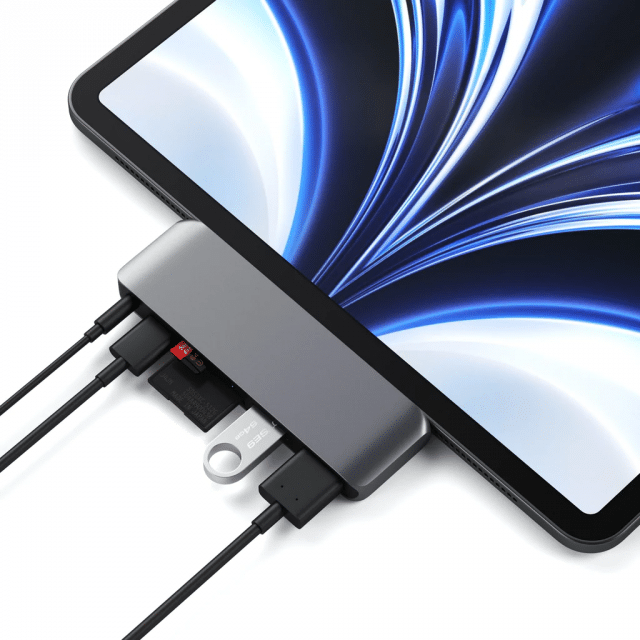 Apple's iPad is a tablet, yes, but when you add a keyboard case, it magically becomes a laptop. But did you know the new M1-powered iPad tablets with USB-C can also serve as a legit desktop? It is true! By plugging in a USB-hub, you can connect a keyboard, mouse, monitor, and/or external storage. The desktop capabilities of Apple's M1 tablets will greatly improve with the upcoming iPadOS 16 too.
Today, Satechi launches the "USB-C Mobile Pro Hub SD," which is primarily designed for M1 iPad devices such as iPad Pro and iPad Air 5. The hub plugs into the bottom of the tablet and offers HDMI (4K compatible), USB-A (up to 5Gbps), 3.5mm audio, SD card reader, and microSD carder. It even offers USB-C power delivery (up to 60W) so you can charge the iPad while the hub is in use. There is only a single USB-A port, however, so you will need to use a wireless mouse and/or keyboard -- both cannot be wired.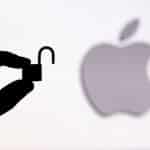 Apple has issued a warning about a security flaw that could be used to take full control of iPhones, iPads and Macs. The company says that the vulnerability "may have been actively exploited" and has issued a slew of updates to patch the problem.
Going some way to prove that it is not just Windows that suffers serious security issues, this vulnerability is tracked as CVE-2022-32893. The potential impact of the flaw is so wide because it stems from a bug in Safari's WebKit rendering engine.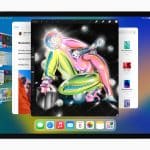 At today's developer conference, Apple took the wraps off iPadOS 16, and it's a huge update, with loads of exciting new features.
There's a new multitasking experience with Stage Manager that allows multiple overlapping windows, full external display support, Messages improvements and big updates to Mail and Safari.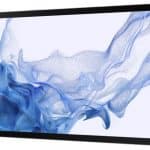 When someone says they want a tablet, what they are really saying is they want an Apple iPad. They don't want something running Android or Windows. The only people that use Android tablets in 2022 are those that can't afford one of Apple's offerings or consumers that irrationally hate Apple products and refuse to use them.
If you are someone that (for whatever reason) wants an Android tablet rather than a glorious iPad (they really are great), I have some good news. Today, Samsung announces that it hasn't given up on the Android tablet market -- yet. You see, the company has unveiled the all-new Galaxy Tab S8 series, for which there are three variants -- the regular Galaxy Tab S8 (11-inch), the S8+ (12.4-inch), and the S8 Ultra (14.6-inch). They have resolutions of 2560 x 1600, 2800 x 1752, and 2960 x 1848 respectively.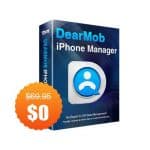 DearMob iPhone Manager, from Digiarty (WinXDVD), is an easy to use program that lets you transfer, manage, backup and restore your iPhone or iPad.
If you're always running out of space on your Apple device, you can use this tool to quickly manage your storage, and it's available for both Windows and Mac.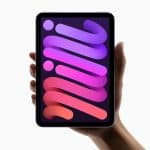 Apple iPad is the world's best tablet, regardless of model. Whether you opt for the "regular" iPad or Pro models, they are all superior to anything running Android. And yet, the non-Pro iPad is starting to feel a bit stale. It still has a lightning port, huge bezels, and it is not compatible with the 2nd-gen Apple Pencil.
Today, Apple unveiled the 9th generation non-Pro iPad (10.2-inch Retina display) and the company did not address any of those things. It has big bezels and a clunky physical home button, a lightning port instead of USB-C, and it's still only compatible with the first-gen Pencil. Apple merely gave it more storage (64GB minimum), a better processor (A13 Bionic), and a slightly improved front camera (12MP Ultra-Wide). It is a boring evolutionary upgrade that will make owners of existing iPad tablets yawn.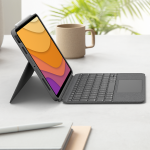 If you want the absolute best tablet computing experience, you have to get an iPad. Are there good Android tablets? Sure, but iPad is simply better than them all. There's a reason the Android tablet market has largely dried up -- consumers don't really care about them. Trust me, y'all; Apple created magic with the iPad.
While iPad can technically serve as someone's only computer without any added accessories, it does shine when you connect it to a keyboard case -- particularly one with a trackpad. With one of these cases, you essentially turn the iPad into a makeshift laptop. Like Microsoft's Surface Pro tablets, however, balancing the kickstand on your actual lap while typing on the keyboard might be a bit frustrating.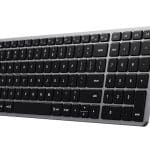 Last year, Apple released new Mac computers powered by the company's own M1 processors. Not only were there new MacBook Air and MacBook Pro laptops, but a new Mac mini desktop as well. More recently, Apple released a new M1-powered iMac too. I was fascinated by the new Apple Silicon processors, so earlier this year, I bought my very own Mac mini. Guess what? It is a phenomenal computer that I love very much so far.
The problem with the Mac mini, however, is it doesn't come with a keyboard or mouse. This is by design, as Apple hopes Windows users will replace their current desktops with the little Mac -- simply reusing existing keyboards, mice, and monitors. Unfortunately, a Windows keyboard is not ideal for a Mac. Will it work? Yes, but it doesn't have the exact same keys, such as "COMMAND." And so, Mac mini buyers would be wise to buy a Mac keyboard.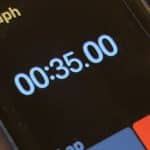 Apple's WWDC started yesterday with a two-hour long keynote in which the company revealed what's next for its various operating systems, including iOS and macOS.
There are a lot of new features coming, including plenty to do with privacy, as well as FaceTime enhancements and updates for Maps, Weather, and Wallet.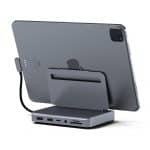 When Apple launched its now-infamous What's a Computer? advertisement for the iPad Pro, it was pretty much universally panned for stupidity. In it, a woman refers to a girl's iPad Pro as a computer, and the girl replies with the classic "what's a computer?" line. As we know, an iPad is a computer, and it's absurd to think the youth of America are unfamiliar with the term "computer."
But what if an iPad Pro wasn't just a tablet computer, but a desktop computer too? Well, with the Satechi Aluminum Stand and Hub for iPad Pro, that can be a reality. You see, this elegant new product transforms the Apple iPad Pro into a makeshift iMac-like, desktop computer.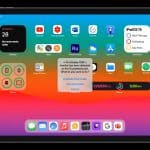 Apple has been positioning the iPad more and more like a credible laptop alternative over the past few years, especially with the introduction of the new iPad Pro.
Two years ago the tech giant made the decision to create a dedicated iPad version of iOS which it called, inevitably, iPadOS, introducing more features for the larger, more capable device, such as better multitasking and enhanced app switching. iPadOS 15 is due later this year but for now we know very little about the new features it will offer.