Samsung is such a copycat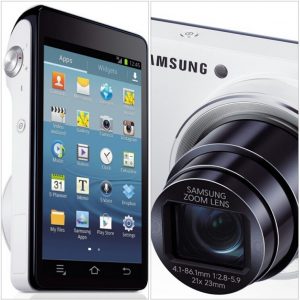 Well, I must agree with the jury in the Apple-Samsung patent trial, after seeing the shocking look-a-likes the South Korean electronics giant announced yesterday during IFA Berlin. Have you seen these Apple rip-offs? Samsung simply is shameless in its copying.
For example, there's a new phone with large screen and stylus, as well as another with big zoom lens. The audacity of Samsung to take features from iPhone or iPad and offer them on its devices. The company just thumbs its nose -- or whatever gesture they use on the Asian peninsula -- at the American jury and US District Judge Lucy Koh.
Galaxy Camera
Let's start with the shooter, which is really an iPhone or iPod touch in disguise. Samsung's Galaxy Camera is all touchscreen on one side and big, whopping zoom lens on the other. What a freakin' Apple rip-off. iPhone and iPod touch are all screen on one side, with icons, too -- and they have cameras! Samsung's device will be available with Wi-Fi (like iPod touch) and also cellular radio (like iPhone). Look at the photo above and compare to your iPhone. I can hardly tell them apart!
Other features: 1.4GHz quad-core processor; 4.8-inch HD Super Clear Touch Display, 308 pixels per inch; 16.3-megapixel camera, with F2.8, 23mm 21x zoom lens; 1080p video recording at 30 frames for second, 720p at 120fps; 8GB storage, expandable with memory slot; 3G/4G radio; GPS; Wi-Fi a,b,g,n; Bluetooth 4; 1,650 mAh battery; and Android 4.1 Jelly Bean. The device is 128.7 mm wide by 70.8 mm high by 19.1 mm deep and weighs 305 grams.
Okay, I admit that iPhone doesn't have a big zoom lens yet, but iPhone 5 isn't released and everyone knows that Apple thought of this feature first anyway. Because that's what Apple does -- innovates first.
Galaxy Note II
There are more rip-offs, and who could ignore Galaxy Note II? Samsung already stole Apple's ingenuity with the first Note and now there's a second flaunting good old American know-how. For starters, both Notes come with a stylus -- ripped off from Apple Newton in the 1990s -- and what Samsung cleverly tries to disguise with new name S Pen. Ha! We aren't fooled. We know who copies whom.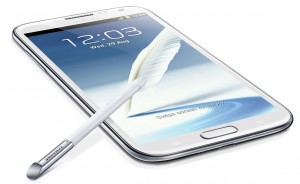 Galaxy Note II is nothing more than a large iPhone (look at the rounded corners) or small iPad. Say, it's really ripping off iPad mini's design. We know Apple will ship the tablet soon, because the Mac rumor sites are always right.
Core features: 1.6GHz quad-core processor; 5.5-inch HD Super AMOLED display, 1280 x 720 pixels; 2GB RAM; 16GB, 32GB or 64GB storage, expandable with memory slot; 8MP front- and 1.9MP rear-facing cameras; 1080p video recording (and playback); HSPA+/LTE; GPS; Wi-Fi a,b,g,n; Wi-Fi Direct; Near Field Communication; 3,100 mAh battery; TouchWiz UI; and Jelly Bean. The "phablet" measures 151.1 mm wide by 80.5 mm high by 9.4 mm deep and weighs 180 grams.
Sure, Note II is sized in-between iPhone and iPad mini, but that's just a clever ploy to avoid more copying claims. This device is exactly how Apple would design iPhone Newton. Sharing, sync, search and stylus functions are all blatant Apple rip-offs.
ATIV Windows Phone
I suppose Samsung deserves some credit for skirting around some copying. Take the ATIV smartphone, for example. The jury found that Samsung had copied Apple iPhone icons and groundbreaking features like slide-to-lock. So Samsung dumps Android and Touch Wiz UI for Windows 8, which looks nothing like iOS. Clever, but what about those rounded corners?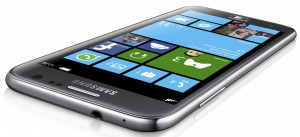 Core features: 1.5GHz dual-core processor; 4.8-inch HD Super AMOLED display; 1GB RAM; 16GB or 32GB storage; 8MP front- and 1.9MP rear-facing cameras; HSPA+; GPS; Wi-Fi a,b,g,n; Wi-Fi Direct; 2,300 mAh battery; and Windows Phone 8. The phone measures 137.2 mm wide x 70.5 mm high x 8.7 mm deep and weighs 135 grams.
Samsung's Windows Phone 8 gambit won't fool anyone, not as long as ATIV physically looks like iPhone. Turn off the screen, and who could tell the difference between the Apple and Samsung phones in a darkened room?
Samsung Tablets
The California jury threw Samsung a bone by deciding Galaxy Tab 10.1 doesn't copy iPad. But we know it does, because Judge Koh issued a preliminary injunction before the trial and refused to lift it after the verdict. Samsung dares to take on iPad with tablets running Windows 8 or Windows RT.
The ATIV RT model packs a 10.1-inch display; 1.5GHz dual-core processor; 2GB RAM; 32GB or 64GB storage, expandable with memory slot; 5MP rear- and 1.9MP front-facing cameras; micro HDMI; NFC, Wi-Fi a,b,g,n; Wi-Fi Direct; 8,200 mAh battery; and Windows RT. The tablet measures 265.8 mm x 168.1 mm x 8.9 mm and weighs 570 grams.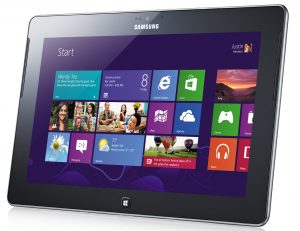 But wait there is another! The Series 7 Slate running Windows 8. Among the base features: Intel Core i5 processor; 4GB RAM and 128GB SSD.
But those money-grubbing South Koreans couldn't bring themselves to copy Apple pricing. Oh, no! The Series 7 slate starts at $1,199, or $700 more than the 16GB Wi-Fi iPad. And Microsoft fanboys say Apple products cost more. Yeah, right. In your dreams, flunky.
Samsung knows it's copying -- eh, really ripping off -- Apple designs and innovations. The launch venue tells all. Samsung announced these products in Germany, not the United States. Over here, the cops would cuff `em and throw away the key. If Samsung's smart enough to copy the most-compelling Apple features, it knows where not to introduce them to market. Not with the jury verdict so fresh -- hey, not even a week ago. Bwah, Samsung is such a copycat.
You do know I'm being sarcastic, right?