Don't expect too much from iPhone 5 sales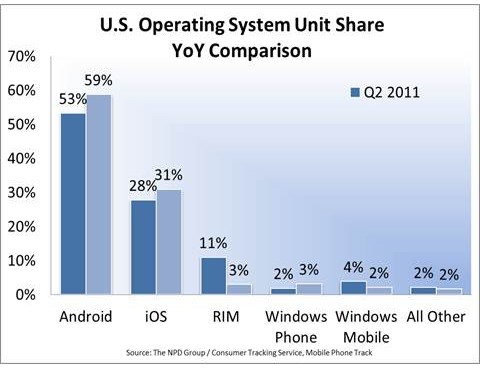 Finally, someone is brave enough to give iPhone 5 a big reality check. Who better than Stephen Baker, NPD's vice president of industry analysis?
"Ahead of the expected launch of the iPhone 5", he says, "there is a growing expectation that this release will achieve the equivalent blowout sales success that the iPhone 4s enjoyed; however, a careful review of the sales history reveals that, while the new iPhone may be a gigantic success around the world, the inevitability of similar success in the US is not quite so pre-determined".
What? How can that be? Everybody says iPhone 5 will be big, big, BIG. Did hell freeze over or something? Or perhaps, just perhaps, the Apple Fanclub of bloggers, journalists and other writers raise expectations too high. What irony if so high that iPhone 5 doesn't meet expectations they raised and leads to disappointment with sales (which can't be all that good for the stock price, right).
Baker doesn't predict failure by any means: "Apple will have a highly successful launch, of that there can be no doubt, but the inevitability of easy market share gains in the US is not quite so apparent this time around, as it has been in the past". The problem: "Very different dynamics than the launch window of the iPhone 4 or the iPhone 4s". Apple's new baby will birth among many others, and as such won't get as much attention, so to speak. The US smartphone market is rapidly maturing, with overall growth just 9 percent in second quarter -- and all of it coming from prepaid handsets, increasingly the hottest wireless market segment.
"The iPhone, as well as Samsung's phones, have continued to gain brand share over the past year and their joint share now exceeds 50 percent, which is likely to make it more difficult for Apple to easily take share from weakened competitors, because many of the easy share gains have already been accomplished", Baker warns.
Android OS share was 59 percent during second quarter, while iOS had 31 percent share. This consistent with Nielsen US data for end of July, which puts Android share among new smartphone purchasers at 58.6 percent and iOS 33 percent. Point: The market already is largely consolidated, and iOS trails Android considerably. There's not much room to grow, when combined share is 90 percent.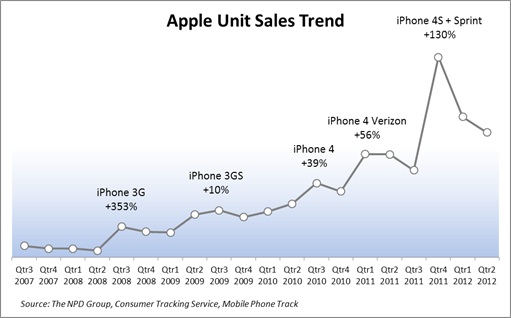 Despite modest hardware upgrades, iPhone 4S had a huge launch, which contributes to expectations about a successor sure to have LTE, larger display and lots of other new features. But the addressable market of new buyers is smaller. Baker explains: "Last year's iPhone 4s launch could still take advantage of selling into what remained of the huge untapped base of potential subscribers at Verizon and Sprint who were not available to them previously. This year's introduction faces the specter of a much smaller base of previously unavailable consumers, based on their carrier preferences".
Then there is the price of success. "Blowing away all weakened competition, as Apple has done to this point, makes it infinitely harder to continue to blow away the remainder, because they are, by virtue of their current position, much more competitive than those that have fallen by the wayside", Baker says.