Google+ signups top 400M, but only 100M active users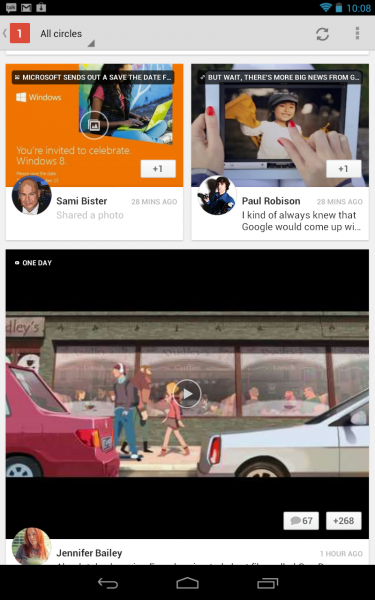 On September 20, 2011, Google+ opened to the public, after nearly three months of closed beta. To mark the year anniversary, today the search giant released new data that initially bodes well for the first year while raising questions about the service's real success.
"This week we also hit an important milestone--over 400,000,000 people have upgraded to Google+", senior vice president of engineering boasts. "Here too, I'm happy to report that we have just crossed 100,000,000 monthly active users on Google+ (plus.google.com and mobile app)". What? Only one in four are active?
Google's social network is nothing if not controversial about the numbers. Pundits repeatedly throw out "ghost town" to describe Google+, which isn't my experience, by the way. I engage regularly with other "Plusers" and continue to see the number of people putting me in Circles grow. Ghost town refers to lots more people signing up for Google+ than actually using it. But that's hard for outsiders to measure, since many, perhaps even most, posts aren't public. Google's own numbers matter more.
One in four active is reason to wonder about Google+'s success. From the measure of 12 months operation, that's a helluva good number, and one many new cloud services would covet. But 25 percent active users raises questions about the quality of signups and how many are actually legitimate. After all, Google now tightly ties several services to Plus, such as Profile and YouTube, and anyone using Hangout could create an account but not really be active. The point: Almost anyone using Google services could accidentally sign up for the social network.
Something else: In late June, Gundotra said there were 250 million Google+ users and 150 million monthly active ones -- half of them active every day. That means the number of active users is down by 50 million, or by one-third, in three months.
Still, that 400 million, which is nearly half Facebook's subscriber number, is an amazing catch. Google need only turn those people with accounts into active users. The hardest part, acquiring the users, is already complete. Social networking is much less about features or user experience as people. MySpace was the rage when everyone hung out there. Now Facebook. People go where there friends and family are.
Today on Kyle Beatty asks Gundotra many others surely would: "400,000,000 people and only two of my friends are using it -- sparingly. I love the platform, but I can't get any of my family and friends to use it. Any suggestions?"
Ashley Moat answers Beatty: "So do I :p But i think with the increases of users in just a year, nobody can argue that it isn't going to get even bigger in time". And 400 million accounts -- all primed to become active -- is big foundation.
Google+ mobile is potentially huge, particularly as more people use smartphones. Here, 51.5 percent of Americans have smartphones, according to Nielsen -- that's up from 41 percent a year earlier (July to July). Seventy-four percent of young adults age 25-34 have smartphones. Google only needs to woo them from Google.
According to a recent JD Power and Associates survey: 67 percent of smartphone users have downloaded social media apps and spend more than 100 minutes a month using them. Smartphone owners who use social networking features and apps are more satisfied than those who do not (810 and 755 score, respectively, on a scale to 1,000).
In my experience, the Google social network mobile app is exceptional, and much better than its browser-based counterpart. I now typically use Google+ for Android more to view posts, make my own or to comment -- that despite the hardships of using touchkeys compared to a keyboard.
Google also continually adds new features. The social network is in process of rolling out vanity usernames as main identifier in the web address. I have +JoeWilcox. Today Nik Software became part of Google+, in a push to improve the experience.
Still, enhancements are only as good as the people, circling back to 100 million active users versus 400 million accounts. Sign of the times: My family is stuck on Facebook, although I've made more new friends on Google+ than anywhere else in years.
Do you use Google+? If so, how regularly?