If HTC customer satisfaction is so high, why are smartphone sales so low?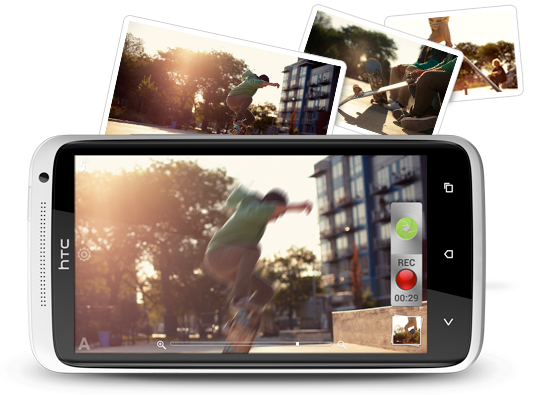 That's my question after scanning a survey JDPower and Associates released yesterday. The firm ranks customer satisfaction on a scale of one to 1,000. For the eighth consecutive survey, Apple is tops with a score of 849. But HTC is second, at 790, which has me scratching my head trying to put two and two together and getting three. Perhaps my math should be similar for Apple, since Samsung, which scored 782, sells more smartphones than any other manufacturer -- that's here and abroad.
My point: High customer satisfaction doesn't necessarily equate to big sales. There are many other factors to consider, particularly subsidized products like smartphones. Among them: Carrier contracts and pricing; device promotions; on-shelf experience in stores; handset look and feel; color choices; cases and other add-on options; carrier availability (no iPhone at T-Mobile USA, for example) and advertising, which Samsung does much more of than HTC -- or that's my observation. None of these reasons considers features, which aren't that different phone to phone as they used to be.
HTC ranked eighth in global phone sales during second quarter, according to Gartner, with 2.2 percent market share. Samsung was first and Apple third. According to comScore, at the end of July, in the United States, where JDPower conducted the survey, HTC ranked fifth in cellular handset subscriber share (again Samsung and Apple were first and third, respectively). HTC's share is unchanged, 6.4 percent, from June. Samsung share: 25.6 percent. Apple: 16.3 percent.
At HTC, hard times are the norm -- at least from a financial performance perspective. During second quarter, for example, profits plunged about 58 percent year over year. Even the Taiwanese manufacturer's crème de la crème phones suffered hardship, in May US Customs temporarily blocking import of the HTC One X over patent disputes with Apple. In July, AT&T slashed by half the well-reviewed phone's price.
HTC could use a bit more correlation between customer satisfaction and sales.
JDPower notes four key factors in determining smartphone satisfaction: "performance (33 percent); physical design (23 percent); features (22 percent); and ease of operation (22 percent)". Other factors are surprising. For example, features, such as operating system, camera or social media functions, don't appeal as much as they once did. Forty-seven percent of smartphone buyers primarily purchased because of features, down from 57 percent a year earlier (JDPower conducted the survey in June).
Meanwhile price is more important, with 19 percent citing this as primary purchase reason, up from 14 percent a year earlier. Twenty-two percent of respondents said they paid nothing for their device.
Smartphone owners who use social networking features and apps are more satisfied than those who do not (810 and 755 score, respectively) or those who game and do not (813 vs 752, respectively).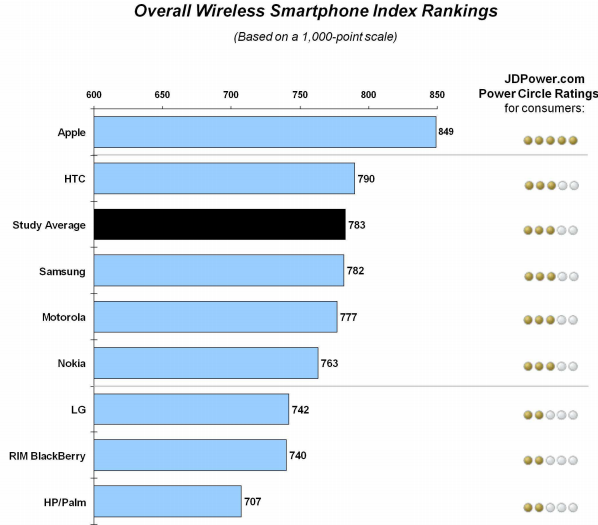 Again these are all features generally available among different smartphones, which brings me to one differentiating feature purposely left out of the second-paragraph list and saved for here: Branding. Apple and Samsung both command strong brands, and advertising and other marketing investments are part of the effort. For example, last month I observed a Samsung phone charging station at my daughter's university. Brand presence like this is priceless.
Some advice to HTC: It's long past time to better brand, and capitalize on customer satisfaction. What success can there be in high satisfaction among a lower number of people?