Intel and Motorola deliver the first 2GHz smartphone with Android-powered RAZR i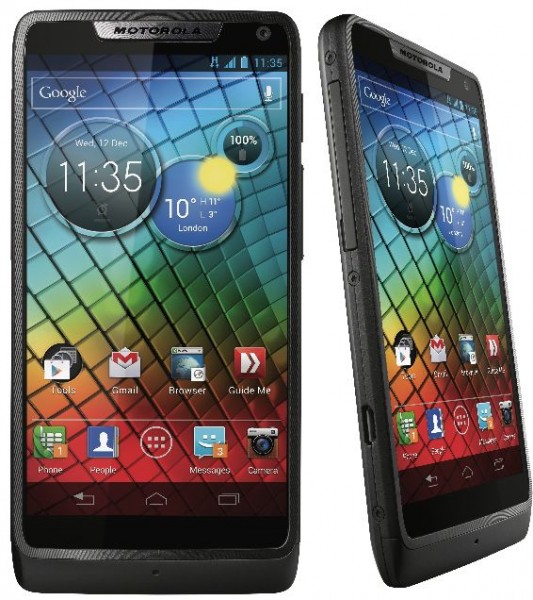 Motorola, which recently announced the Droid Razr HD smartphones as well as the Droid Razr HD Developer Edition, added a new smartphone to its line up -- the Razr i. In two color designs -- white and black, it bears an uncanny resemblance to the well-received Droid Razr M.
Unexpectedly, the star of the show is not the device itself, but rather Intel's Atom processor which makes it the first commercially available smartphone clocked at 2GHz. Just like the Droid Razr M, it comes with a 4.3-inch Super AMOLED Advanced display and, according to Motorola, a battery that is 40 percent more powerful than the competition. By competition, Motorola is referring to the year-old Apple iPhone 4S. On the back, there is an 8MP camera with an illuminated sensor and HDR (High Dynamic Range) capability, that can load in less than a second and can take 10 pictures using multi-shot mode, again, in less than a second as long as the display is not off.
Jim Wicks, senior vice president, Consumer Experience Design, Motorola Mobility said: "Together with Intel, we're redefining what people can expect from a mobile device. A camera that launches in an instant, Web pages that load blazingly fast and a device that's the perfect balance of screen size and fit in hand," but he forgot to add that the new Razr i is running Android 4.0 Ice Cream Sandwich which is not something that is expected from a Google subsidiary. Jelly Bean was released in June at Google I/O and Motorola failed to deliver, and it was actually expected from Motorola.
It also comes with NFC (Near Field Communication) to transfer files via Android Beam and make payments, as well as the plethora of Motorola applications, including Smart Actions. On the black model there is a diamond cut aluminum frame surrounding the display that is made of Corning Gorilla Glass. There is a Kevlar back-cover and a splash-guard coating that protects the smartphone as well as the electrical boards found inside from spills.
Starting in October, the new Razr i, black model will be available in select European and Latin American markets including France, Germany, United Kingdom, Argentina, Brazil and Mexico, while the white one will "also be available". There is no word on pricing, other than it will vary by country.
At first glance, it looks like a Droid Razr M with an Intel Atom processor instead of the 1.5GHz dual-core Qualcomm Snapdragon S4 CPU, but as it stands there will be no internal competition between the two models as they are sold in different markets.
If you want one, you will have to be in the right place to get it...