Intel Clover Trail to make mid-range Windows 8 Pro tablets attractive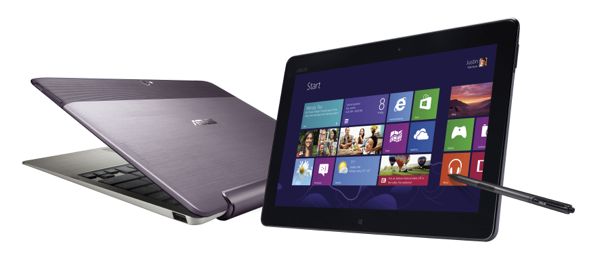 In the consumer market, Intel is best known for making chips that go into PCs of various design, and with the newly announced Intel Atom Z2760 processor, codenamed Clover Trail, the Santa Clara, California-based corporation is looking to make a dent in the mobile tablet market as well, where its presence can be considered abysmal at best.
The new Intel processor is designed to fill the gap between Windows RT-based tablets running on ARM chips and full Windows 8 Pro-based tablets on Intel Core i processors. Intel looks to be planting its Clover Trail flag in the middle ground, offering compatibility with desktop applications and improved mobility through good battery life and a compact package.
Intel Atom Z2760 is a system on a chip (SoC) that targets both consumer and business tablets, and is available for convertible solutions as well. Intel calls it a "compact design" in a form factor as small as 8.5mm thick and 1.5lbs (680grams) in weight. Battery times are competitive with solutions currently on the market, with approximately 10 hours of HD video playback, and over three weeks of standby time. Wi-Fi, 3G and 4G LTE are also supported by the new SoC, all in the name of "choice and flexibility for online access," but also emphasizing mobility. NFC, a rear-facing 8 megapixel and a 2.1 megapixel forward-facing camera support are also thrown into the mix to offer what looks like an overall very capable platform for building hardware.
The SoC supports Windows 8 Pro, which comes without the app limitation of its lesser-capable sibling Windows RT. At the same time, it manages to offer the right balance between portability and battery life with the two being crucial in delivering a worthy competitor on the tablet market, which is dominated by Apple's iPad. Yet the first issue with Atom-based Windows 8 Pro tablets is their role on the market.
Are they supposed to be iPad competitors or a cheaper alternative to Windows 8 Pro-based offerings?
Intel and its OEM partners announced, among eight offerings, the ASUS VivoTab which according to the leaked pricing will cost $799 without the keyboard dock that will be sold separately for a not-so-cheap $199. Add the two and the result is a $998 Windows 8 Pro-based tablet with a keyboard, which does not make it a worthy iPad adversary price-wise on the consumer market, nor even an Android-based tablet competitor. Yes, it is a very capable product because of Windows 8 Pro, but at that price it may be out of reach for many consumers that are just looking for a tablet capable of covering their basic needs. Then, there is the other end of the spectrum...
Also announced is the new Samsung Smart PC that comes in fairly competitive package, with an 11.6-inch HD display, 64GB of storage, 1.65lbs weight, claimed 9.4 hours of video playback and 13.5 hours of battery life. According to ReadWriteWeb the tablet will cost a fairly more reasonable (in comparison to the ASUS VivoTab) $649 for the tablet and $100 for the keyboard dock. Add the two and at $749 it's considerably more consumer-oriented in comparison to the ASUS VivoTab, which at nearly $1000 is unlikely turn out to be an iPad killer.
Fredrik Hamberger, Vice President, Consumer Volume Product Management, Personal Computer Global Business Unit, HP stated the following which, in part, can best describe the new Intel Atom Z2760-based tablets: "The HP ENVY x2 is a hybrid product that delivers the power of a notebook and the freedom of a tablet in a groundbreaking design." And that might seem as the best way to describe them -- notebook alternative in a tablet package. The capabilities and the form factor of such a tablet will undoubtedly have its fans, myself included as for the price it's a great notebook alternative. If more processing power is needed one should divert the attention towards the Core i3, i5 and i7 offerings, that can meet the power requirements but at the cost of a higher price and lesser portability.
Windows 8 Pro-based tablets are very capable and combined with the new Intel Atom Z2760 SoC are a compelling package, yet as they stand they address only a limited market segment: users that need a full-fledged desktop operating system, and can also afford a premium priced tablet.
It's the middle ground between performance, capability and portability which is targeted, and it's a very attractive product combination that will probably appeal highly to professionals, but a Windows RT-based tablet might still be the right one for the average consumer that values a decent priced-offering first and foremost.