Street View arrives in Google's mobile app -- iOS 6 users rejoice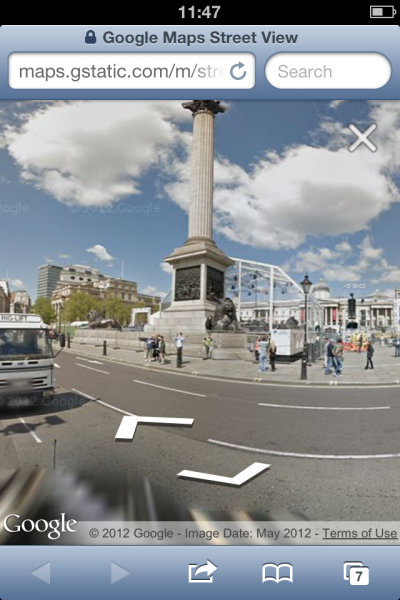 Google has introduced Street View into its web app, bringing back one of the most sorely missed features lost when Apple swapped Google's popular mapping app for its own much poorer solution in iOS 6. I'm sure you're more than familiar with the whole sorry tale that led Apple CEO Tim Cook to issue an apology, and our own readers saying they wouldn't be buying an iPhone 5 because of it, so I won't dwell on the subject here.
If you followed my advice and added a shortcut to Google's web app, you're all set to start using Street View. Its rollout seems to be complete, so you should now have access to it, wherever you happen to live.
It's very easy to use, just load the web app (if you don't have a shortcut installed go to maps.google.com in Safari), tap to zoom in to a location, and a bar should appear at the bottom of the screen, showing the familiar Pegman. Click on him, and Street View will open in a new tab. You can also go directly to maps.gstatic.com.
In my experience, it works perfectly -- great on the iPad and presumably just as well as on the iPhone 5 -- and you can navigate the streets by dragging on the screen, or tapping the arrows. Street View can be displayed portrait or landscape.
Like a lot of people I'm still keen for Google to roll out its new, official Maps app, but this will certainly do for now.