TomTom for Android available, but not for any smartphone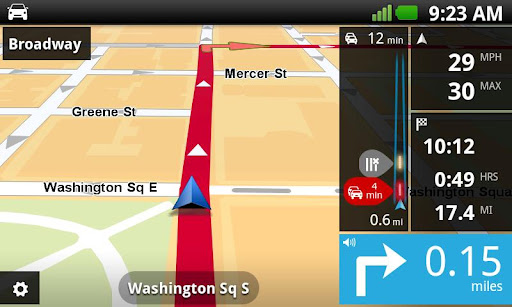 Do you find the standard Android maps app to be lacking? There is a solution -- the popular navigation software TomTom is now available for Android smartphones.
Unlike cloud-connected software solutions, TomTom relies on offline maps to offer guided navigation on Android smartphones and considering the 2.3GB free storage requirement the download is consistent to say the least. The app comes with a number of useful features, such as live traffic information via HD Traffic, lane guidance, spoken street names, eco routes to save that extra bit of gas or electricity, automatic day and night modes, as well as other features. There are maps for United States, Europe, United Kingom as well as other geographical locations.
But there is a limitation. If you are interested in purchasing the application (the cost varies depending on the included maps). It requires an Android smartphone running an OS version higher than 2.2 (Froyo) with a screen resolution lower than 1280 by 720, which eliminates flagship smartphones like the Samsung Galaxy S III, Samsung Galaxy Note 2, HTC One X+ and Samsung/Google Galaxy Nexus.
The app may be great, but limiting it to mid-rage Android smartphones is not.