AMD's newly introduced Z-60 APU goes after Intel's Clover Trail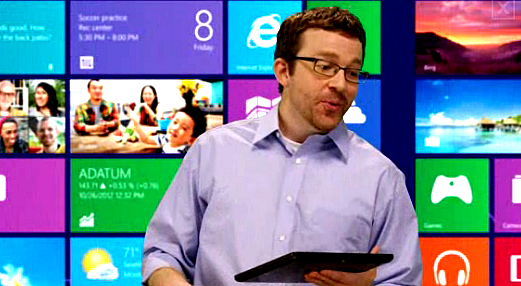 On a number of levels, AMD and Intel are in similar predicaments. Both are major players on the desktop chip market, but have an abysmal presence on the mobile tablet market. To correct the latter Intel recently announced its new tablet processor codenamed Clover Trail and AMD promptly followed by announcing the company's Z-60 accelerated processing unit (APU). The two will yet again battle, but for a different market on which neither has a commanding presence nor the recognition as a fearful competitor.
Just like Intel's Atom Z2760 system on a chip, AMD has a recipe that involves tackling the Windows 8 Pro tablet market instead of feature-stripped Windows RT tablets. Yet again, the two companies take the familiar approach by using x86 processors to make a splash on the diverse tablet market. The dual-core AMD Z-60 touts features such as AMD "Start Now" which is designed to deliver fast boot and resume from sleep times, six hours of HD video playback and up to eight hours of browsing battery life, all in a tablet as thin as 10mm.
AMD Radeon takes care of the graphics part, and delivers support for 1080p resolutions, HDMI output and DirectX11 capability, and it looks only to deliver a matching effort with comparable solutions rumored or already released.
Two variants have been announced, both featuring a dual-core 1.0 GHz CPU, with a TDP (Thermal Design Power) of 5.9W and 4.5W respectively, 1MB of L2 cache, 80 Radeon cores on die, a GPU clock speed of 276 and 275 MHz respectively, and 1066 MHz DDR3/DDR3L speed.
Steve Belt, corporate vice president of Ultra-Low Power Products at AMD stated:
We see a large gap between the lower performance and high-price competitive offerings that allow AMD to be in tablet designs that will please our customers and end users alike.
A competitive price will indeed allow AMD to make its way on the tablet market, but it also poses a few issues for the Windows 8 ecosystem.
Judging by various prices and offerings, they might turn out to confuse shoppers looking for a Windows 8 tablet, because AMD is entering the market right in the middle ground between price and performance. The Windows tablet market looks like it could be over-saturated in the middle, and weak in the extremes.
Then there is the issue of Intel Atom Z2760 vs. AMD Z-60 APU. The first looks as a more portable solution, while also delivering more impressive video playback times and cellular connectivity, while the latter looks unable to provide differentiating factors straight from the announcement. The newly introduced Samsung Smart PC will ship with Clover Trail, and it will come with a competitive price tag of $649 which coincidentally fits right in the middle ground that AMD purposefully is willing to go after.
AMD announced that the newly introduced Z-60 APU is shipping today, with tablets expected to launch later this year.
Sounds promising, but not impressive yet.