Lenovo's new Windows RT/8-based convertibles stand out from the crowd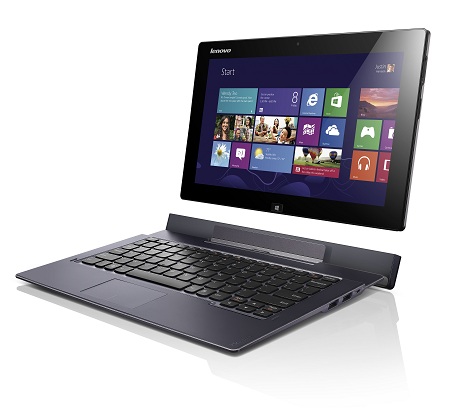 One thing is certain -- it's raining Windows 8-based devices ahead of the October 26 launch of Microsoft's latest consumer operating system. After a number of manufacturers, like Acer, ASUS and Samsung announced Windows 8-based devices, Chinese PC maker Lenovo introduced four convertibles sporting Windows RT/8 aimed at consumers and business users.
For consumers, Lenovo announced the IdeaPad Yoga 13 Windows 8-based "multi-mode" ultrabook, its smaller Windows RT-powered brother IdeaPad Yoga 11, touted as the "world's slimmest multi-mode PC," and the IdeaTab Lynx that will be launched with the recently announced Intel Atom Z2760 "Clover Trail" processor. Lenovo has not forgotten business users and added the ThinkPad Twist to the Windows 8 lineup, sporting fully-fledged 3rd generation Intel Core processors up to Core i7, and up to Windows 8 Pro operating system. Let's take them one by one and see what's what...
Even though it targets business users, the ThinkPad Twist, that can be used in different modes such as "Stand" for "work collaboration via the multi-touch screen," is marketed as a general purpose notebook. On top of the previously mentioned specifications, it comes with a 12.5-inch 350NIT IPS display, optional 3G connectivity, 500GB HDD of 128GB SSD for storage and the ThinkPad-branded keyboard. Lenovo touts a nearly all-day battery life which is rather unusual for a device powered by Intel Core processors, but fails to provide exact numbers. Dolby Home Theatre audio, mini-HDMI and DisplayPort are also mentioned as part of the multimedia experience. Lenovo-branded software such as Solutions for Small Business and Lenovo Cloud Storage are also thrown-in into the mix. Pricing will start at $849, and will be available via retailers, business partners and Lenovo starting October 26.
"These designs fueled with powerful Intel 3rd generation Core processors will deliver the key attributes of the PC and tablet into a single system—essentially people are getting 'two for one'." is what Kirk Skaugen, corporate vice president and general manager, PC Client Group, Intel said in relation to the Yoga 13 and ThinkPad Twist that strongly hint at being a viable PC-replacement solution for both consumers and business users.
The consumer-oriented IdeaPad Yoga 13 comes with a hinge that allows 360 degree movement, and is able to fold from laptop to tablet in a single motion. A 13.3-inch high definition IPS display, 3rd generation Intel Core processors, a 16.9mm thick frame and a decent eight hours of battery life complete the package, running on Windows 8. It can be reserved from Best Buy starting on October 12, where it will also be available for purchase, as well as directly from Lenovo starting from $1,099 on October 26.
Its smaller sibling, the IdeaPad Yoga 11, comes with an 11.6-inch screen and is powered by a quad-core nVidia Tegra 3 processor, it should provide 13 hours of battery life. Just like the IdeaPad Yoga 13, the IdeaPad Yoga 11 can be converted into a "Stand" by flipping the keyboard behind the screen, or a "Tent" by bending them upright. It will be available beginning in December, starting at $799.
Using the recently-introduced x86 app-compatible Intel Z2760 "Clover Trail" processor, the IdeaTab Lynx tablet comes with an 11.6-inch display and can be connected to a keyboard for increased productivity. It should deliver an impressive 16-hour battery life with the "optional base," and comes with Dolby Home Theatre for a cinema-quality like sound. An optional second year of warranty coverage will be available. Pricing will start at $599 for the tablet and the keyboard dock will be available for $149, with availability to start in December.
The usual array of Lenovo services including In-Home Warranty upgrades and Accidental Damage Protection on select products will also be available.
The previously announced ThinkPad Tablet 2, that is priced starting at $649, comes with a 10-hour battery life, an 1.3lbs weight and optional keyboard dock, will also debut, according to the press release, alongside the newly introduced convertibles this month, though it will be available starting in November.
Lenovo's Windows 8 lineup covers a wide price range from $599 to $1,099, and provides adequate solutions for different types of users. At the moment, Lenovo is clearly differentiating its products price-wise as well as feature-wise from one another, which will undoubtedly make the purchase process easier for future customers interested in buying a Windows 8-based device.