HTC teases the J Butterfly -- 5-inch HD display, quad core, but only in Japan (for now)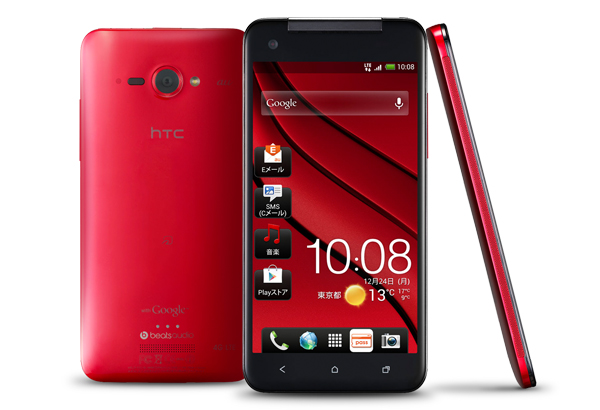 HTC recently introduced the One X+, a quad-core powerhouse that took the flagship role in the company's smartphone lineup. Today, the Taiwanese phone maker announced the J butterfly (codename "htl21"), a 5-inch device with a whopping 1080p display.
The HTC J butterfly comes with impressive specifications, the first of which is a 5-inch SuperLCD 3 display with a 1920 x 1080 resolution and a density of 440ppi. Power comes from a 1.5GHz quad-core APQ8064 Qualcomm Snapdragon S4 processor, that is identical to the one found in the LG Optimus G, and 2GB of RAM. On top of the rather modest 16GB of onboard storage, HTC included a microSDHC card slot which is a change of heart from the previously released One S, One X and EVO 4G LTE smartphones that had no expandable storage.
It will ship with Android 4.1 Jelly Bean, making it somewhat unique against other recently announced devices such as the LG Optimus G, which runs Android 4.0 Ice Cream Sandwich. In the camera department, it will get an 8 megapixel sensor on the back capable of 1080p video recording, and a 2.1 megapixel image sensor on the front of the device.
On the connectivity front, the HTC J butterfly comes with 4G LTE, Wi-Fi 802.11 a/b/g/n, Bluetooth 4.0, a microUSB port, and, most likely and safe to assume, the usual array of sensors. GPS and NFC are onboard as well, and the smartphone is labeled with CDMA/GSM/UMTS/GPRS connectivity.
For a device with a 5-inch display and a powerful quad-core processor, the HTC J butterfly does come with a somewhat modest 2,020mAh battery that might look rather small in comparison to the 3,100mAh one found in the Samsung Galaxy Note II.
It measures 142 x 71 x 9.1 mm, and weighs roughly 140 grams. For comparison, the One X+ comes in at 134.4 x 69.9 x 8.9 mm and 135 grams. Not too shabby...
It doesn't take much to get excited by the specs, which are impressive indeed by today's standards. Since it was only announced in Japan, it's fair to assume it might not turn out to be globally available, but it can't hurt to keep an eye out for international variants on this same hardware theme.