LG Optimus G -- World's first LTE Snapdragon S4 Pro quad-core smartphone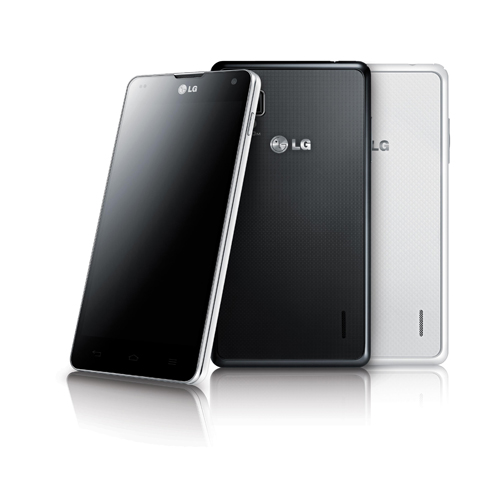 After Qualcomm spilled the beans, LG officially announced the Optimus G, the world's first quad-core smartphone based on the Snapdragon S4 Pro processor to also include LTE connectivity. The LG Optimus G will be rolled out in September in Korea with global availability to follow after. Look out Samsung Galaxy S III, there is a new flagship smartphone in town...
The LG Optimus G has a 4.7-inch TrueHD IPS display (LCD) that sports an unusual 1280x768 resolution with a 15:9 ratio, packing a fast Qualcomm Snapdragon S4 Pro processor with a quad-core 1.5GHz Krait CPU, Adreno 320 GPU, 2GB of RAM, 32GB of internal storage, a 13 megapixel rear-facing camera with a 1.3 megapixel camera available on the front, 4G LTE connectivity, USB 2.0, Wi-Fi, A-GPS, MHL, DLNA, NFC and Bluetooth 4.0. The device weighs 145 grams and measures 131.9 x 68.9 x 8.45mm. A 2,100mAh battery is powering the LG Optimus G that is running Android 4.0 Ice Cream Sandwich.
The specifications are impressive and if the speed of the Qualcomm Mobile Development tablet --powered by the same chipset-- is any indication, the LG Optimus G will be one of the fastest Android smartphones around.
LG also includes its own UX features that include: Live Zooming for videos, Dual Screen Dual Play that allows a TV not only to mirror the Optimus G's screen, but also display different content simultaneously. QMemo, also present in the LG Optimus Vu, lets users take notes by using touch motions, Time Catch Shot that offers choosing the best shot before the depressing of the shutter button and "Cheese Shutter" that takes a picture after a vocal command is spoken.
The least impressive part of the specification list is using Android 4.0 Ice Cream Sandwich, which in September will be 11 months old. When Android 4.1 Jelly Bean has already been available since June, using an older Android version to power one of the fastest smartphones around and LG's own flagship is not necessarily an attractive quality to the intended audience of power users. Android 4.1 Jelly Bean brings improved features and functionality and an upgrade to the latest Google-designed smartphone operating system doesn't come over night from any major manufacturer, which is why LG should have offered it in the first place.
Operating system aside, the LG Optimus G is one of the best-equipped smartphones on the market today, and combining the impressive power with LTE connectivity will make it one of the most capable contenders to the smartphone crown in 2012.