Tough luck, iPad, Android owners read tablet publications more often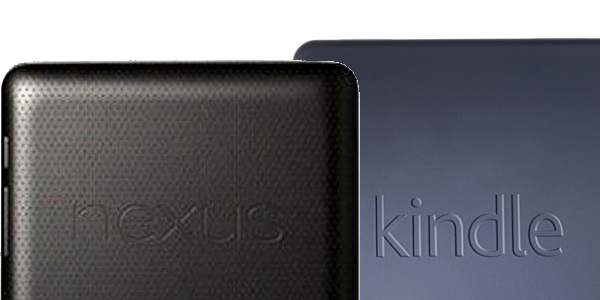 More Americans are discovering what I did, after buying the original iPad more than two years ago: Reading ebooks, magazines and newspapers on a tablet is an immersive experience and often much more satisfying than print. Today, comScore says that in August, two out of every five US tablet owners read a newspaper or magazine and one in 10 did so almost every day.
The numbers' meaning is greater when taken in context of another. Pew says that during the same month, one in four Americans used a tablet (22 percent as owners, 3 percent borrowing one belonging to another household member). Make no mistake, magazines and newspapers are going digital in ways like nothing seen on the Internet, because of publishers' ability to deliver richer content -- at that, more frequently -- and actually make money doing so.
"Tablets are fundamentally redefining how people consume news and information, with the format more conducive to reading longer form content than PCs or smartphones", Mark Donovan, comScore senior veep, says.
I totally understand. In January 2010, days before iPad's unveiling, I wrote: "The world doesn't need an Apple tablet, or any other". Then unexpectedly, in June 2010: "I was wrong about Apple iPad". What I couldn't understand without using the tablet: How intimate size, shape and touch made content or the immersive experience reading it. Hence, my retraction of the earlier assertion:
I find there are fewer reading distractions, and content is better presented than on a laptop and browser. I'm more focused and retain more of what I read. For reasons not easily explained, I find myself more thoroughly reading iBooks than defaulting to the skimming I sometimes do with physical books. Part of this immersive experience is the technology, but also how iPad is used. Apple's tablet is a sit down and focus device, as much because of size and shape as screen and user interface. The totality -- physical design and software benefits -- is immersion.
The experience isn't exclusive to iPad. I do most of my reading -- that includes Google+ and Feedly (for RSS) -- on Nexus 7. My plan is to let all my print subscriptions (even "Entertainment Weekly", which costs me just $10 a year in print).
Android nudges Ahead
I'm not alone on Android. In comScore's survey 6,000 tablet owners, Android nudged ahead of iPad by nearly every frequency category -- that despite popular convention Apple's platform has better periodical selection. Overall, 12.1 percent of Android tablet owners read newspapers almost every day compared to 12 percent for iPad. But the number is 12.8 percent for Amazon Kindle Fire and 13.4 percent for Barnes & Noble Nook. Similarly, 9.4 percent of iPad owners read a magazine or other periodical almost every day compared to 10.4 percent for all Android tablets and 11.3 percent for Kindle Fire. By the way, the Amazon and B&N tablets both use Android.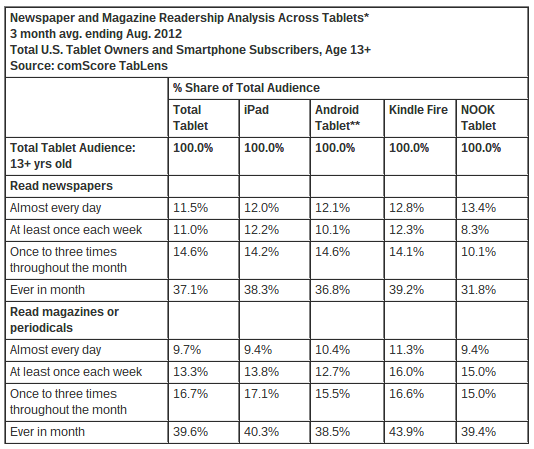 iPad only pulls ahead of Android tablets in one frequency category: magazines and other categories read "once to three times throughout the month". Amazon and Barnes & Noble are driving forces behind this trend, as both offer some amazing deals and selection on newspapers and other periodicals. Google Play now also offers wide selection; just yesterday, in a surprising move, the search giant released a magazine web reader for Chrome.
Meanwhile a larger trend looms. In August 2011, Apple had overwhelming US tablet share -- 81 percent, according to Pew. But by August, iPad had dropped to 52 percent share, with Android tablets rising to 48 percent from 15 percent. Thirty-two percent of tablet owners purchased in 2012.
Perhaps neither trend is lost on Apple, which will hold a special media event on October 23, presumably to launch iPad mini. Kindle Fire and Nook are 7-inch tablets on which reading frequency typically exceeds larger iPad and which sales helped dramatically push up Android share among Americans.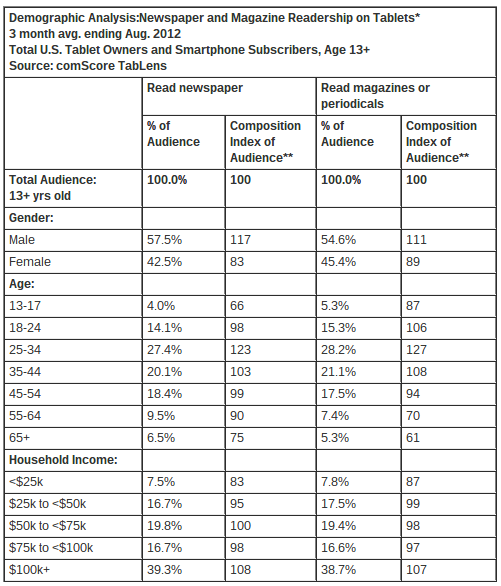 Regardless of platform, more tablets, and increase newspaper and other periodical reading on them, is a potential boon to publishers looking to charge for content (via subscriptions rather than free on the web) and to offer more to advertisers (captive audience, better metrics about readers and more interesting -- even interactive -- marketing opportunities).
"In the case of online newspapers, tablets are now driving 7 percent of total pageviews, an impressive figure considering the relative infancy of the tablet space", Donovan says. "Publishers that understand how these devices are shifting consumption dynamics will be best positioned to leverage this platform to not only drive incremental engagement among current subscribers but also attract new readers".
Something else: Readership is highest among a desirable demographic: 25-to-44 year olds: 47.5 percent for newspapers and 49.3 percent for magazines and other periodicals. But younger readers -- 13 to 34 -- is close: 41.5 percent and 48.8, respectively, for the same categories.