Microsoft brags about 25 million active Outlook users and releases awful Android app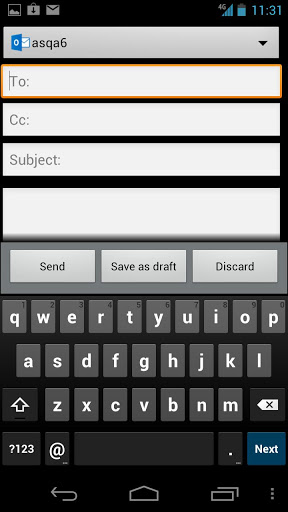 Almost four months ago Microsoft relaunched Hotmail as Outlook, as the company's response to Google's Gmail. In the meantime the new service reached more than 25 million active users, a number which has steadily grown since its introduction. To expand reach into Android territory, Microsoft even launched a new app for green droid devices.
The Redmond, Wash.-based corporation says that because of conversation threading, keyboard shortcuts, quick access to search operators and tab/send the transition towards the new Outlook email service is easier. Taking the fight over to its main competitor, the company also "finds" that four out of five (that's 80 percent in pie chart talk) Gmail users would switch to Outlook after just five days of use. That's a rather bold claim, and it seems a bit far fetched. But why?
Without providing any information as to the number of Gmail users that jumped ship, Microsoft attributes the finding to a less cluttered user interface, better spam and unwanted message interception as well as easier to use file sharing features.
Google's email service is deeply integrated with Android, the operating system that dominates the smartphone market and is a major competitor on tablets as well. But if Gmail users do want to switch to Outlook, then why did Microsoft release such an awful Android app? Does the software giant want to shoot itself in the leg?
The Outlook app is available to download from Google Play since November 26, but so far the reviews are not kind; 292 out of the total 474 users give it a one-star rating and just 60 deem it worthy of the highest mark. Reviewers complain about the outdated looks, offering a rebranded Hotmail app. Plenty of them expressed disappointment for the lack of effort that Microsoft put in.
Soham Chatterjee says "The app is ugly. I wonder if the developers ever looked at the competition before churning out their application". Erika Falls, on the other hand, points out a comparison with the sister app, Hotmail.
She says: "How can any company put out such a terrible application. I was hoping that since it was separate from the old hotmail app, it would have been given a fresh UI. Knowing the company, I doubt any further updates will be made".
As an Android and Outlook user, I share the pain. The interface looks designed for either Windows 95 or Android 1.5 and in no way reflects Microsoft's current design language shown in the SkyDrive app. The functionality does not best the native Email or Gmail app either, both of which are more pleasant to use.
There is no preview associated with emails, so there is no way of knowing whether it's worth reading or not. Search, which is basic functionality after all, can only be used to look up contacts but not email.
There are plenty of options available, starting with a "Quiet Time" feature that syncs email based on date, time or other factors, but not arranged in a very user friendly manner.
The Redmond, Wash.-based corporation says that Android devices are not "consistent in their native support for Exchange ActiveSync", and to make up for the fragmented feature Microsoft offers an Outlook app.
However, the latest Android iterations do come with an Email app, featuring Exchange ActiveSync support, which is properly adequate for Outlook use. I use it myself to keep track of all the emails that I receive using Microsoft's service.
Why bother replacing it with Microsoft's app?