Nokia Lumia 920T brings Windows Phone 8 to the largest market in the world, China Mobile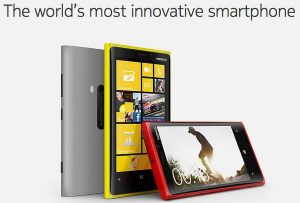 Wednesday, Finnish smartphone maker Nokia introduced the Lumia 920T, the first TD-SCDMA variant of the Lumia 920 that will be available later this year on the world's largest carrier, China Mobile. Off-contract, the Windows Phone 8 handset runs for roughly $720 and ships in the typical black, red, yellow or white trim.
Nokia has given little away regarding the device's hardware specifications. That is likely due to the fact that the two Lumia 920 device types share most of the same underpinnings, except support for the TD-SCDMA wireless standard used in China. As a result, buyers can expect a 4.5-inch PureMotion HD+ display with a resolution of 1280 by 768, a 1.5GHz dual-core Snapdragon S4 processor, 32GB of internal storage, an 8.7 MP rear-facing camera with LED flash, 1080p video recording and PureView technology, and a 1.3 MP chat camera.
Nokia's interest in China should come as no surprise. Earlier this year IDC predicted that China will overtake the United States in 2012 as the world's largest smartphone market. Nokia currently ranks a distant third in top smartphone manufacturers worldwide after Samsung and Apple. A partnership with China Mobile however could bring the company closer to second place Apple through increased local shipments and sales.
Nokia CEO Stephen Elop reinforced the company's standing in China. Elop stated: "We are delighted to partner with China Mobile, the largest operator in the world, to introduce our first Lumia on Windows Phone 8 device in this key market for Nokia."
Though Windows Phone has been available in China for nine months, the Lumia 920 is the only one to offer Windows Phone 8, the latest version of the mobile operating system. That position gives Nokia an advantage over HTC, Lenovo, and ZTE, who each offer devices running non-upgradeable versions of Windows Phone.
Currently China Mobile has more than 700 million subscribers, a generous userbase for both Nokia and Windows Phone 8, which are both lagging behind Google's Android and Apple's iPhone.
Li Yue, President of China Mobile Communications Corporation, revealed an important clue as to the role played by the Lumia 920T for the Finnish manufacturer in the local market. Yue stated: "Our close cooperation with Nokia is a key contributor to the success of China's TD industry, and will further enhance the rapidly growing TD ecosystem. We are excited about this important next step in our partnership, and we look forward to creating an even more vibrant TD industry together."
Yue's statement has significant meaning when put into perspective. Currently, only 79 million of China Mobile's 700 million subscribers take advantage of 3G connectivity. As the carrier's network evolves, so does the Lumia 920T's potential.
With the first TD-SCDMA Windows Phone 8 handset available on China Mobile, Nokia is lined up for a home run.