Apple's perception problem is HUGE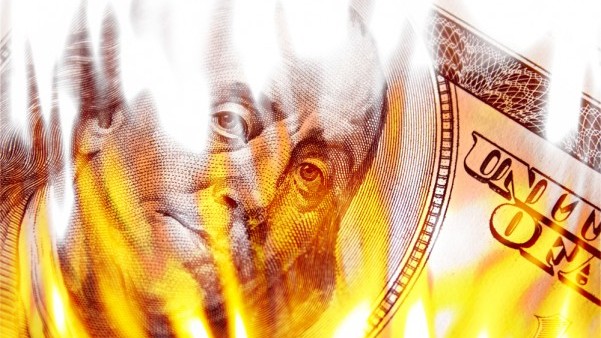 For more than a decade I've quipped: "In business perception is everything". For some brands, this axiom is truer than for others. Apple leads the list, much to its determent. For more than a month now, I've read speculative stories from all quarters trying to figure out why the company's stock tailspins. Some people blame the fiscal cliff, others taxes. Meanwhile, the anti-Apple crowd delights in rumors iPhone sales are slowing and the mini cannibalizes iPad 4 sales. There's an aura of doom that I can only describe as the anti-reality distortion field.
Earlier today, Apple shares briefly dipped below $500, a low not seen since around Valentine's Day. Bloggers are beside themselves posting about this catastrophe -- or so they see it. I laugh, because they are a large part of the company's falling stock price problem. All these stories contribute to negative perceptions that feed the frenzy. That's one part of the answer to how someone nicked an artery and Apple bled about $200 per share, or 27 percent decline, from September's $705.07 record high. These bloggers were, and still are, detached from reality -- like analysts covering the company. Just two months ago, the Apple Fan Club gloated about projections of $1,000 a share. Now they run around like street people holding signs "The World Ends Dec. 21!" as shares slip and analyst cut back projections.
Hey, Chicken Little
I can understand some of today's freakdom. Overnight, Apple issued a press release boasting about two million iPhone 5 sales during the launch weekend in China. Surely that is cheery news in Apple's second-most important market and the one that, according to IDC, will top the United States for smartphone sales this year. In the past, Apple news like this would have sent shares soaring. They're in retreat instead, in part because some analysts took bites out of their Apple forecasts. Oh my, Chicken Little, the sky is falling. (Note: Shares reversed earlier declines, ever so slightly. They were up about 1 percent as I posted and closed up 1.77 percent at 4 pm EST.)
There's an irony, and quite laughable one, to Apple's share price crisis: Misplaced perception. For years, Apple was a perception stock, largely buoyed by smart marketing and cofounder Steve Jobs' ability to cast the so-called "Reality Distortion Field", while generating cult-leader like adoration. For most of his time running Apple during his so-called second coming, Apple shares rose more because of positive perceptions, and overly-given attention from the Apple Fan Club of analysts, bloggers, reporters and other writers. Funny thing: Apple is no longer a perception stock but performance one. That's why I refer to the current situation as the anti-reality distortion field.
The dynamics lifting Apple high bring it low. The company has long benefited from rumors and clearly-deliberate leaks about future products. These helped lift perceptions about Apple as an innovator and kept the brand all over the InterWebs. The people writing obsessively about Apple before continue to do so, but with more negative tone and concern as the bottom seemingly drops out of the stock and the brand. (For the record, Apple damaged its brand with all these patent lawsuits, which is a separate story I've written many times. Then there is Apple Maps, which is the brand equivalent of nuclear reactor meltdown.) People who love Apple or invest can't seem to shut up about declining shares. They feed the beast they want to kill. One of the benefits of being a non-investor: There's no conflict of interest, I write with a clear conscience and as such don't obsessively pen stories about every little Apple stock fluctuation.
Growing negative perceptions feed off rumors, too. The track record of Apple rumors that are wrong, and the number of times Wall Street analysts misjudged Apple sales, is reason to ignore them all. Apple is an emotional stock and negative or positive feelings prevail -- and that includes analyst share targets. C`mon, some of them set 1,000 bucks just a couple months ago, while others lower the bar below $600 today. It's not the Mayan Apocalypse, people.
Money Maker
Apple's enormous growth was never sustainable. What matters more: Can the company continue meeting high revenue and margin targets? Recent history shows one helluva performer. Starting in 2010, Apple saw tremendous -- simply astounding -- revenue and profit gains, nearly doubling in one year from $13.5 billion to $24.7 billion and $3.1 billion to $6 billion, respectively. During fiscal 2010, Apple generated $65.23 billion in revenue. 2011: $108.25 billion. For fiscal 2012, which closed end of September: $156.51 billion. Apple revenue is up 140 percent from fiscal 2010. During the same time period, Apple's net income rose from $14.01 billion to $25.92 billion to $41.733 billion.
Looked at differently, for calendar 2012's first three quarters, Apple generated $110.175 billion in revenue. That's more than twice Microsoft ($51.7 billion). Two years ago, Microsoft revenue exceed Apple quarter for quarter. By calendar Q4 2011, iPhone revenue alone exceeded all of Microsoft.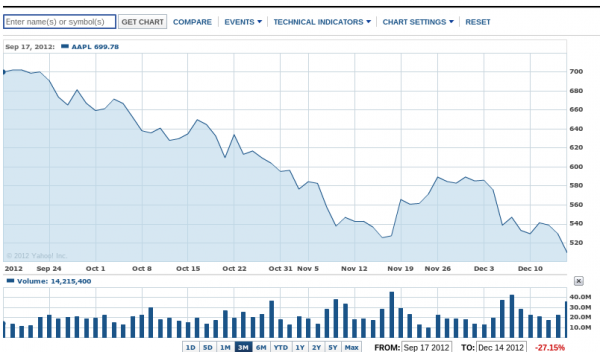 I may be an Apple boycotter, but I'm not anti-Apple. Someone has to point out the insanity of the anti-reality distortion field. This is a company with in excess of $120 billion in cash and related assets. The foundation is rock solid from every perspective that counts: Component supplies, manufacturing, distribution and gross margins.
I understand some of analysts' nervousness, when looking at Android gains on smartphones and tablets. What the platform gains in overall numbers, it gives up to Apple in profits. For example, on Black Friday, tablet average selling prices fell to $151 from $219 a year earlier, NPD says, mainly because of Androids. Based on Apple's promotions, I wouldn't expect much less than $500, if that. Globally for third quarter, using Apple financial statements, I see $535 average selling price. The point: While bunches of Androids compete for the lowest price, Apple skims the cream off the top of profits and margins. Meaning: Android tablet gains don't make iPad a loser. Same applies to smartphones.
But nervousness prevails, with negative perceptions acting like gravity the way positive ones lifted the stock just months ago. No one knows what next quarter or those that follow will bring to Apple. Analysts can speculate, but based on my quarterly earnings coverage, I see them as more consistently wrong than right. So Citi cut price targets today, no big deal. Shares fell to $499 -- that's even less to worry about. Apple is a solid performer. The bottom won't fall out in a quarter, two or even three, as the rumormongers so publicly worry about. Frankly, the people who love Apple most write too much about share declines. If they really want to help Apple, shut the frak up.
Photo Credit:  ARENA Creative/Shutterstock