Oh, there's no place like Android for the holidays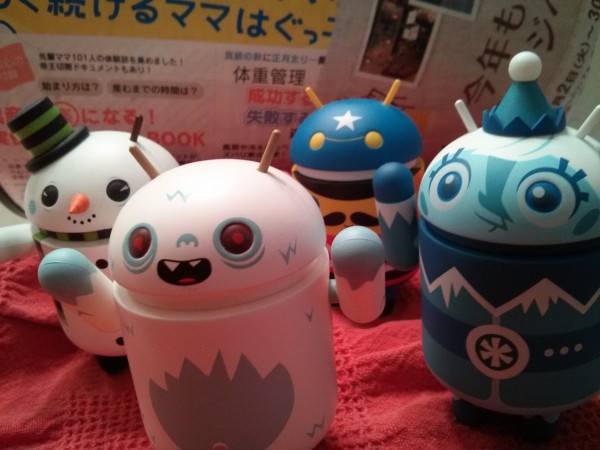 It is that time of year. Every search engine and social media site is posting its top-10 lists. People are shopping, putting up lights and decorations and even getting their computers into the spirit with Windows themes, Chrome New Tab themes and Firefox Personas. Your Android phone or tablet can also get into the spirit of the holidays with some handy apps. The Google Play store and Amazon App Store are both resources for holiday music and and movies, but there are also a number of apps to keep your spirits high.
There are holiday games, shopping apps and wallpapers. You can track Santa's journey around the world or track the calories you consume at that big meal. No, sorry, I am not covering the latter here. You can search for those on your own.
Shopping
Not long ago we told you about the Amazon Santa app and Google's updated Shopper app. Both will help you spend that hard-earned money. Of course, many stores also have dedicated apps.
If you are looking for that special something for the "tech person" in your life then check out New Egg or Tiger Direct. There are also department stores, book sellers, etc. You get the idea -- just search for your store of choice and you will likely find that it has an app.
Games
For the second straight year Rovio rolled out 25 holiday levels of Angry Birds Seasons. One new level becomes available each day from December 1st through the 25th.
If you prefer your games to be more on the morbid side then you may want to consider Dead Trigger, the popular zombie game that just added a holiday update.
If you want something a bit more family-friendly then you can't go wrong with Charlie Brown or Christmas Mahjong. Search the stores for countless other fun games to keep you occupied as you prepare for the arrival of your in-laws.
Wallpaper
Of course, while we all think of putting that special holiday theme or wallpaper on our computer, we sometimes neglect that we can also do so on our mobile devices. I prefer an all-purpose app like Backgrounds that can cover all seasons and moods, but there is no shortage of dedicated ones either.
There are live wallpapers like 3D Christmas Live and static ones such as Christmas HD.
Track Santa
NORAD has been in this game the longest and has moved on from radio reports in the 50's to smartphone apps today. The agency has a free tracker for Android available.
Perhaps in response to NORAD switching this year from Google Maps to Bing Maps, Google has also released its own app -- the Google Santa Tracker. The app just debuted yesterday.
Others
We have by no means even scratched the surface in this little post. There are hundreds, probably thousands, of different types of apps for the season. For instance you can get a countdown or find festive ringtones. The list goes on.
In all seriousness, there really is no place like HOME for the holidays and you should probably consider putting down the phones and tablets and enjoying the time with friends and family. But first, tell us, what are your favorites? Let us know in the commetns below.
Photo Credit: Joe Wilcox