Microsoft sells 60 million Windows 8 licenses, the earth weeps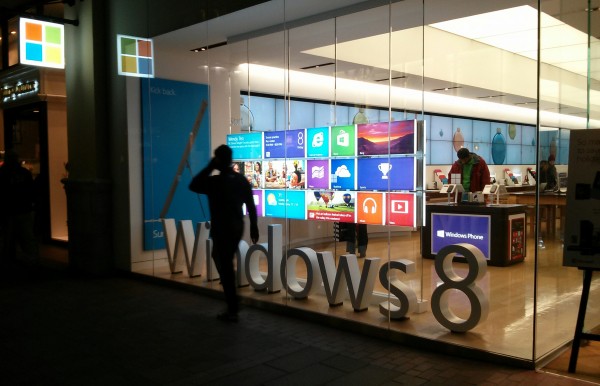 I can name more than a few tech executives who would kill to have this kind of failure. Despite weak PC sales, Microsoft manages to sell 60 million licenses of Windows 8, which nickname around the InterWebs is increasingly "disaster" and "flop". Oh, yeah. Such a tragedy. Has anyone got a hanky, because I'm gonna cry. Assuming 30 bucks a license (a number randomly chosen) that's what? One point eight billion dollars? Yes, such a failure.
But that has got to be much less dough than Windows 7 generated for about the same number of licenses. Microsoft slashed retail upgrade prices. Windows 8 Pro upgrade is $39.99 compared with $199.99 for its comparable predecessor. Yes, Microsoft did offer a Windows 7 Home Premium upgrade for $119.99 and limited-time three-license package for $149.99. You do the math. Windows 8 Pro upgrade still generates less revenue per retail copy and, presumably, OEM license, too. All things being equal, Windows 8 sales aren't anywhere as good as its predecessor, if Microsoft needs fire-sale pricing to generate similar license sales. So where's the handkerchief? My eyes are teary.
Tami Reller, Windows chief marketing officer, revealed the numbers during the J.P. Morgan Tech Forum today at the Consumer Electronics Show. "We have reached the 60-million license mark with Windows 8", she says, "and, again, roughly in line with where we would have been with Windows 7. In fact, you may recall that fact during our Q2 earnings back in the Windows 7 launch time period we talked about 60-million".
But as I explain above, there are different ways to measure 60 million and one is revenue per license (much depends on retail-to-OEM mix, which Microsoft will reveal with earnings later this month).
Something else: Windows 8 took considerably longer to reach the milestone than its predecessor. While both operating systems officially launched in October of their respective years (2009 and 2012), Microsoft let businesses start buying Windows 8 in August. So, once again, by 60-million reckoning, all things aren't equal and the new version isn't selling as well. Buy, hey, if that's failure, gimme some.
Reller claims that big demand for some new Windows PC categories hurt sales, but that doesn't reconcile with my read of analyst data. "There was demand at retail, and I think we all had a strong sense that unique touch devices, particularly touch laptops and tablets, convertibles would be in high demand", Reller says.
"The level of demand I think surprised a lot of people, and frankly, the supply was too short. I mean, there was more demand than there was supply in the types of devices that our customers had the most demand for, and there was some misalignment between where products were distributed and where there was demand, etc. So, there were some adjustments that were made real time".
That's not what I saw here in San Diego during the holidays. Windows 8 touchscreen models were plenty easy to find. Not that a shortage could matter much. Earlier today NPD revealed that at US holiday retail, between Nov. 18 and Dec. 22, 2012, touchscreen models only accounted for 4.5 percent of Windows 8 laptop sales.
Still, other milestones matter when looking to the future. "At launch we talked about, you might recall, we talked about 1,000 systems, 1,000 unique systems had been certified for Windows 8", Reller says. "One thing that's different from the Windows 7 launch is that post launch we're now up to more than 1,700 systems".
I expect Windows 8 to remain controversial for some time, for a latitude of reasons: slowing PC shipments, rising tablet competition and Modern UI among many others. Then there is taking risk, for which Microsoft should be commended -- or so I say.
"As we think about Windows 8 as a company, it certainly is what we would describe as a big, ambitious change", Reller says. "And perhaps one of the biggest for Microsoft, certainly from a Windows perspective it's the biggest change. It's the biggest endeavor; it's the biggest project since Windows 95". That is an understatement.
Photo Credit: Joe Wilcox