Watch out! The Huawei Ascend Mate is coming with a 6.1-inch display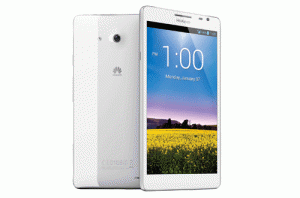 If you deem the Samsung Galaxy Note II as being either too small or too big for your taste, then you'd better look out for Huawei's new phablet. Ahead of the big CES opening day, the Chinese telecommunications company unveiled the Ascend Mate, the "smartphone with the world's largest screen". And with a 6.1-inch panel it's quite difficult to think of a more suitable claim.
The Galaxy Note II ships with a 5.5-inch 720p Super AMOLED display, but the Ascend Mate easily tops it thanks to the 6.1-inch HD IPS+ LCD panel, which Huawei admits to be "huge". The 1280 by 720 resolution is however on the lower end of the spectrum judging by recent pre-CES announcements, namely the Sony Xperia Z and Xperia ZL. The Ascend Mate is powered by Huawei's own 1.5Ghz quad-core Hi-Silicon processor and a whopping 4,050mAh battery, again, topping the Galaxy Note II by 950mAh.
Huawei also provides an interesting detail related to the "huge" touchscreen display. Featuring "Magic Touch" the 6.1-inch panel can be operated using gloves which should come in handy for those in colder climates. The "screen-to-body ratio of 73 percent" claim, is a far from exciting detail but does make it the highest in the business.
The Ascend Mate sports an 8MP back-facing camera with HDR and a 1.0MP front-facing HD camera. The operating system of choice is Android 4.1 Jelly Bean onto which Huawei also adds an "Augmented Reality" navigation app, along with other preinstalled extras.
The Huawei Ascend Mate will be available for purchase initally in China, in crystal black and pure white, starting from February 2013.