Microsoft Surface Pro arriving very soon - time to get excited?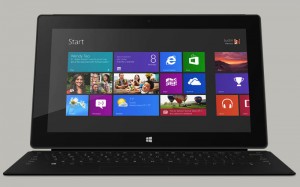 In late November, Tami Reller, Windows and Windows Live Division chief marketing officer, revealed that Microsoft was planning to launch the Surface Pro tablet "in January" 2013. However, seeing as the second half of the month is already underway, that doesn't give the tech giant long to get its product out there.
Fortunately prospective purchasers will be pleased to know they won't have long to wait now. Panos Panay, general manager of Microsoft Surface, tweeted yesterday that he was on his "way to the factory to check out Surface Pro", and that the Redmond, Wash.-based corporation will release the Windows 8 Pro tablet "in the coming weeks". Presumably that could mean either a late January or early February launch.
If anything, Panos Panay's vague tweet appears to be written to drum up interest before the big launch rather than provide useful information to would-be buyers. To paraphrase the man, he throws a bone but without actually throwing anything.
We do know that Surface Pro runs for $899 for the 64GB variant and $999 in 128GB trim. Some of the most noteworthy specs include:
Windows 8 Pro 64-bit
10.6-inch ClearType Full HD 10-point multi-touch display
Third generation Intel Core i5 Processor
Intel HD Graphics 4000 graphics card
4GB of RAM
Wi-Fi 802.11 a/b/g/n, Bluetooth 4.0, USB 3.0 port, mini DisplayPort
Pen input and pen (stylus) included in the box
48Wh battery
Microsoft also provided some details concerning battery life. According to the software giant, Surface Pro only lasts half as long as its Windows RT-powered sibling. That places the battery life anywhere in between four to five hours of off-the-grid operation.