Microsoft Surface Pro won't break battery-life records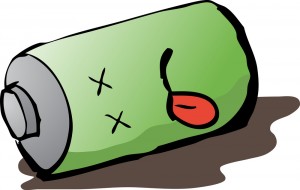 Yesterday Microsoft officially unveiled the price of Surface with Windows 8 Pro. Shortly after the Redmond, Wash.-based corporation revealed another bit of key information which was previously missing from the spec sheet -- battery life.
Unlike it's Windows RT sibling, which actually manages to deliver relatively decent battery life, Surface with Windows 8 Pro only lasts roughly half as much according to Microsoft. Prospective buyers can expect between four to five hours of cordless operation if the former's results are of any indication. The reason for the unimpressive performance is undoubtedly the Intel Core i5 processor and high-definition 1080p display.
Microsoft targets the opposite ends of the tablet spectrum with the two models. On one end there's Surface RT, which provides adequate battery life, while at the other the software giant pitches Surface Pro with full-fledged hardware for better performance.
Yesterday my colleague Joe Wilcox provided an in-depth analysis on the role that Microsoft's more powerful tablet can have on the market. He says that Surface Pro targets Apple's MacBook Air rather than the Cupertino, Calif.-based corporation's iPad tablet. In this regard performance makes sense over battery life, and the sacrifice is less damaging.
However, there's a third way with a wider tablet selection.
Intel recently released the Z2760 "Clover Trail" processor. It aims to provide a balance between performance, portability and battery life, without sacrificing either of the three in a noticeable manner. Intel quotes up to 10 hours of HD video playback and over three weeks of standby time in a form factor as small as 8.5mm thick and 1.5lbs (680 grams) in weight.
So prospective buyers can choose a model that might better suit their needs of performance and battery life. Because the Z2760 is designed to utilize the x86 architecture it can run Windows 8 Pro, meaning users have access to a large app selection as well as a more mature ecosystem. Legacy programs are not out of the question either. Basically similar to Surface Pro, but without the poor battery life.
The Intel Z2760's performance will not rival that of the Core i5 found in Microsoft's Windows 8 Pro tablet, but does it have to? Tablets are supposed to be mobile devices that best traditional solutions in all-around usability, and from this point of view the former might be a better match.
Photo Credit: Kheng Guan Toh/Shutterstock