Nexus 7 HSPA+ now comes with T-Mobile SIM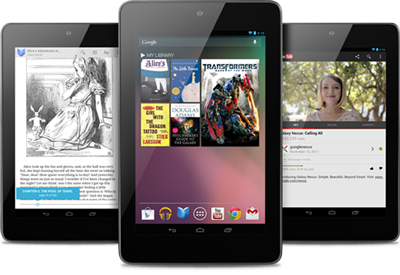 What interesting timing. Earlier today, I wrote about my very good experience exchanging a defective Nexus 7 HSPA+ at Google Play. My unit came with an AT&T SIM, but I pointed out the device also supports T-Mobile's data network. Either I missed, or Google Play added later today, an option to get a T-Mo SIM, too. Price is same for both: $299 plus tax (if applicable) and shipping.
Nexus 7 by far is my favorite tablet, by just about every measure: Performance, comfort in the hand, portability and all-around usefulness for consuming content and communicating (my preferred device for email social networking).
NPD DisplaySearch forecasts that global tablet shipments will surpass notebooks this year, but bigger still is change in size preference: 7-to-7.9 inch screen models overwhelmingly will dominate the market, with 45 percent share, and reducing 9.7 inchers (e.g. iPad) to 17 percent share. Last week, I asked: "Which size tablet is right for you?" Forty-one percent of respondents say 7 to 7.9 inches.
I'll soon do a follow-up to my initial Nexus 7 review -- whoa, from July -- giving the long-term perspective and adding something about HSPA+ benefits. I would much prefer LTE, but who offers it at this price? Not Amazon or Apple, which true 4G models start at $499 and $459, respectively.
Nexus 7 HSPA+ specs: 7-inch back-lit IPS display, 1280 x 800 resolution, 216 ppi; 1.3GHz Nvidia Tegra 3 quad-core processor; 1GB RAM; 32GB storage; 1.2-megapixel front-facing camera; GSM/EDGE/GPRS (850, 900, 1800, 1900 MHz), 3G (850, 900, 1700, 1900, 2100 MHz), HSPA+ 21; WiFi N; Bluetooth; accelerometer; GPS; gyroscope; magnetometer; microphone; NFC; 4325 mAh battery; unlocked; Android 4.2. Measures 198.5 x 120 x 10.45mm and weighs 340 grams.
ASUS makes Nexus 7, which is cobranded by Google and is pledged to stay up-to-date with the newest version of Android -- 4.2.2 is coming really soon, if you don't already have it.
BTW, if you've got Nexus 7 HSPA+ on T-Mobile, could you share your data speeds. In San Diego, AT&T kind of sucks -- 3.5Mbps is about the best I ever see. If you haven't taken the size-preference poll, please do.