Google Nexus 7 first-impressions review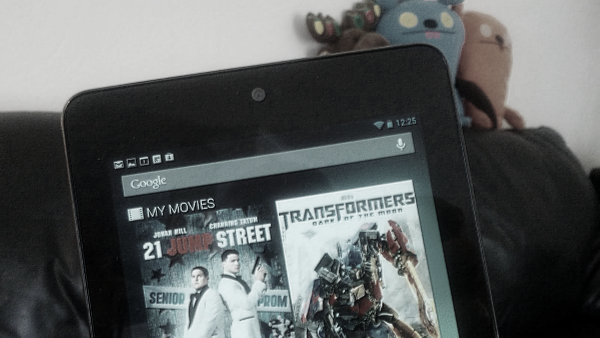 Last week, Google introduced its first branded tablet during the I/O developer conference. You can preorder one now, for delivery in a few weeks: $199 (8GB) or $249 (16GB). Maybe you're wondering if you should get one. I'd like to help that decision-making process, having the privilege of using Nexus 7 since June 27.
Nexus 7 is the most important Android device released to date. The tablet represents a culmination of disparate product and cloud services development coming suddenly together -- hardware, Jelly Bean, Chrome, curated content, seamless sync and personal assistant Google Now, among others. The tablet is first and foremost for anyone living the Google lifestyle. If you use more than a handful of Google services, this device, or Galaxy Nexus, is for you. Well, with caveats. Those aside, if you don't want this tablet, you really should.
Size Matters
I'll start with the big caveat that should matter to everyone: size. As the name infers, Nexus 7 has a 7-inch IPS display, which pits it against tablets like Kindle Fire or Samsung Galaxy Tab 2 7.0. Is the size right for you? Most other Android tablets, and iPad, have 10.1-inch screens. Those tablets are bulkier, but apps are better optimized for their display size.
I've used the new iPad but will hone in on the experience compared to Transformer Pad 300. ASUS makes that tablet and Nexus 7, and Nvidia Tegra 3 quad-core processor powers both. Overall, I find that many of my most-used apps, such as Feedly, lay out much better on the larger screen. Google Play now offers magazine subscriptions. I sampled Esquire, which fills the screen nicely but is way too small for me to read without enlarging. On the other hand, I have similar problem with Rolling Stone on Pad 300.
Something else: The overall usage experience is similar to Galaxy Nexus, which is good but raises question: Are they too close, meaning do you need a 7-inch tablet when you have a 4.65-inch smartphone? Wouldn't a larger tablet be better? I feel like Goldilocks in the Three Bears' house using Nexus 7. In some ways it's too small, others too big and nothing at first feels quite right. I wonder if Samsung has better idea by offering tweener 8.9-inch Galaxy Tab.
That said, I find Nexus 7 very comfortable to hold, and it feels super light. It's a perfect throw-in-a-purse-or-backpack size. The more I use the tablet, the more the size feels right. Like Kindle Fire, the size works well for reading books, although I do that comfortably on Galaxy Nexus already.
Size is going to be a matter of taste, but size for the price is just right at $199. I like the dimensions and feel enough that on Friday night I posted my Transformer Pad 300 to Craigslist.

Plenty of Power
I'm giving up Pad 300 in part because of price performance compared to Nexus 7. The difference is so stark, I'm amazed that ASUS makes both tablets. I moved from new iPad to the Transformer and right out of the box observed many stops and stutters, which surprised comparing quad-core to dual-core processors and getting good Android. ASUS ships stock Ice Cream Sandwich -- there is no skin, like Samsung's TouchWiz UI, and OS updates dispatch fairly quickly. I expected much smoother operation than I got.
Nexus 7 performance is superior in just about every way, and there Android 4.1 may be a big reason. Google claims to have improved overall Android performance, by in part bringing more of the background operations in sync, such as processes and graphics, in what it calls Project Butter. The video below is Google's demonstration running Ice cream Sandwich and Jelly Bean on two Galaxy Nexuses.
But there's more. Like Galaxy Nexus and Samsung, Google worked closely with ASUS on Nexus 7, attempting to create an end-to-end experience -- hardware, software and services -- without actually doing the hardware. That's a major reason why using Nexus 7 is so much like using a larger Galaxy Nexus, and that experience demonstrates Google's success meeting Apple without directly doing the hardware.
My Galaxy Nexus outperforms Pad 300 in just about every way, and Nexus 7 more so -- in part benefiting from Tegra 3 quad-core processor and superior graphics. This tablet is a screamer, which is part of the allure over 10.1-inchers -- then there is price-for-performance consideration. You get all this buttery smoothness for $199 -- $200 less than Transformer Pad and Samsung Galaxy Tab 2 10.1 or $300 less than entry-level new iPad. Anyone dissatisfied with performance at this price needs a brain scan.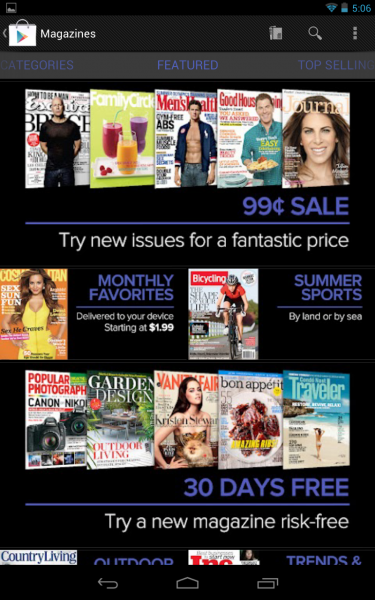 Two Burning Questions
Should you choose Nexus 7 over Kindle Fire or new iPad? Yes and maybe, and Google absolutely competes with both companies. Apple offers a curated stack of content services, supporting the hardware. Apple makes money from selling devices, while Amazon profits more from selling digital content and everything else in the online store. Google seeks to preserve and to expand the Android ecosystem as part of larger lifestyle approach around information and supporting services. The company makes money from the stuff wrapped around search and ancillary products and services.
Amazon, Apple and Google share curation in common. That's because each in a way sells a digital lifestyle connected to their larger businesses. Each offers curated content like ebooks, games, magazines and newspapers, movies, music and more. There, Amazon imitates Apple, but tied to its humongous online marketplace.
Google imitates Amazon. The initial Nexus 7 experience will surprise anyone who has used stock Android devices like Galaxy Nexus or Motorola XOOM. The tablet presents content widgets on the different homescreens, leading to, for example, magazines, movies, music and newspapers. For anyone having used Kindle Fire, the experience should be startlingly familiar. Google doesn't copy Amazon's presentation but approach in concept, which is enough.
Nexus 7 or Kindle Fire? The tablets are comparable in size, screen resolution and storage. Nexus 7 offers better port options, Bluetooth 4.0 and front-facing camera, among other differences. The point: You get a little bit more on Nexus 7 than Kindle Fire. Then there is operating system -- Amazon's customized, largely locked down Gingerbread versus Google's more open, always-up-to-date Jelly Bean.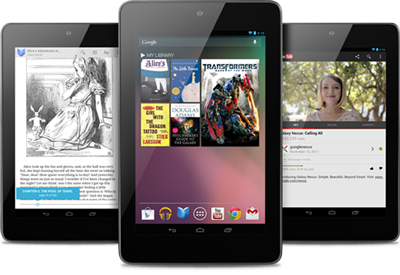 I showed Nexus 7 to my wife, and within minutes she was ready to dump Kindle Fire -- and, hell, it was a Christmas present. So we ordered Nexus 7 for her. She will get the most important content benefits, while improving overall usage experience -- with Chrome over Amazon Silk browser being among the most likely. Kindle Fire transformed my wife's computing habits. She spends more time on the tablet than computer, and she's no geek! I expect her to spend even more time on Nexus 7.
But the switch is costlier because $199 selling price isn't the same for both tablets. Amazon doesn't charge tax and because of Prime we don't pay shipping. We paid $228.41 after tax and shipping for Nexus 7. Perhaps you won't have to pay tax. We live in California, where Google operates, and it is required.
Nexus 7 or new iPad? The other question, new iPad, is another matter. For many people, price and size will be among the top considerations. Nexus 7 is smaller and costs much less, but seemingly offers much less, too.
For example, Apple boasts 2048-by-1536-pixel resolution, which makes Nexus 7's 1280-by-800 seem lowly indeed. But there's more than just resolution when measuring display panels. Google's tablet benefits from the smaller size, which better suites the lower resolution. Then there is quality of the IPS display. Meaning: Everything looks damn good! Pixel density matters, too. New iPad's display is 264 pixels per inch, while Nexus 7 is 216 ppi. In practical, everyday use, most people won't notice the difference. Both screens look great, but you pay at least $300 less for Nexus 7's.
Other considerations: new iPad's larger display, more storage (16GB, 32GB or 64GB versus 8GB or 16GB), front-and-rear facing cameras, superior selection of interactive magazines, 4G LTE radio option and large selection of cases and other accessories.
The point: You get a little bit less with Nexus 7 than new iPad. But is less more because of the lower price? It would be for me, but you must answer for you.
This is good place as any for specs: 7-inch back-lit IPS display (1280 x 800 resolution, 216 ppi); 1.3GHz Nvidia Tegra 3 quad-core processor; 1GB RAM; 8GB or 16GB storage; 1.2-megapixel front-facing camera; Bluetooth 4; WiFi N; accelerometer; GPS; gyroscope; magnetometer; microphone; near field communications; 4325 mAh battery; and Android 4.1. Dimensions: 198.5 x 120 x 10.45mm and 340 grams.
Lifestyle Choice
Google isn't just selling a tablet but a lifestyle, and Android 4.1 is the glue sticking everything together -- Chrome, too. Starting about six years ago, I called synchronization the killer app for the connected-device age. Google has got it down with current-release products and services, culminating in a personal assistant experience that simply wastes Apple's Siri (I've got more to say about the two together another time).
Google Now keeps track of search, calendars and other features you opt-in to and uses synchronization to bring it all together. The idea: To anticipate your needs. Why search, when Google Now can give you information before you ask? For example, the feature offers alternate routes if there is traffic on your daily commute or warns if your plane flight is delayed (I could have used that one last week when Southwest cancelled mine to Google I/O).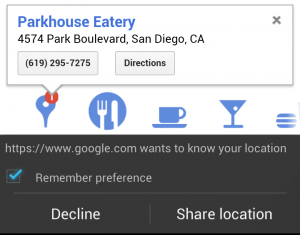 I got a taste of what to expect on Friday, from Galaxy Nexus running Jelly Bean. I opened the browser for the first time and got the prompt you see here. A few hours earlier, I searched for a local restaurant on the Chromebook. I was meeting two researchers from ESET for lunch. Chrome synced the search and asked permission to save the location as part of Google Now. If this stuff works like Google promises, I predict it will be as transforming as the search algorithm and (imitated) business model behind it.
There are many other Android 4.1 benefits, which I'll mostly save for my review. But to get them, you need Nexus 7, which is the first device shipping with Jelly Bean. Google was supposed to start shipping new Galaxy Nexuses with the OS, but that's now uncertain given the outrageously stupid preliminary injunction given to Apple against Samsung on June 29.
But briefly:
Flexible, expandable widgets give better control over what information that matters to you and presents it in more meaningful matter.
Expandable notifications look better and offer much more information than the pioneering feature copied by Apple in iOS 5. There's deep integration and sync here across Google services.
Voice search copies what Apple copied from Star Trek: Female voice response to questions (and gets more right than Siri, while offering tab access to images, videos and other relevant content).
There is much, much more, best saved for my Jelly Bean review. But tied together, Google weaves a compelling connected-cloud lifestyle, which I'll further explain in my forthcoming Android 4.1.
For You
Google Nexus 7 is a joy to use. I can't yet comment whether it meets the stated, 8-hour battery life. But based on preliminary usage, the claim looks pretty good.
The tablet is the Kindle Killer and is sure to woo people who want an exciting tablet that offers curated content without spending $300 or more -- $499 to $829 for new iPad.
Some recommendations. If you:
Want a rear-facing camera, choose another tablet. You won't get it from Nexus 7.
Plan to create content on a tablet, choose iPad. Nexus 7 is more for consumption.
Use more than, say, three or four different Google services, Nexus 7 is best choice.
Are looking to buy a 7-inch tablet, choose Google's. I wouldn't recommend any other over Nexus 7.
Want to always have the newest version of Android, without skins or other enhancements, choose Nexus 7.
Long for Apple's Siri on a tablet, choose Nexus 7 -- and right now Google's assistant is better than Apple's.
Nexus 7 isn't for everyone, but it is for anyone looking to spend $249 or less on a tablet or one that offers sound performance and 7-inch display.