Meet Keon and Peak, the two Firefox OS developer preview phones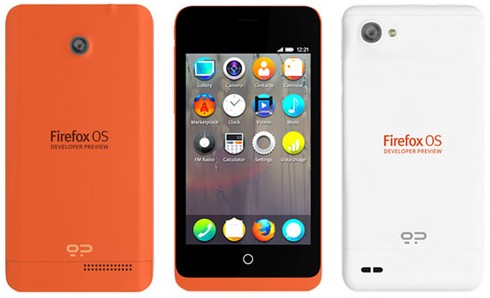 Firefox OS is anything but a secret with Mozilla releasing important details down the road since its unveiling and even an eye-opening operating system simulator, the latter introduced little more than two months ago. Frankly, the only important missing piece of the puzzle is the hardware on which Firefox OS is designed to run.
Mozilla decided to shed some light on the matter and through Geeksphone, that works in conjunction with Telefonica, revealed two developer preview phones, dubbed Keon and Peak. Spoiler alert: If you're hoping to see two LG Optimus G Pro devices in disguise you're in for a big surprise.
Keon Aims Low
Keon is the "light and versatile" but still a low-end handset no matter how Geeksphone spins it, and the smaller of the two. The device comes with a 3.5-inch HVGA multitouch display, meaning the same resolution as an iPhone 3G for instance -- 480 by 320. A 1GHz single-core Qualcomm Snapdragon S1 powers Keon alongside 512MB of RAM and a decently-sized 1,580 mAh battery. Other specs include HSPA cellular connectivity; 3MP back-facing camera; 4GB of internal storage; microSD card slot; Wi-Fi 802.11 n; light and proximity as well as a G sensor; GPS and microUSB port.
Basically what you're looking at is one of the least impressive handsets in terms of sheer specs that is, unveiled for the past couple of years. At the same time, Keon's hardware is also indicative of Firefox OS' processing power requirements which, judging by the details provided by Geeksphone and Mozilla, are quite low. Hopefully manufacturers will steer clear from using the same display resolution in retail Firefox OS phones.
Peak Goes Upscale
Moving on to the "powerful" Peak, there are "cutting edge features, like a 4.3" qHD screen", according to Geeksphone, that is. The handset, as previously stated, features a 4.3-inch qHD IPS multitouch display, with resolution of 960 by 540. Power comes from a more modern 1.2Ghz dual-core Qualcomm Snapdragon S4 processor backed up by 512MB of RAM and 1,800 mAh battery. The device sports an 8MP back-facing camera with flash and a 2MP shooter on the front. Just like the Keon, the Peak packs HSPA cellular connectivity; microSD card slot alongside 4GB of internal storage; Wi-Fi 802.11 N; light and proximity as well as a G sensor; GPS and microUSB port.
Compared to the Keon, the Peak is miles away in terms of hardware specifications although it's a hit and miss when considering internal storage and the amount of RAM. That said, different devices might hit the market and Peak is still a development-oriented phone. With that in mind, the handset is surprising and portrays a different Firefox OS that can also aim for the mid-range and possible high-end phone market.
Phone or Smartphone?
Mozilla is adamant that the two devices are phones, not smartphones. There is no mention of the latter throughout the recent announcement and judging by Geeksphone's "price you could never have imagined" innuendo even the upscale Peak might steer clear from tackling the fierce and established smartphone competition from budget-friendly Android or even low-end Windows Phone devices.
With that in mind, Firefox OS looks even more like a competitor to less popular smartphone operating systems, such as Bada OS, Nokia Belle and the likes rather than a sworn Android enemy at the lower-end of the pricing scale.