They're here! BlackBerry 10, Q10 and Z10 smartphones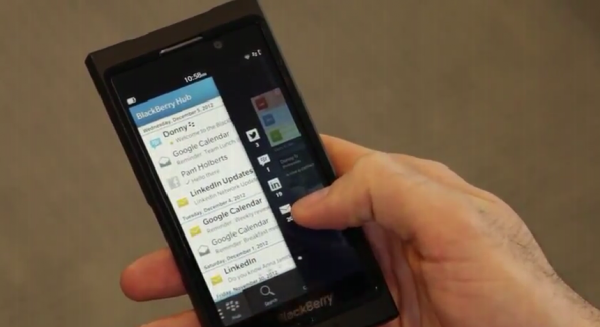 Today is the big day -- Research in Motion finally took the wraps off BlackBerry 10 and two new smartphones. The Waterloo, Ontario, Canada-based company, which new name is same as the device, bleeds market share to Androids and iPhone. During fourth quarter, BlackBerry fell out of the top-5 smartphone makers, as measured by shipment share, according to IDC. The latest operating system and new handsets might just well be the last chance to regain lost ground.
CEO Thorsten Heins officially launched the much-anticipated platform during BlackBerry World. The BlackBerry Z10 comes with a 4.2-inch touchscreen display and 356 pixels per inch, whereas the BlackBerry Q10 sticks to a traditional layout featuring a physical keyboard. According to Heins, both the on-screen as well as physical keyboard provide the best mobile typing experience, but more on the two after the break.
New Keyboard
The new BlackBerry 10 keyboard is gesture-oriented, mimicking the functionality of various keyboards from the default one included in Android 4.2 Jelly Bean to third-party Android alternatives like Swype and SwiftKey Flow.
For instance, swipe gestures can be used to delete words. Clearly, it's not an entirely new concept; the Canadian company merely follows other players, cherry picking existent features -- or that's how it looks at first glance.
Hub and Flow
The new BlackBerry Hub features Facebook, LinkedIn and Twitter social integration and bears a resemblance to Windows Phone's People app by presenting per-contact social updates, but with added emphasis on business contact information.
BlackBerry Flow is the name of the gesture-oriented navigation interface highlighted on the Z10 smartphone. Judging by the features presented today, multitasking is a priority for the new operating system and appears to work nicely -- although some users may have a hard time adjusting to the gesture-driven interface.
BlackBerry Balance
BlackBerry Balance is designed to fit within the bring-your-own-device-to-work movement, by allowing users to separate personal and work content, like apps and email accounts. It's one of the most impressive features presented today.
BlackBerry Messenger
Although it's not an entirely new feature, BBM is revamped for the latest BlackBerry OS. With BBM Video, users can make video calls and through Screen Share users can take advantage of remote homescreen viewing and share content.
BlackBerry Remember
BlackBerry Remember is showcased on the new BlackBerry Q10 smartphone. With the new feature, users can add attachments, audio notes and videos within folders as well as search for items on the devices.
During today's presentation, BlackBerry also highlighted Evernote integration, which is part of the new Remember.
BlackBerry Camera
Part of the new smartphone operating system, the company formerly known as RIM also introduced the new BlackBerry Camera which allows users to take the "perfect picture" by using a time-frame in order to choose the right face shot.
Related to the new camera, there is also Picture Editor that can be used to add filters to existing photos simply by swiping on top.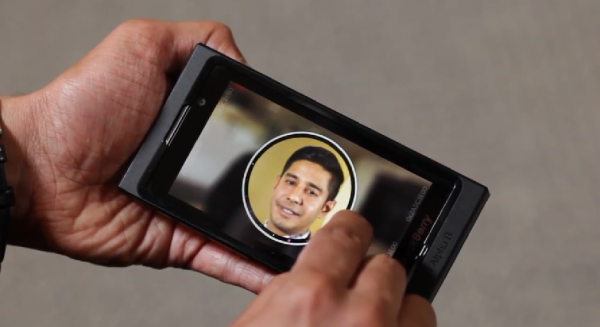 BlackBerry Story Maker
BlackBerry Story Maker is a content-creation tool that can be used to add photos and video, as well as other types of content, and combine them in order to create a "story". This new feature was showcased through a BlackBerry 10 video ad.
The Apps and Content
The Canadian manufacturer touts in excess of 70,000 apps available at the launch of the new platform. Among them: Skype, Amazon Kindle, WhatsApp, SAP, Facebook, Twitter, Foursquare, LinkedIn, SoundHound, TuneIn, The Wall Street Journal, Cisco WebEx, Bloomberg, Box and The Economist, to name a few.
In terms of games: Where's My Water?, Where's My Perry?, Jetpack Joyride, and Electronic Arts titles are among the headliners. The now ubiquitous Angry Birds is also available.
Skype, Amazon Kindle, WhatsApp, SAP and Angry Birds are BlackBerry 10-committed apps. Facebook, Twitter, Foursquare, LinkedIn are available as part of the social apps.
During the app presentation video I have also spotted some other apps and game titles such as Paper Camera, HP ePrint, Shadowgun and BBC Worldwide.
Availability
Although carrier testing is still in full-effect in some markets, BlackBerry Z10 will be available tomorrow in the United Kingdom from major carriers as well as retailers like Carphone Warehouse.
In the United States, AT&T, Verizon, Sprint and T-Mobile will carry the BlackBerry Z10, with availability to start in March. North of the border, in Canada the device will be available starting February 15 at various carriers for $199 on a three-year contract.