Instagrammers, you can now use only the browser (almost)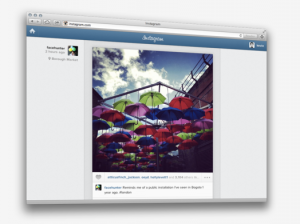 It was bound to happen at one point or another. Following the rolling out of web profiles in early November, Instagram now allows users to skip smartphones and go straight to the browser for all their filtered picture feed needs.
This latest development is part of a plan to bring Instagram to a larger variety of devices, including PCs and tablets, a move that will undoubtedly help support the social network's growth and popularity among a bigger crowd. Instagrammers only have to visit the popular social network's website, press the log in button and enter their account information to start using Instagram inside a browser, without any encumbrance.
On the web, the service looks similar to the smartphone app. The only visual difference, when the window is not narrowly shrunk, is the user's name and profile appear on the left side of the picture instead of in the usual spot above it.
The realtime feed allows Instagrammers to browse through photos uploaded by users they follow, and like pictures through the familiar double tap or by pressing the heart-shaped like button. Commenting on photos is also available and, when resizing the browser window, Instagram shrinks around it to a point when it looks exactly as it does inside the mobile app.
What Instagram on the web does not allow, at the moment at least, is the ability to upload or filter pictures. Kevin Systrom, the social network's co-founder, suggests that the reason lies within Instagram's nature of "producing photos on the go, in the real world, in realtime". Still there are certainly many users who may want to use the feature, especially when time is of the essence while on the go.