Will you buy Google Chromebook Pixel?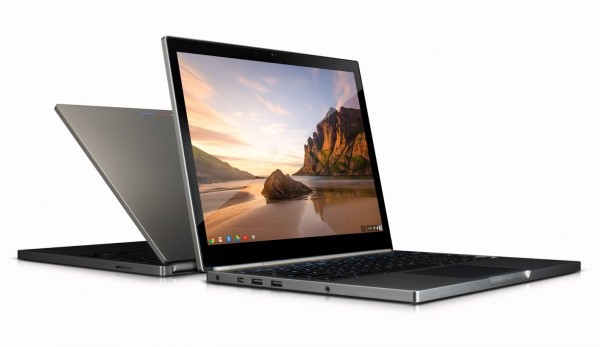 That sound you just heard was Google slapping Apple across the face. Today the search and information giant unveiled and starting selling high-end portable Chromebook Pixel. By just about every measure, Google guns for Apple in its dominant market -- premium PCs, or those selling for $1,000 or more. When rumors circulated about the computer, I opined: "Chromebook Pixel looks like MacBook Pro to me". The impression is stronger now that the real deal is here -- from form factor to price, either $1,299 or $1,449.
Should Apple sweat about Chromebook Pixel? I would. Following a years-long retail trend, Apple share of PCs selling for $1,000 or more was over 90 percent in 2012, according to NPD. Stephen Baker, NPD's vice president of industry analysis, asks if Google is "more trying to compete with Apple and high-end windows machines for premium consumer and maybe corporate?" I answer: Yes. What I want to know: Will you buy Chromebook Pixel? But more importantly: Would you buy Chromebook Pixel instead of 13-inch MacBook Pro?
For Whom?
For many of you the answer is an automatic "No", because $1,000 is already too much. "I would never pay that much for any computer", my colleague Alan Buckingham says. "Five-hundred dollars is the limit". He paid $400 for his current laptop one-and-a-half years ago.
Then there are concerns Google's "For Everyone" marketing campaign, which emphasized value, creates expectations Chromebooks shouldn't cost much.
"It just seems like a big jump on price and specs and customer focus to me", Baker says. During the holidays, Google aggressively promoted the $249 Samsung Series 3 Chromebook, which sells for more than $1,000 less than Pixel. Baker "would have rather seen a more mundane $699-$799 type product that directly brought the value of the Chrome OS to compete with a large iPad or a Win 8 touch machine".
David Rodríguez Andino agrees with Baker: "Google is crazy pricing this at $1,300. A high-end Chrome OS device should be priced around $700 IMO".
Commenting to one of my Google+ posts, Ian Betteridge turns "For Everyone" on its head: "The thing was that up until now, Chromebook wasn't 'for everyone'. For people like me, who value high-end, well designed hardware with great screens, there was no Chromebook that fitted the bill. Now there is. 'Everyone' doesn't just mean 'only people who want cheap plastic machines'". He has a Chromebook Pixel already and so speaks with more authority than I.
I agree with Betteridge. Much as I like current Chromebooks, using Microsoft Surface Pro for nearly a month has me pining for high-resolution display and better performance. The new model promises both and for less than 13-inch MacBook Pro, which I would consider having ended the Apple boycott.
Value has different measures. Armando Ferreira asks the same question I do: "Google, are you poking at Apple because your commercial and price tag sure seem like it?" Value compared to something else, in this case MacBook Pro, is one measure.
Specifications
Here's how the two laptops compare:
Chromebook Pixel: 12.85-inch touchscreen, 2560 x 1700 resolution, 239 pixels per inch; 1.8GHz Core i5 processor; Intel HD graphics 4000; 4GB DDR3 RAM; 32GB or 64GB of storage; HD WebCam; backlit keyboard; dual-band WiFi 802.11 a/b/g/n 2x2; 4G LTE (on one model); Bluetooth 3.0; mini-display port; two USB ports; Chrome OS. Measures: 297.7 x 224.6 x 16.2 mm. Weighs: 1.52 kg (3.35 pounds). Cost: $1,299 (32GB WiFi); $1,449 (64GB WiFi/4G LTE). 1TB Google Drive storage is included free, for three years.
MacBook Pro: 13.3-inch LED display, 2560 x 1600 native resolution, 227 ppi; 2.5GHz or 2.6GHz Core i5 processor; Intel HD graphics 4000; 8GB DDR3L RAM; 128GB or 256GB storage; HD Webcam; backlit keyboard; 802.11n wireless; Bluetooth 4; two USB 3 and Thunderbolt ports; HDMI port; OS X. Measures: 314 x 219 x 19 mm. Weighs: 1.62 kg (3.57 pounds) Cost: $1,499 (2.5GHz, 128GB); $1,699 (2.6GHz, 256GB).
Usage scenarios are different, which applies to Windows touchscreen computers, too. Chrome OS largely runs apps in the browser, while MacBook Pro supports local apps. Chromebook's big draw is touchscreen, lower price and TB of free cloud storage. Is that compelling enough for you?
"Pixel is not going to fly of[f] the shelves like a new Mac Book Pro, but it has a niche", Simon Bengtsson asserts. "There is definitely people caring about simplicity, design and an amazing user experience. Previous Chromebooks has compromised on the last two".
Pixel Perfect?
At 4:13 p.m. EST, David Hoff "just finished ordering my new Chromebook Pixel".
Jeff Jarvis got one, too, and chimes in with Betteridge:
I was wishing for a beefier Chromebook. Having proven itself at the low end of the market, I've been saying that I wished Google would come up with one at the high end. Now it has: The Chromebook Pixel. I just bought one, sight unseen. It has more memory, a faster processor, a touchscreen (which I'm looking forward to), and LTE built into the most expensive machine. At $1,500 it's comparable to a Macbook, though I don't need to buy any software for it.
Jarvis, who has been using the $249 Samsung Chromebook, makes a good point about additional costs: Software.
Peter Sitterly sees value beyond the machine that more than pays for it: "This is definitely priced higher than I thought it would be, but the fact that it comes with 1TB of Google Drive storage for 3 years changes the game a bit. For those who may already be paying $49.99 per month for 1TB of cloud storage, this is a no-brainer. This device would essentially save such folks from $1,799.64 worth of monthly fees over that 3-year span".
Hasan Ahmad: "Chromebook pixel is the kind of product that Google releases to see how far their rabid fanboys will go to worship them". I see something more Apple-worship-like here, because of design and features.
Off topic perhaps, but there's something strange about the social buzz excitement that grates Ferreira, and I have to agree:
You guys know I like Google but help me understand this for a second. Microsoft releases the Surface Pro (64GB) $899.00, it can run legacy apps also all of your Android apps (Bluestack) and also the ability to run another OS like Ubuntu. Yet it's 'too expensive'. Google releases the Chromebook which in theory is just a Web Browser, can't run legacy apps, maybe will one day run Ubuntu (Waiting on devs) only has 32GB of storage for $1,299.00 and people expect to jump on this like peanut butter on jelly?
Right. Why does Microsoft get grilled for Surface Pro passing ($899 or $999), while Google gets a pass?
So roundabout, I return to the two questions: Will you buy Chromebook Pixel and would you buy instead of 13-inch MacBook Pro? Please take the poll above and respond in comments below.