Google celebrates Play store anniversary with special deals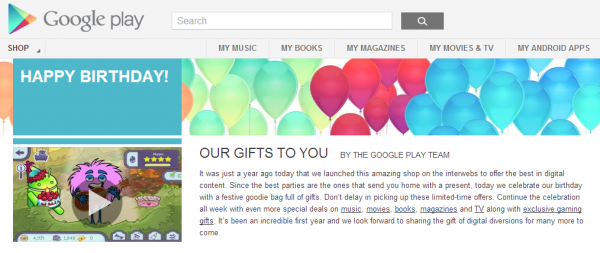 It is the one year anniversary of Google Play store -- or at least the renaming of the Android market. Google loves to celebrate these kinds of occasions with a sale. This one is no exception, as the company has kicked off with deals on music, books, magazines, videos and, of course, apps.
Jamie Rosenberg, the vice president of Digital Content at Google Play announced the deals today, saying that "since no birthday is complete without presents, we're celebrating with a bunch of special offers across the store on songs, TV shows, movies and books. We're even offering a collection of games with some fun birthday surprises created by developers".
Of course the Android operating system maker also took a moment to pat itself on the back by letting everyone know that the Play store has more 700,000 apps and deals with all of the major music companies, movie studios and publishers to bring you the music, movies, TV shows, books and magazines.
The deals include free songs from classic artists like The Velvet Underground, free books like A Quest of Heros, purchase of the movie Kung Fu Panda (ask your kids) for $4.99, a free episode of Breaking Bad and lots more.
The sale is live right now and UK customers can even pay with their new Google Play gift cards. You can also use a credit card or have your purchase charged to your mobile phone bill. Google will take your money however you wish. Well, except cash.