Meet Samsung Galaxy S4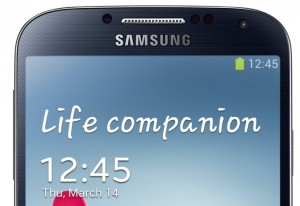 After months of rumors, Samsung finally took the wraps off Galaxy S4 tonight at the famed Radio City Music Hall and to big overflow crowd in Times Square. The phone is as large as the "Unpacked" event, quite literally -- with 5-inch display. Try clipping that to your belt (how I carry my phones).
The hotly-anticipated smartphone starts shipping at the end of April, eventually available from 327 carriers in 155 countries. All major U.S. carriers will sell the phone: AT&T, Cricket, Sprint, T-Mobile, US Cellular and Verizon Wireless. Among the global partners: Deutsche Telecom, EE, H3G, Orange, Telenor, Telia Sonera, Telefonica, and Vodafone. Like earlier Galaxies, the S4 will be available in 3G and 4G (HSPA+ and LTE) variants and, once again, Americans can expect less than buyers in many international markets.
The 5-inch Super AMOLED display is 1920 x 1080 resolution and 441 pixels per inch. Processor will be 1.9 GHz quad-core or 1.6 GHz octa-core depending on the variation. In the past Americans got fewer cores on LTE models and more cores went to HSPA+ phones, which is my expectation here.
Memory is 2GB, while storage varies from 16GB to 64GB, depending on carrier variation, expandable with microSD card up to an additional 64GB. In a departure from other recent phone designs, the battery is removable and hefty -- 2,600 mAh. Storage and battery expansion, along with the high-resolution touchscreen, really brings the S4 into tiny computer class.
The rear-facing camera is 13-megapixels, 2MP for the front. The phone runs Android 4.2.2, but Samsung adds many capabilities on top of the core operating system. For example, there is a Dual Camera mode that lets the shooter take photos front and back simultaneously and insert him or herself into the image. The feature also works for video, and lets the user pop in and out of frames.
Software and Services
Among the other software benefits:
Air Gesture lets users wave over the phone to manipulate some controls, such as choosing music or scrolling web pages. Related: Air Wave allows people to hover their fingers to manipulate the screen.
Dual Video Call. Users can use both cameras simultaneously so that the caller on the other end can see other people, say, at a party.
Eraser removes unwanted objects (or people) from photos. Who hasn't wanted to do that?
Group Play lets S4 users share documents, music, games and more, even combining up to eight handsets to create a speaker system (using Share Music).
S Health tracks some personal biological functions, such as calorie burn, heart rate and pulse and pulls them together into a mini report.
S Translate. This one looks quite futuristic. Think Star Trek's universal translator. The feature can translate 9 languages, including speech-to-text and text-to-speech capabilities. While the service needs a network connection for optimal use, there is basic vocabulary on device for basic translation.
S Voice Car is a voice-activated system for using Galaxy S IV hands-free.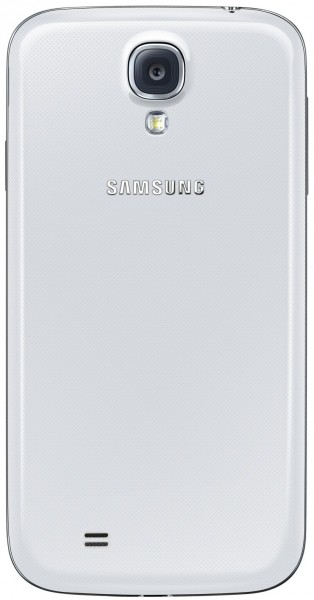 Life Companion
Samsung's theme for Galaxy S4 is "life companion", a point JK Shin, president of Samsung's IT & Mobile Communications Division, repeatedly made during tonight's launch event. From that perspective, much of the innovation is about software and services.
The theme extends from that adopted for the S3 and jumps past what Apple started nearly six years ago. The original iPhone stood apart from all other phones, not just smart ones, for its humanness. Touch, and its intimacy, and the way the handset responded to your proximity gave it a human quality. Suddenly the phone wasn't an inanimate object but more living thing. Apple extended humanness with each new model. Siri is best representation in iPhone 4S and 5.
Galaxy S4 packs eight different sensors and uses them to make the phone highly responsive, as the above features should indicate. Wearing gloves or have chocolate on your hands? Wave instead of touch. Want to share the party with a distant friend? Use both cameras for the video call. Want to check your messages while driving? Let the S4 read them to you. Samsung's software and services design approach is all about making the smartphone more human, more responsive and more like a personal assistant.
Already there is some debate here in the newsroom about the new handset. I am generally impressed by the software and services features. My colleague Mihaita Bamburic says the the phone is "alright, but not a GS4 -- a GS3 Plus or like Apple's iPhone 4S over the iPhone 4. I was expecting more because I hoped for Samsung to release some more impressive and truly innovative features".
I expect Mihaita to add more tomorrow in a commentary, and he may not be the only one. Of course, the real test is hands-on, to see if the benefits are as good as Samsung promises.