Qualcomm Snapdragon 600 powers the quad-core Samsung Galaxy S IV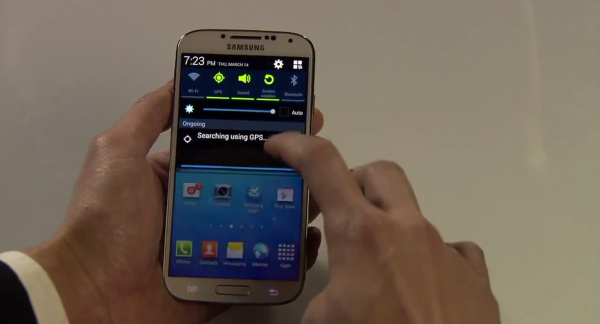 Two days ago, at the Unpacked event held in New York, with much fanfare, South Korean manufacturer Samsung unveiled the new Galaxy S4. As we have come to expect, the company mostly focused on the added software benefits rather than showcasing the hardware underneath, leaving folks puzzled as to what powers the new Android flagship.
Samsung revealed two processor choices for the Galaxy S4 -- quad-core or octa-core solution depending on the market. Considering the scarcity of octa-core processors coming from high-end chip makers, the Exynos 5 Octa, which is scheduled for production in Q2 represents one-half of the equation. And, as Qualcomm has announced, the Snapdragon 600 represents the other half.
The Snapdragon 600, which Qualcomm announced during Consumer Electronics Show 2013, powers other Android flagships including the LG Optimus G Pro and HTC One. On Galaxy S IV, the Snapdragon 600 processor features a 1.9 GHz quad-core Krait CPU; Adreno 320 GPU (Graphics Processing Unit); 2GB of LPDDR3 RAM and support for LTE Category 3 connectivity, which delivers download speeds up to 100 Mbps and upload speeds up to 50 Mbps.
With the Galaxy S III, Samsung chose the Qualcomm-made processor for North America and other markets where 4G LTE adoption rates are high, while the Exynos-branded processor is (still) for the most part reserved for 3G networks. And, judging by its older brother's path, the Galaxy S4 is unlikely to be any different.