It's no joke! $249 Amazon Kindle Fire HD 8.9" 4G LTE from AT&T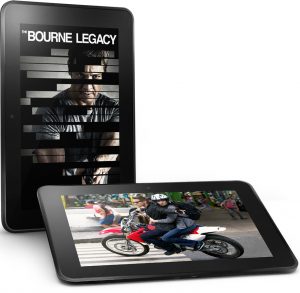 Starting April 5, AT&T will carry one model of Amazon's tablet in stores, with $150 discount for those customers making a two-year contractual commitment. Just as T-Mobile tries to free Americans from subsidies, the nation's second-largest carrier reels them back in. The 32GB Kindle Fire 8.9" 4G LTE will sell for $399 without commitment -- $249 with one. The higher of the two prices reflects Amazon's recent $100 reduction, just 18 days ago.
Subsidized pricing makes Amazon's tablet one of the most-affordable mid-size models available. For example, Apple's 7.9-inch iPad mini starts at $329 and $459 with LTE. However, for comparable storage (32GB), iPad mini is $559 with LTE. Those prices require no contract. Something else to consider: Unless Amazon and AT&T have some special agreement that I don't know about, that $249 or $399 includes advertisements -- "special offers" -- that buyers must pay an extra $15 to remove. Still, $249 out the door makes Kindle Fire HD 8.9" the lowest-priced tablet for sale with super high-resolution display.
Whether or not choosing to pay more or take the discount, AT&T customers with Mobile Share plan have the best pricing option -- adding the tablet for just $10 per month. Buyers choosing to pay $399 can add data at will. Those taking the deal must make some commitment. Plans start at $14.99 for those customers without Mobile Share.
Kindle Fire HD 8.9" specs: 8.9-inch display (1920 x 1200 display, 254 pixels per inch); 1.5GHz OMAP4470 dual-core processor; 1GB RAM; 32GB storage; front-facing camera; 4G LTE; Bluetooth; WiFi A/N; accelerometer; gyroscope; microphone; and Android. Measures 240 x 164 x 8.8 mm and weighs 575 grams.
Amazon announced the tablet in September and started selling in November, offering, with cooperation of AT&T, cheap data option. For $49.99 per year, subscribers get 250MB usage per month, 20GB extra Cloud Drive storage and $10 Amazon Appstore credit.