Kindle Fire HD arrives to cool competing choices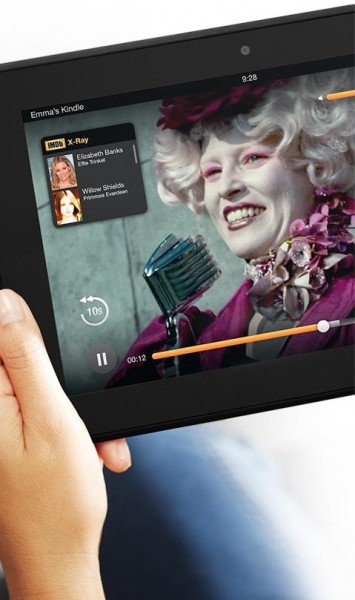 Perhaps, with all the buzz about Apple iPad mini, Google Nexus 10 and Microsoft Surface, you forgot about another important tablet launch. Amazon Kindle Fire HD WiFi is available, starting today, following two months or preorders. The LTE model comes next week. So many headline competing tablets launched since Amazon's September announcement, Kindle Fire HD could easily be overlooked. Completely forgotten? Buyers will answer that question.
Kindle Fire HD certainly looked like the iPad killer when unveiled. The 8.9-inch models nip iPad's 9.7-inches, offering much more, for much less. In-between Kindle Fire HD's announcement and availability, Apple punched out 7.9-inch iPad mini. Meanwhile Google stepped with newer Nexus 7 tablets (one with 3G) and larger Nexus 10. What distinguishes the lot are curated app and content stores. You're not just buying a tablet, or as Robert Johnson expressed in his Surface review yesterday, but an ecosystem, too. The point: No one should buy based on hardware features alone. Kindle HD and its competitors are about so much more.
Hot Enough?
A year ago, Amazon stormed the tablet market with the original Kindle Fire, for just $199. It's $159 today, and that's a price neither Apple or Google beat. There's a 7-inch HD model and 8.9-inchers, which range from $299 to $599, depending on storage capacity and wireless functionality.
The original Kindle Fire sold so well, it fragmented the Android tablet market. Amazon ships customized Android, with its own browser (Silk) and app store (not Google Play). Google responded by rebranding Android Market, increasing the breadth of content from Play store and releasing 7-inch and 10-inch tablets. By Nexus 10's launch this week, Google had in place a curated platform to compete with Apple and Amazon.
All three companies offer content sync across devices and supported services. Content types are similar but not selection (Google lags the other two): apps, ebooks, movies, music and TV shows. Google stepped up big-time magazine push in the summer, which accelerated in the month before Nexus 10 sales started. There, Google guns for Amazon, which selection is broadest (although Apple can claim better presentation among top-line titles).
There are more tablet choices now and similar curated stores to buy stuff. Where you bought before matters now. For example, in his iPad 4 review, Wayne Williams explainx seriously considering Nexus 10 instead. "On paper the difference in price seems considerable (the Nexus 10 is $100 cheaper), but then I factored in apps. I've purchased at least $400 of iOS apps over the years...and if I switch to Android, I'll have to start my purchasing all over again". Existing investment certainly is a consideration.
If I were to rate the curated stores, Amazon wins, mainly for selection and price. Apple follows, more because of selection, which edges out Amazon in some categories. Google trails in both areas -- and another: Apple and Amazon can sync personal music to the cloud; Google makes you manually upload.
Fire and Ice
So what about specs? How does Kindle Fire HD compare to other tablets?
Kindle Fire HD: 7-inch LCD IPS display (1280 x 800 resolution, 216 pixels per inch) or 8.9-inch display (1920 x 1200 display, 254 ppi); 1.2GHz OMAP4460 dual-core processor (7-inch), 1.5GHz OMAP4470 dual-core processor (8.9-inch) ; 1GB RAM; 16GB, 32GB or 64GB storage (depending on model); front-facing camera; Bluetooth; WiFi A/N; accelerometer; gyroscope; microphone; and Android. 7-incher measures 193 x 137 x 10.3mm and weighs 395 grams. 8.9-inch model: 240 x 164 x 8.8mm and 575 grams.
Kindle Fire HD 16GB: $199
Kindle Fire HD 32GB: $249
Kindle Fire HD 8.9" 16GB: $299
Kindle Fire HD 8.9" 32GB: $369
Kindle Fire HD 8.9" 4G LTE 32GB: $499
Kindle Fire HD 8.9" 4G LTE 64GB: $599
Amazon offers the non-HD Kindle Fire for $159.
iPad mini: 7.9-inch back-lit IPS display (1024 x 768 resolution, 163 ppi); A5 dual-core processor; 1GB RAM; 16GB, 32GB or 64GB storage; 5-megapixel rear-facing and 1.2MP front-facing cameras; Bluetooth; WiFi A/N; HSPA+/LTE (on three models); accelerometer; GPS; gyroscope; microphone; battery unknown; and iOS 6. Measures 200 x 134.7 x .28mm and weighs 308 grams.
iPad mini 16GB WiFi: $329
iPad mini 32GB WiFi: $429
iPad mini 16GB WiFi/LTE: $459
iPad mini 64GB WiFi: $529
iPad mini 32GB WiFi/LTE: $559
iPad mini 64GB WiFi/LTE: $659
iPad 4: 9.7-inch LED display, 2048 x 1536 resolution, 264 ppi; A6X dual-core processor; 1GB RAM; 16GB, 32GB or 64GB storage (depending on the model); 5MP front- and 1.2MP rear-facing cameras; GPS; Bluetooth; Wi-Fi A/N; HSPA+/LTE (on three models); accelerometer; ambient light sensor; compass; gyroscope; 11,666 mAh battery (based on previous model); iOS 6. Measures 241.2 x 185.7 X 9.4 mm and weighs 652 grams.
iPad 4 16GB WiFi: $499
iPad 4 32GB WiFi: $599
iPad 4 16GB WiFi/LTE: $629
iPad 4 64GB WiFi: $699
iPad 4 32GB WiFi/LTE: $729
iPad 4 64GB WiFi/LTE: $829
Nexus 10: 10.055-inch display, 2560 x 1600 resolution, 300 ppi; 1.7GHz Exynos 5 (Cortex A-15) dual-core processor; Mali T604 graphics chip; 2GB of RAM; 16GB or 32GB storage (depending on model); 5MP back- and 1.9MP front-facing cameras; accelerometer; ambient-light sensor; barometer; compass; GPS; gyroscope; microphone; NFC; WiFi N; micro HDMI; Bluetooth; 9000 mAH battery; Android 4.2. Measures 263.9 x 177.6 x 8.9 mm and weighs 630 grams. Price: $399 (16GB); $499 (32GB).
Surface RT: 10.6-inch ClearType HD Display, 1366 by 768 resolution, 148 ppi; 1.3GHz Nvidia T30 (ARM Cortex-A9) quad-core processor; 2GB RAM; 32GB or 64GB storage (depending on model); 720p front- and rear-facing cameras (meaning they're for video more than photos); accelerometer; ambient-light sensor; barometer; magnetometer; Wi-Fi A/N; Bluetooth 4; Windows RT. Measures 274.7 x 172 x 9.3 mm and weighs 676 grams. Price: $499 (32GB); $599 (32GB with keyboard cover); $699 (64GB with keyboard cover).
Burning Questions
If you must choose by specs, both 8.9-inch Kindle Fire HDs offer tremendous value. The $299 model packs the highest resolution for the lowest price. Same can be said for LTE, at $499 or 64GB storage at $599. Amazon undercuts Apple, Google and Microsoft pricing across the board. The $299 Kindle Fire temps me most, although I chose to spend $200 more on Nexus 10 (and hope not to regret it).
While still compelling, Kindle Fire HD isn't as exciting, particularly with iPad mini and Nexus 10 as smaller and larger competitors, respectively, also backed by curated content stores. It's a dynamic market that reminds of the PC industry in the late 1990s.
Which will you choose?