Jelly Bean closes in on Ice Cream Sandwich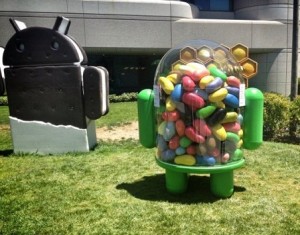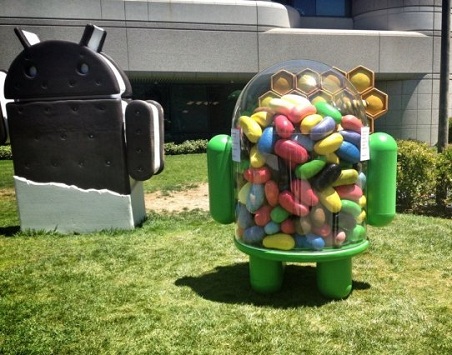 Jelly Bean may be the newest sweet in the family, but it is steadily gaining ground against its older brothers. Combined, Android 4.1 and Android 4.2 reached a 25 percent distribution level in the green droid realm, based on the number of devices accessing Google Play during the 14 days ending April 2.
Starting this month, Google has decided to alter how the data is collected. Google says: "Beginning in April, 2013, these charts are now built using data collected from each device when the user visits the Google Play Store. Previously, the data was collected when the device simply checked-in to Google servers". Why? Because the company considers the new collection method to be more accurate and that it best represents "users who are most engaged in the Android and Google Play ecosystem".
The change also has another implication. We simply cannot compare the data set provided by Google in March with the numbers released in April, as there is no longer a direct correlation between the two sets which determines the actual growth or decrease in usage of a certain green droid distribution.
In April, nearly five months after its release, Android 4.2 reached a 2.0 percent distribution level. The number is mostly influenced by sales of Google-branded devices -- Galaxy Nexus, Nexus 7, Nexus 4 and Nexus 10 -- and will likely grow once newer smartphones and tablets such as the Samsung Galaxy S4 are released.
Android 4.1, the first Jelly Bean iteration, runs on 23.0 percent of all green droid devices, nine months after Google released the operating system. It is worth noting that Android 4.1 Jelly Bean will likely grow in the distribution charts over the coming months as older devices receive a software upgrade and newer ones, such as the HTC One, are released.
Ice Cream Sandwich, version 4.0.3 to 4.0.4, reached a 29.3 percent distribution level in April. The operating system will likely lose ground against its younger siblings, as sales of new devices and even software upgrades skip over Android 4.0 altogether.
The tablet-only Honeycomb still runs on 0.2 percent of all green droid devices, a number which is practically insignificant per the overall scheme of things. Android 3.2 will likely maintain its distribution level for a couple of months down the road.
Gingerbread is still the green droid ruler with a combined distribution level of 39.8 percent, for version 2.3 to 2.3.2 and version 2.3.3 to 2.3.7. The former version runs on 0.1 percent of all green droid devices, while the latter takes up the number one spot in the charts with a 39.7 percent distribution level.
Android distributions older than Gingerbread, Froyo, Eclair and Donut, run on 5.8 percent of all green droid devices. It's fair to assume that for each of the three sweets the distribution level will decrease over time, more for Froyo and Eclair rather than Donut.
Judging by the numbers associated with each distribution, the new data collection policy appears to skew the results in the favor of newer sweets. Over the past months Android 4.0 slowly lost ground, something that simply does not reflect anymore in the distribution level for April. The newest distribution level also makes Gingerbread less popular than before and Jelly Bean more popular. The apparent difference is very significant and, from my point of view, unrealistic had Google kept the previous data collection policy in April.