Google releases Android 4.1 Jelly Bean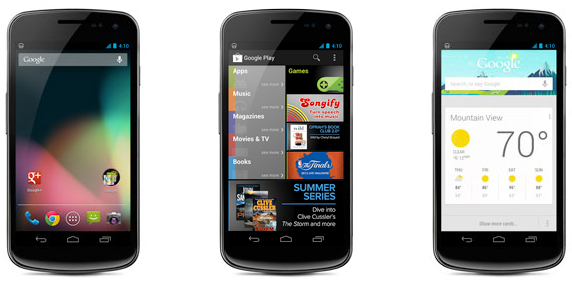 Early this evening, EDT, Google started dispatching Jelly Bean to Galaxy Nexus HSPA+. Phone sales also resumed at Google Play, for $349 -- or $50 less than what I paid about two months ago. At Google+, Brian Medeiros asks the right question: "Who else is hitting the 'Check Now' on their Galaxy Nexus non-stop to get the Jelly Bean?" I did on my phone and my wife's. No enchilada.
Google's Nexus Google+ account posted at 7:07 pm: "The rollout of Android 4.1, Jelly Bean, begins today, starting with Galaxy Nexus HSPA+ devices...If you've got a Galaxy Nexus HSPA+ device, you will receive a prompt alerting you to the update over the next several days". Please folks, don't become hamsters in the wheel constantly pressing "Check Now".
Google also is rolling out Android 4.1.1 to the Nexus 7 tablet. I received it earlier this evening. Presumably, Galaxy Nexus gets the same, but I can't confirm.
Apologies, I would have posted about Jelly Bean sooner, but I was finishing up post "Should you boycott Apple?" when the news broke on Google+. There's appropriateness since the preliminary injunction (now stayed) barring Galaxy Nexus sales is major catalyst behind #boycottapple.
Galaxy Nexus HSPA+ may be first but others will follow. They're either Nexus or "with Google" devices. "Up next for Jelly Bean: all Galaxy Nexus, Nexus S, Motorola Xoom and of course, Nexus 7, which will ship with Jelly Bean later this month", according to Google.
Less certain are devices carriers control, like Galaxy Nexus LTE and XOOM 4G LTE. While they ship with stock Android, Google doesn't decide when updates are dispatched.
If you don't own Galaxy Nexus HSPA+, now is a good time to consider the phone, which in the United States supports both AT&T and T-Mobile cellular and data frequencies. Google sells the handset unlocked and contract free. I reviewed the phone in May and followed explaining why I prefer Galaxy Nexus to iPhone 4S.
Jelly Bean comes as Android fragmentation persists. In the 14 days before July 2nd, only 10.9 percent of Android devices accessing Google Play ran predecessor Ice Cream Sandwich. The majority of devices, 64 percent, run Android 2.3.x Gingerbread. For all its merits, and there are many, Jelly Bean is unlikely to move the install base forward -- not as long as carriers control updates and have more impetuous to sell new phones.
Google unveiled Jelly Bean two weeks ago at its I/O developer conference. Colleague Tim Conneally identifies a dozen of the big new features and improvements. The search and information giant promotes Google Now, which from my testing certainly is meritorious. Four days ago, I offered a mini-review/comparison of new voice features and broader Google Now against Apple's Siri.
Together, Voice Assistant and Google Now represent a watershed development, living up to what Apple promises with Siri. Google has successfully presented its depth of search in a truly meaningful manner -- one that can change how people interact with mobile devices. The feature follows some of your activities and uses them to provide information before you ask.
You don't have to search. Jelly Bean knows what you want before asking. Google Now is for now limited to things like places, travel and appointments, but it's real power is what comes next -- when Google can truly include people and your interactions with them.
Google Now presents information in "cards" and in Android's drop-down Notifications menu. Is there an accident on your daily commute? Google Now will tell you. If execution improves over time, particularly as Google Now learns personal habits, these innovations could be as important to the search giant as the development of its algorithm.
Have you got Jelly Bean? Please offer your reaction comments, or better, send your review to joe at betanews dot com. My review comes soon, but yours is more important.