Microsoft Q3 2013 by the numbers: $20.49B revenue, 72 cents EPS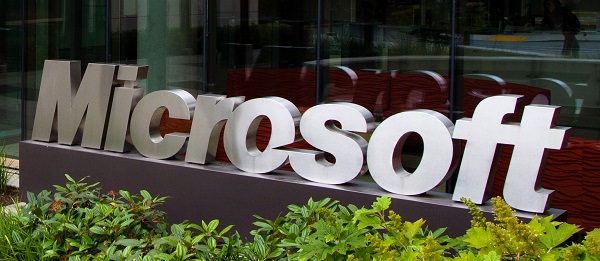 Today, after the closing bell, Microsoft revealed what might be the closest-watched quarterly results in 11 years. Fiscal third quarter, like the one in 2002, marks a time of record-low PC shipments, with blame falling on the newest operating system. In recent weeks, every idiot arm-chair pundit imaginable has taken to the web to proclaim Windows 8 a failure and prophesying Microsoft's doom.  Not so fast. This company is still a money machine.
For fiscal Q3, ended March 31, Microsoft revenue reached $20.49 billion. Operating income: $7.61 billion and net income was $6.06 billion, or 72 cents a share.
Average analyst consensus was $20.56 billion revenue and 68 cents earnings per share, for the quarter. Revenue estimates ranged from $19.57 billion to $21.65 billion, with estimated year-over-year growth of 18.1 percent. Microsoft missed revenue consensus but exceed EPS forecast.
Several factors mitigated results: Office and Windows pre-sale and upgrade offers and European Commission fine. Windows revenue rose 23 percent year over year, lifted by deferrals, but was flat otherwise -- and, as such, showed stronger growth than the overall PC market.
"The bold bets we made on cloud services are paying off as people increasingly choose Microsoft services including Office 365, Windows Azure, Xbox Live, and Skype" CEO Steve Ballmer, says. "While there is still work to do, we are optimistic that the bets we've made on Windows devices position us well for the long-term".
Today, Microsoft announced that CFO Peter Klein will leave at the end of the fiscal year, which closes June 30. A successor is yet to be named.
"It has been a pleasure to work with Peter as CFO", Ballmer says. "He's been a key member of my leadership team and a strategic advisor to me, and I wish him the very best". Klein is an 11-year Microsoft employee, four years as CFO.
At 5:37 pm EDT, during Microsoft's earnings conference call, shares were up 2.29 percent, to $29.45, in after-hours trading. As the call closed, shares were still up, nearly 3 percent.
Windows 8 Dog and Pony Show
Microsoft's big problem is declining PC shipments -- during calendar first quarter (same as fiscal Q3) bad enough to rank as weakest since IDC started tabulating numbers in 1994. Many analysts and computer market watchers anticipated that Windows 8 would lift sagging shipments, which five months later are worse.
"At this point, unfortunately, it seems clear that the Windows 8 launch not only failed to provide a positive boost to the PC market, but appears to have slowed the market", Bob O'Donnell, IDC vice president, claims. O'Donnell joins a chorus of Windows 8 blamers, offering a simply unfair and inaccurate assessment. Like today, PC shipments collapsed ahead of Windows XP's release in 2001 and stayed slow for at least another year. As I explained three days ago, the market similarities are surprisingly close, including global economic malaise.
Many pundits look at smartphones and tablets as the PC's demise, and Windows with it. Consumers shift spending away from personal computers to these devices, which is the evidence. In 2001-02, the phenomenon was similar, but the devices different -- big-screen TVs and MP3 players. I wouldn't write off the PC just yet.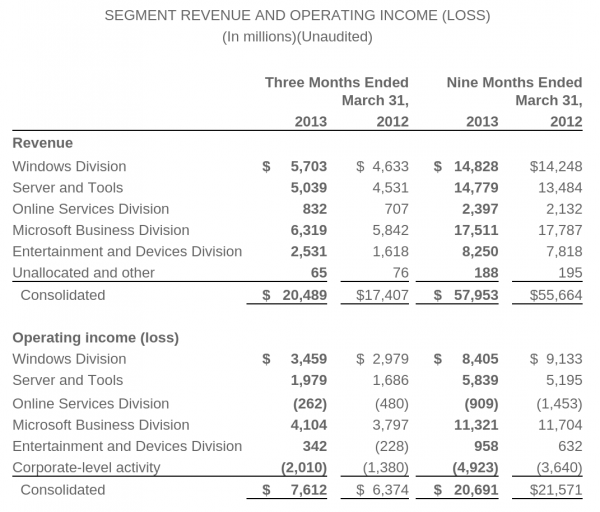 Something else: Apple, which had been immune to Windows PC sales ills, is afflicted, too. According to IDC, U.S. Mac shipments fell 7.5 percent in calendar first quarter. If Windows 8 is to blame, why is Apple down, too? The point: The market dynamics are complex. The economy. Sales shifting to smartphones and tablets. PC saturation. Suffice to say that Windows 8 didn't revive PC shipments, which according to IDC fell for 10 consecutive quarters but one -- calendar Q3 2011. That's quite different from being the cause.
Microsoft bet big on touch to compete with these other devices. Demand for traditional PCs is weak, which makes sense given it's a mature product category. Touchscreen models, whether true tablet or hybrids, offer something different, but not necessarily more enough. They compete with media tablets like Apple's iPad that offer similar top-line functionality for hundreds of dollars less. For many consumers, iPad, or even smaller tablets, is good enough. So on a touchscreen-to-touchscreen comparison, media slates win, and that phenomenon has little to do with Windows 8.
"The majority of consumers remain unwilling to pay the price premium for touchscreen capabilities on PCs at this stage", Isabelle Durand, Gartner principal research analyst, says. "But, even so, touchscreens and Windows 8 will represent key opportunities for PC manufacturers in the second half of 2013". The personal computer will be radically different, and even unrecognizable, in three years, I predict.
Looking at the global numbers, IDC puts calendar first quarter shipments down 13.9 percent, while Gartner is a bit more optimistic (-11.2 percent). IDC and Gartner estimate U.S. PC shipment declines of 12.7 percent and 9.6 percent, respectively.
Something else lost in all the punditry: Microsoft actually encouraged existing Windows customers not to buy new PCs. Promotional pricing make the new version lower than any of its predecessors, as I explained answering in January question "Why are Windows 8 sales so good when PC shipments are so bad?" So the real measure of Windows 8's success or failure is actual license sales, not PC shipments.
Division Highlights
Microsoft reports revenue and earnings results for five divisions: Windows & Windows Live, Server & Tools, Business, Online Services and Entertainment & Devices.
Windows & Windows Live.  Revenue rose 23 percent year over year, mainly because of a $1.1 billion referral related to upgrade offers. Growth was flat, otherwise, which when looked at in context of collapsed PC shipments is remarkably good.  That's perspective for the 40 percent increase in non-OEM revenue, mainly from Surface and commercial sales of Windows.
Two-thirds of enterprises now use Windows 7. Other signs of strong business uptake: Three-quarters of Enterprise Agreements include Windows licenses, while overall volume-licensing revenue grew in the double-digits. However, large businesses often buy licenses to exercise downgrade rights. So the rise in uptake could easily reflect resistance to Windows 8 rather than demand for it.
Looking ahead to fiscal fourth quarter, Microsoft expects Surface and commercial sales to drive revenue, while sluggish PC shipments hold it back.
Server & Tools. The division is insulated against economic maladies, because about 50 percent of revenues come from contractual volume-licensing agreements. Microsoft hopes to achieve similar level for Windows, for similar reasons. Multi-year licenses grew by 20 percent year over year.
Product revenue rose by 11 percent, or $396 million, fueled by SQL Server, System Center, and Windows Server. System Center revenue grew by 22 percent and SQL Server by 16 percent. Enterprise Services revenue also grew by 11 percent, or $112 million.
Products account for 80 percent of division revenue, and services the rest. Looking ahead to fiscal Q4, Microsoft anticipates double-digit growth for both.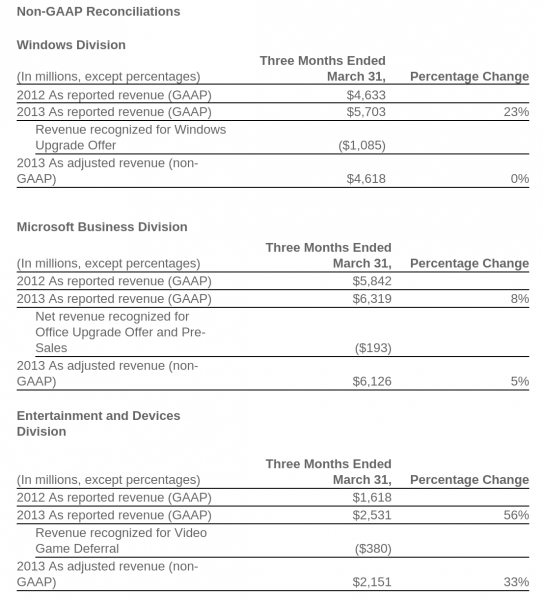 Business. Revenue for the Office division grew by 10 percent, or $477 million, to $6.32 billion. Annuity licensing continued to lift sales, an ongoing trend, up 16 percent. About 60 percent of the division's revenues come from volume-licensing contracts. Lync revenue rose by 30 percent and Dynamics by 13 percent.
Looking ahead to fiscal fourth quarter, the division will recognize $780 million in deferred revenue. Microsoft expects annuity license growth in the double digits.
Online Services. Revenue rose by 18 percent, while the operating loss decreased by 45 percent. Search and display ads drove up online advertising revenue by 22 percent, or $145 million, to $784 million.
For fiscal Q4, Microsoft anticipates double-digit revenue growth.
Entertainment & Devices. Xbox 360 platform revenue rose 55 percent, or $641 million, lifted a $380 million video game deferral.
Microsoft shipped 1.3 million Xboxes during the quarter, down 9 percent year over year. Xbox Live memberships rose 18 percent, or by 46 million. There were 161 billion minutes of Skype calls -- up 55 percent year over year.
Microsoft expects growth in the mid-teens for fiscal Q4.