Is Jelly Bean more popular than Ice Cream Sandwich?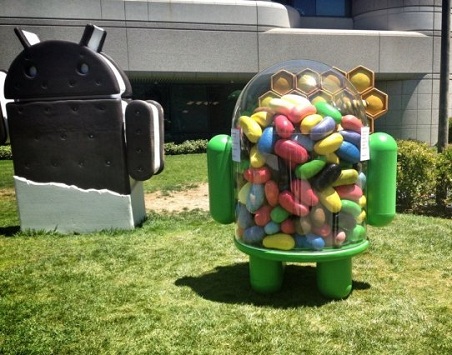 Last month Google altered the method of collecting data for its Android distribution charts, now measuring the popularity of the operating system iterations by visits to the app store instead of check-ins to the company's servers as before. The move significantly changed the results compared to the previous month, but is there a noticeable difference that is felt in the Android distribution charts for May?
Based on the number of devices visiting Google Play during the 14 days ending May 1, Jelly Bean now ranks as the most popular Android sweet, after Gingerbread. With a combined distribution level of 29.4 percent, for Android 4.1 and Android 4.2, Jelly Bean surpassed Ice Cream Sandwich, which now runs on 27.5 percent of all droids.
The Jelly Beans
Altogether, Jelly Bean has grown by 4.4 percentage points from 25 percent distribution level, which translates into a 17.6 percent increase compared to the previous data set from April. Android 4.1 rose to 2.3 percent from 2.0 percent -- 0.3 percentage points higher -- while Android 4.2 displayed a 3.1 percentage points rise to 26.1 percent in May from 23 percent distribution level in April.
Jelly Bean's growth, as shown in the charts, appears to be influenced more by the number of devices sold with (and upgraded to) Android 4.1 rather than smartphones and tablets running Android 4.2. Alongside the likes of the the Samsung Galaxy S4 -- which runs the second Jelly Bean iteration -- Android 4.2 is bound to get a boost in distribution level over the upcoming months. The first Jelly Bean iteration is likely to keep its popularity crown largely intact in the upcoming period due to sales of devices still running Android 4.1, like the HTC One.
Ice Cream Sandwich
Android 4.0, versions 4.0.3 and 4.0.4, reached a 27.5 percent distribution level in May, a number 1.8 percentage points lower compared to the 29.3 percent distribution level from April. This translates into a 6.14 percent decrease over the course of a single month.
Considering that new devices tend to run Android iterations from the Jelly Bean family, the fact that Android 4.0's popularity slowly decreases each month (bar last month when Google changed the data collection method) shouldn't come as a surprise.
The Older Sweets
Android 3.2 still runs on 0.1 percent of all droids, a number 0.1 percentage points lower compared to the data released in April. That's a 50 percent decrease over the course of a single month, but normal considering the scarce popularity that Honeycomb enjoyed after it was unveiled and the number of Android tablets swarming on the market which may have swayed fondleslab owners towards newer devices.
If you were hoping for Gingerbread to be finally surpassed by a newer sweet, you are going to be disappointed. Android 2.3 -- versions 2.3 to 2.3.2. and 2.3.3 to 2.3.7 -- reached a combined distribution level of 38.5 percent. 0.1 percent for the former version and 38.4 percent for the latter.
That's 1.3 percentage points lower from 39.8 percent in the month before, which implies a 3.26 percent decrease since April. Gingerbread's popularity, as expected, will go down further in the upcoming months.
Froyo, Eclair and Donut -- the only Android iterations from the charts older than Gingerbread -- reached a combined distribution level of 5.5 percent, 0.3 percentage points lower than the 5.8 percent in the month before. The 5.17 percent decrease is influenced by droid users switching to a newer device.
What Comes Next?
Google used to provide a historical dataset, but the search giant removed it when the new data collection method was implemented last month. Although we don't have a solid enough basis for comparison purposes, it's fair to assume that the trend depicted in May will continue over the upcoming months at least until Google releases a new Android iteration (it's bound to happen sometime).