The YouTube free ride is OVER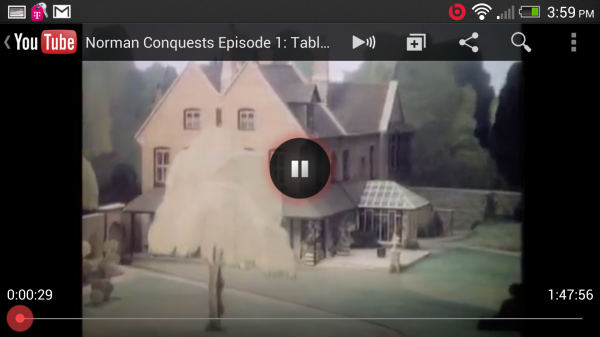 YouTube opened to the public in November 2005, and Google paid $1.6 billion for the service 11 months later. The video-sharing site is the quintessential freebee. No longer. Today Google announced the launch of the first pay-for channels, which is rather strange coming from the company which business model is about profiting from valuable content given away free wrapped with search keywords and advertising. Welcome to the new Internet, with paywalls rising everywhere. To play, you must pay.
In a statement Google says there are "1 million channels generating revenue on YouTube, and one of the most frequent requests we hear from these creators behind them is for more flexibility in monetizing and distributing content". That revenue largely comes from the in-video advertisements. Now you'll pay, too -- as little as 99 cents per month. Here's something: From the sampling I made today, subscription liberates you from advertising, which is something to cheer about.
Standard Definition
YouTube lists 53 paid channels, none of which I have ever watched. Some of the programs that might interest me are available elsewhere (e.g., Netflix). Google spotlights Sesame Street and UFC in its announcement, but the kids channel isn't available from the official list. The PBS program will stream full episodes; the other channel offers classic fights. UFC is $5.99 per month. Uh-oh, I only see 480p in my browser. What the frak?
British TV is a personal fav. Acorn offers a smidgen of shows for $4.99 per month. I wouldn't pay for the current selection, which includes some programs already available as part of my Netflix subscription. But that might change as the channel adds more shows. BigStar Movies is another channel, also $4.99 a month or $34.99 per year. Neither channel is HD in my browser test.
HereTV offers some HD content, and you pay to get it: $7.99/month, or $67.99 per year. Pets.TV is a more modest $1.99 monthly, but again no HD that I see, just 480p like the first two. The channel is also available with six others for $9.99/month. PrimeZone Sports isn't available in my country. Yours? SCREAMPIX delivers horror movies for $2.99 a month -- at least the price isn't too scary. I love the sections. Who wouldn't want to watch a flick from "Students Making Bad Decisions", eh? Sigh, more 480p.
Do you know how much quality, free HD content there is on YouTube?
Bad Formats
I tried to bring up the channels on Google TV, but couldn't easily find them, which means I didn't. All the pay-fors are available as 14-day trials. What the hell, I signed up for Acorn. That put the channel in my YouTube "Subscriptions" list on Google TV, but frak me, trying to watch brought up "playback error, unsupported video format". Oh, yeah? Hey, I still have Nexus Q hanging about, so I accessed YouTube on my HTC One and tried to watch any program. Oh my. Phone displayed "error while playing the video on Nexus Q", while on the telly I saw "unsupported video format".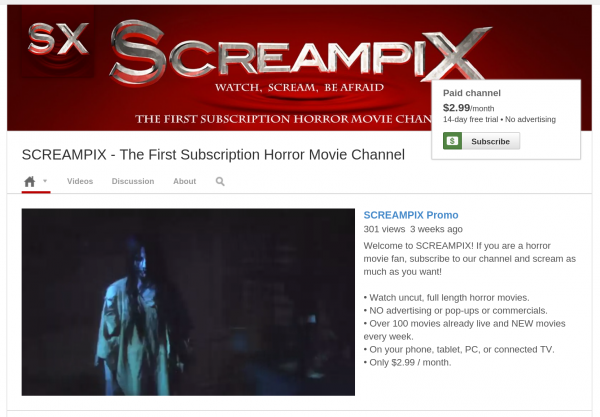 Well, that kind of blows my real interest in the paid channels: Cutting the cord -- ditching AT&T U-verse (cable for most people). But right now YouTube won't play paid on my TV and chokes up 480p on yea ol Chromebook. The programs do look damn good on the Android phone using the YouTube app, though. Still, I'll use the 14-day Acorn trial to watch, if nothing else, three-part program "The Norman Conquests". The trial is worth your time just for that. Based on a play that during its theater run people watched for three nights, TV adaption of "The Norman Conquests" is a riot. I can't believe Acorn carries it (Netflix doesn't).
I want to be enthusiastic about YouTube pay channels, because they represent the model I want: A la carte, pay for what you want to watch. But no-HD and no-TV are deal breakers for me. Besides, I worry that some of the best content available for free now will go pay sometime soon. If there's too much competing paid a la carte content -- from services you never heard of before -- people won't pay because it's too much trouble managing all the subscriptions.
Fierce Debate
The whole concept generated lively and long debate in our newsroom late today.
"I'm reluctant actually", Mihaita Bamburic says. "YouTube is known for providing free to watch videos. This creates a mental dilemma for me, and likely I am not the only one". As newspapers and magazines have learned, charging for something once free isn't easy. YouTube is all about free content. Will people actually pay?

"But they will still offer the other stuff, same as always", Alan Buckingham says of YouTube. Mihaita stands by his contention about confusion. I agree there.
Still, "I assume this is great news for content creators", Mihaita asserts. "Definitely a shift on how we define pay per view content, usually associated with TV channels in my mind".
I told them both: "If content is better and can replace cable, sign me up. I'd rather give money directly to content providers I choose than those the cable company picks". But YouTube paid isn't there yet.