Who will buy HTC One?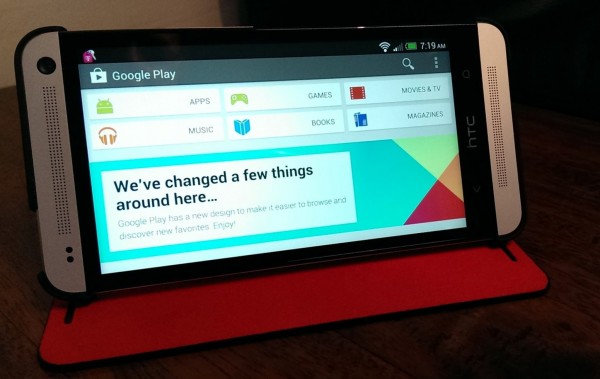 More than two weeks ago I asked: "Will you buy HTC One?" Preliminary results are in, and many of you express intentions to get the smartphone. Last week, I expressed how much more I like the One than iPhone 5.
The unlocked One is backordered at HTC.com, while T-Mobile can't meet demand. Someone wants this smartphone, and it might just be you. Forty-five percent of respondents say they will get the handset "as soon as available", while another 11.5 percent "within 3 months". Buying polls like this one, and that includes those conducted by outfits like ChangeWave, only measure sentiment -- what people would like to do. What they actually do often varies for lots of reasons. Clearly there is lots of interest in HTC One.
Steve Jones "got the HTC One". He "traded up from a Galaxy S3. HTC one is a fantastic phone best I have ever had. The weight and the feel of it in your hand feels perfect. The GS4 just seemed to be a GS3s".
Kyle McIsaac:
I got the device in Canada the day of release (April 19th) and been in love with it since. Other than the News Feed being sort of in your face at first (which can easily be changed to a different home panel later), the interface is easy to handle and responds quickly.

The sound on the device is amazing with the two front-facing speakers, the main camera is amazing, and the device, with its larger size, is very lightweight and sturdy. Battery life is not as much as I expected, but mostly due to the fact of LTE, quad-core CP, and data being processed every so often. With HTC's great deal right now of trading in your old smartphone for up to $100 back, it's well worth the switch to it.
The deal is different now. HTC offers up to $300 on trade-ins.
HTC One specs: 4.7-inch Super LCD3 display with 1920 x 1080 resolution and 468 ppi; 1.7GHz Qualcomm Snapdragon 600 quad-core processor; 2GB RAM; 32GB or 64GB storage; 4MP front-facing and 2.1MP rear-facing cameras; 1080p video recording; 4G: LTE (Asia 1800/2600 Mhz), EU (800/1800/2600 MHz), AT&T (700/850/AWS/1900 MHz), Sprint (1900 Mhz), T-mobile USA (1900 Mhz); HSPA/WCDMA (850/900/1900/2100 MHz); GSM/GPRS/EDGE (850/900/1800/1900 MHz); WiFi N; GPS + GLONASS; Bluetooth 4; NFC (carrier chooses); DLNA; ambient-light and proximity sensors; accelerometer; digital compass; gyroscope; 2300 mAh battery; Android 4.1.2 with HTC Sense. Measures 137.4 x 68.2 x 9.3 mm and weighs 143 grams. In the United States, AT&T and Sprint: $199.99 for the 32GB model, with 2-year contract. AT&T sells the 64GB One for $299.99. T-Mobile: $99.99 upfront and 24 $20 monthly payments for 32 gigger.
I'm among those people buying HTC One, something not expected when posting the poll. I really like this phone; it makes me happy to use. Confession: Social- and news-oriented BlinkFeed is a major reason for my purchase, with the camera being another big one. HTC must believe in BF, which is centerpiece of the most recent One advertising: "No Digging Necessary"; "Anthem". My gripe: Not enough customization.
Stephen Green "purchased a Blackberry Z10 -- BB10 rocks!" Jack Brown: "No".
Vic Gundotra, Google's senior vice president of engineering, should be slyly showing off the next Nexus phone, with the company's developer conference starting in just two days. Instead, he brags up HTC One, which runs Android 4.1.2 rather than 4.2.2. Last month, regarding the front-facing speakers: "Listening to Sade on my new HTC One. I can't tell you how good this song sounds on this phone. Speakers in front. Wow. Love this phone". Yesterday, he bragged up the camera.
I can't guess what will be HTC One's sales success -- or not. But I'm glad for my purchase. One buyers, are you?
Photo Credit: Joe Wilcox