Surface RT not selling? Microsoft throws in a free cover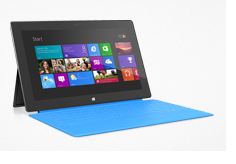 Microsoft began to sell its first tablet, the Surface RT, back on October 26, 2012, and added the Surface Pro in February 2013. Since then, sales figures have been less than stellar (well, possibly). This brings Microsoft to an interesting point -- it is time for desperate measures. In other words, the company is holding a fire sale. Of sorts.
Starting May 31 Microsoft announces "We are excited to announce a special offer for those of you in Canada and the United States. For a limited time beginning May 31, receive a free Touch Cover, Touch Cover Limited Edition, or Type Cover with the purchase of a Surface RT".
The cover/keyboard offer is new to the United States and Canada, but was first seen in the UK a fortnight ago.
Are Surface sales really this bad? It's hard to say but in a tablet market dominated by iPad, Nexus and Kindle Fire, Microsoft needs a spark. Are free covers really enough? Probably not, but the software giant can always hope. The offer is good through the month of June, so if you always wanted a Surface RT then this is the time.