What to expect from Apple at WWDC 2013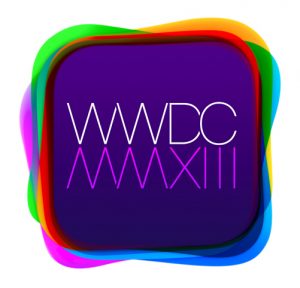 Apple events are always preceded by rumours and occasional leaks, so we usually have at least a rough idea of what to expect prior to the keynote. There haven't been any major leaks ahead of this year's Apple Worldwide Developers Conference which could mean one of two things -- there's nothing really big coming, or there's something so big to be announced, security is super tight.
We do know some of what Apple CEO Tim Cook will talk about when he takes to the stage later today, and we have a good idea of what else might be announced, so prepare to get excited for the following…
Firstly, we know iOS 7 will be revealed, and that it will have a flatter more functional design by Jony Ive, with no skeumorphism -- so say goodbye to faux wooden bookshelves and the like. As for new features, we could well see additional third-party services like Flickr and Vimeo baked in.
The OS won't be available to download until September, though, likely to tie in with the arrival of a new iPhone.
We will also see a new version of Mac OS X -- 10.9. The waves in the banners teasing the OS refresh have led people to speculate it might be called Sea Lion. Snoop Lion is always a possibility too…
There could be updates to iLife and iWork to coo over as well.
There have been persistent rumours about a streaming music service for a while, so maybe iRadio will make its debut today. A new streaming music service will have to compete with plenty of other great rivals, including Google Play Music All Access, but tying it into Apple's Genius feature could give the service an advantage, because iTunes already knows what music you really like and will be able to use that detailed data to suggest new artists and tracks that perfectly match your tastes.
Better Maps is a possibility too, but Apple really hasn't had the time to give its cartography service the overhaul it desperately needs and rushing out a new version is a recipe for disaster. I'm hoping for an update to iCloud as well, to make it just generally more useful.
With this being a developer conference we shouldn't see any major new hardware -- no new iPhones or iPads. We might see a new Mac Pro though, and maybe a more powerful MacBook Air. Both with Intel's latest Haswell processor inside. We might see an update to the Mac Pro desktop too.
If we're ever going to see an iWatch, it won't be at the WWDC.
I also don't think Apple will launching iPRISM today either...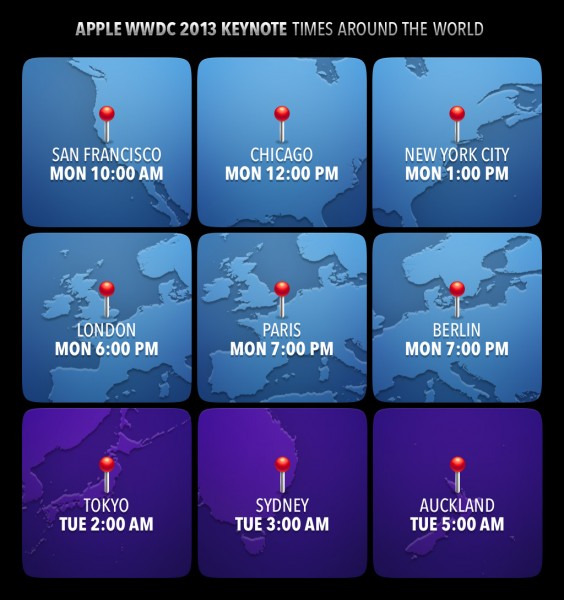 Keynote times image credit: Bjango