Samsung dominates smartphone market, squashes Apple and other makers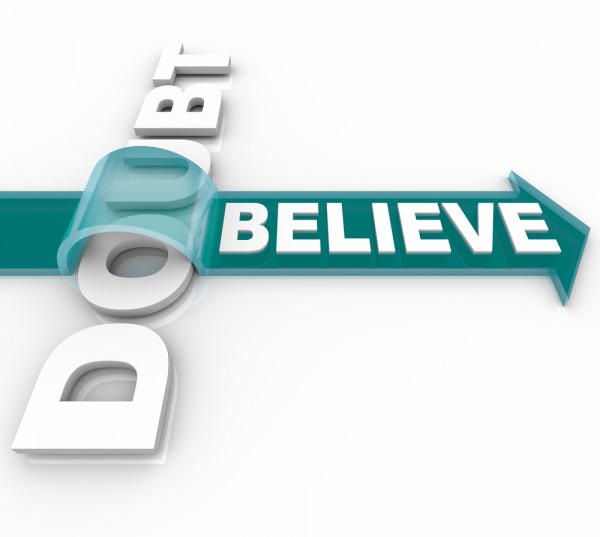 There is a very good reason as to why some people easily dismiss any report on the state of the smartphone, tablet or phone market. Research companies often get their forecasts wrong, and just as often adjust the numbers to reflect any significant change in shipments or sales. Credibility is gained over a long period of time, through spot-on analysis and research, but is easily lost after a questionable report.
Truth be told, predicting the future is a fool's errand. Those who rely on forecasts in order to make their case are just as likely to withdraw their bold remarks once the quarterly or yearly reports arrive. The credibility issue grows bigger when two research companies, namely IDC and Strategy Analytics, cannot agree on counting smartphone shipments, in a single quarter.
Both IDC and Strategy Analytics just released reports on smartphone shipments for Q2 2013, listing two different hierarchies for top five vendors and providing two different sets of numbers.
IDC places Samsung as the top smartphone vendor, with 72.4 million units, followed by Apple with 32.2 million, LG with 12.1 million, Lenovo with 11.3 million and ZTE with 10.1 million. Now, let's take a look at Strategy Analytics. Remember, this is an apples to apples comparison (well, in this case, shipments to shipments).
Strategy Analytics says that Samsung is (again) the top smartphone vendor, having shipped 76 million units, followed by Apple with 31.2 million, LG with 12.1 million, ZTE with 11.5 million and Huawei with 11.1 million.
Huawei, Samsung and ZTE do not list smartphone shipments in their quarterly financial reports, so it is quite difficult to compare the IDC and Strategy Analytics claims in this case. But, Apple says it sold 31.2 million iPhones (smartphones), which is on par with what the latter research company lists. LG's numbers are exactly as reported by the South Korean maker (and claimed by IDC and Strategy Analytics). Lenovo has yet to post its financial report for Q2 2013.
Despite not having the complete picture (official shipments from all six makers), it is fair to say that drawing any conclusion, based on the two aforementioned rankings, is moot. So is there something that IDC and Strategy Analytics can agree on? Well, yes.
Both research companies say that the smartphone shipments have dramatically increased year-over-year. IDC claims a 52.3 percent growth in Q2 2013 over Q2 2012 (to 237.9 million units, from 156.2 million units), while Strategy Analytics posts more conservative numbers -- 46.7 percent increase, to 229.6 million units, from 156.5 million units, in the same respective time-frame.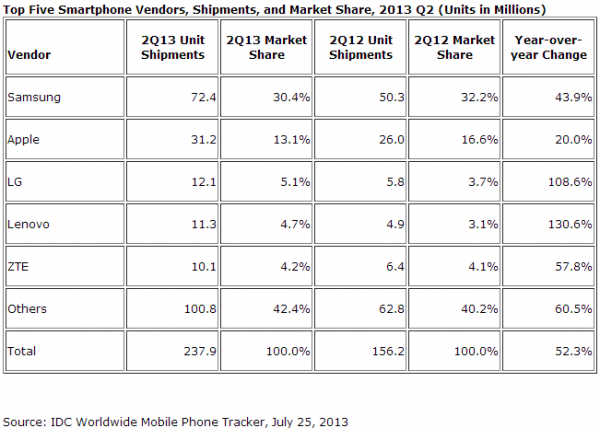 "The smartphone market is still a rising tide that's lifting many ships", says IDC's Kevin Restivo. "Though Samsung and Apple are the dominant players, the market is as fragmented as ever. There is ample opportunity for smartphone vendors with differentiated offerings".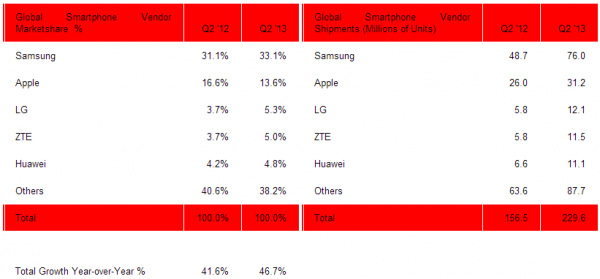 "Global smartphone shipments grew 47 percent annually from 156.5 million units in Q2 2012 to 229.6 million in Q2 2013. This was the largest volume of smartphones ever shipped in a single quarter", says Strategy Analytics' Neil Shah. "Smartphones accounted for 59 percent of all mobile phones shipped globally. The smartphone industry's shipment growth rate, which is higher today than a year ago, is being driven by surging demand for 4G models in developed regions like the US and 3G models in emerging markets such as India".
Both research companies list other smartphone vendors (outside of the top five-largest), with a considerable, combined market share (42.4 percent -- IDC, 38.2 percent -- Strategy Analytics). Most are shipping Android handsets (based on the operating system's market share, and makers which offer BlackBerry, iOS and Windows Phone devices), and struggle to reach the top, which has mostly remained unchanged over the past quarters.
Photo Credit: iQoncept/Shutterstock