Google Play Games tries to connect Android players (and fails) [Review]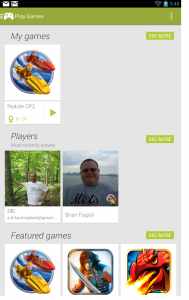 Lost in the news from the "Breakfast with Sundar Pichai" event this week was a smaller announcement that was overshadowed by the new Nexus 7, Chromecast and Android 4.3. Google Play Games was rolled out along with the new mobile operating system. Despite rolling out with the latest iteration, the app is open to any device running Android version 2.2 and newer.
Play Games is free from the Google Play store and, once downloaded, you will find a game controller icon on your device. Like any app, it is only a matter of tapping it to get started.
Getting Started
Once open, you will receive a menu that runs down the left side of the screen. This consists of Play Now, My Games, My Activity, Players, Recommended Games and Shop.
Play Now brings up My Games, along with a list of players you can go up against (more on that in a bit) and featured games, which consists of ones you may not own, but Google feels you may like.
My Games is simply a list of all of your installed games and you can switch to a view of only the recently played ones, though this is essentially the same as the My Activity option.
Players is a list of your Google Plus contacts and lets you click one to invite him or her to come play a game against you (obviously you both need the game installed), while Shop opens the games section of the Google Play store. To go back to the main menu you can just click the controller icon at the top left.
Settings
The app settings simply allow you to turn on notifications and allow who, in your Google Plus circles, can send you notifications and who you can challenge to games. There really is nothing else here -- the options are rather sparse, but there really is not anything else necessary.
Conclusion
The app may have a little way to go, as I could see my colleague Brian Fagioli's recently played games, though he was unsuccessful in accessing mine, only finding a blank screen. My Recent Games alerted me that a game I played a few minutes ago was "last played two days ago". There are obviously some kinks in need of being worked out here, but the premise is certainly promising.