Google once again blocks YouTube app for Windows Phone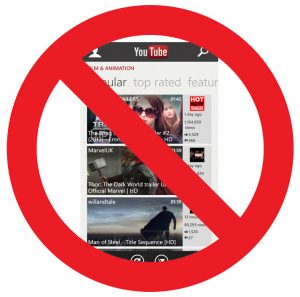 When I first got my Nokia Lumia 928, the YouTube app was already unavailable at the request of Google, so I never got a chance to try it. However, the Windows Phone community was quick to tell me how great it was. Sadly, it was replaced with a different "app" that only served as a shortcut to the mobile YouTube site.
Yesterday, the full version of the app returned to the Windows Phone Store so I excitedly downloaded it. However, the app never worked for me. Coincidentally, this was during the Outlook.com outage so I assumed it might be related. Today, I learn that they were not related -- Google has actually disabled the video sharing app!
A YouTube spokesperson tells BetaNews, "We're committed to providing users and creators with a great and consistent YouTube experience across devices, and we've been working with Microsoft to build a fully featured YouTube for Windows Phone app, based on HTML5".
The spokesperson further says, "Microsoft has not made the browser upgrades necessary to enable a fully-featured YouTube experience, and has instead re-released a YouTube app that violates our Terms of Service. It has been disabled. We value our broad developer community and therefore ask everyone to adhere to the same guidelines".
In other words, Google is publicly chastising Microsoft and has swiftly brought down the hammer on the app. While Google has the right to do so, the abruptness of the move may be viewed as bad taste. While this is bad news for Windows Phone users, all is not lost -- third-party solutions such as MetroTube are still available.
Update: A Microsoft spokesman got back to me following my request for a comment and I was told simply: "Google is blocking our updated YouTube app for Windows Phone. We are working with them to resolve the issue".